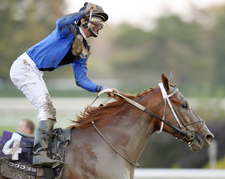 In Boone County, Kentucky, Judge William Wehr issued a charging order against the Midnight Cry Stable of attorneys William Gallion and Shirley Cunningham Jr., who are incarcerated in a separate federal criminal action. A hearing was held Oct. 31 at which time attorney Angela Ford, who represents the 418 plaintiffs, requested the judge issue a charging order to attach the interests of Gallion and Cunningham's limited liability company.

The Kentucky limited liability company, Tandy LLC, operates Midnight Cry Stable, which owns the interest in Curlin and other horses.

"The judge granted the motion for a charging order so we now take over their ownership in Tandy, which would include the assets of Midnight Cry Stable including any earnings from Curlin's wins that have not been distributed," Ford said. "For instance, if the money for the Belmont Stakes (gr. I) has not been distributed, we would be entitled to those earnings."

Ford said she had spoken to an attorney for two of the other owners of the horse and, "All of the partners in Curlin believe that their interests are best served by selling the horse now."

The other owners in the winner of the Oct. 27 Breeders' Cup Classic - Powered by Dodge (gr. I) are Jess Jackson's Stonestreet Stables, Satish Sanan's Padua Stables, and George Bolton.

A call to Jackson's California-based attorney was not immediately returned. Gallion and Cunningham's attorney could not be reached.

Ford said one of the partners expressed he would prefer to sell the son of Smart Strike at public auction while another is interested in soliciting private bids. "There is no agreement as to how to proceed with the sale, but there is an agreement that the sale of the horse is in everyone's best interest," she said.

In August, as part of an agreement to postpone the criminal trial of the three attorneys accused of taking excessive money from their clients in the fen-phen class-action settlement, U.S. District Judge William Bertelsman revoked their bond and ordered the three into custody. The other attorney is Melbourne Mills Jr. They were indicted on conspiracy to commit wire fraud. There are multiple appeals pending in the federal criminal case.

Curlin was purchased for Gallion and Cunningham by Ken McPeek for $57,000 at the 2005 Keeneland September yearling sale. After he broke his maiden impressively, an 80% interest in the colt was purchased by the other partners. He was transfered to trainer Steve Asmussen.

Gallion, Cunningham, and Mills are accused of taking $64 million that should have gone to their clients in the $200-million settlement of the diet drug suit. A judgment of $42 million was previously ordered in a civil suit against Gallion, Cunningham, and Mills.