Silk Ridge Seeks Sweep of Florida Stallion Series
by Claire Novak
Date Posted: 10/10/2007 10:12:53 PM
Last Updated: 10/13/2007 1:11:19 PM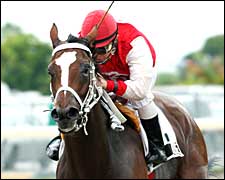 Brave Raj winner Silk Ridge will try to sweep the Florida Stallion Series in her division.
Photo: Jim Lisa Photos
Karen Keen's 2-year-old Silk Ridge will seek a sweep of the Florida Stallion Series in her division when she heads to the post in the $400,000 My Dear Girl Stakes at Calder Race Course Oct. 13, the track's Calder Derby day.

Eight stakes races fill the 13-race card, with the My Dear Girl at 1 1/16 miles for 2-year-old fillies and the In Reality Stakes at the same distance for 2-year-old colts. Also on the card is the $200,000 Calder Oaks, 1 1/18-miles on the turf for 3-year-old fillies.

Silk Ridge, a daughter of Eltish out of the Birdonthewire mare Whisper of Silk, is on a three-race winning streak that includes two previous legs of the Florida Stallion Series (the Aug. 11 Desert Vixen and the Sept. 1 Susan's Girl) and the Sept. 22 Brave Raj stakes. She has only finished worse than second once for trainer Gordon Potter. Jockey Manuel Aguilar will be in the irons.

Stepping up to challenge Silk Ridge will be David Fawkes trainee Mymymyboogieshoes, a Pure Precision filly who has easily won her last two starts going six furlongs. Kathleen O'Connell trainee Awesome Dreamer may also figure into the race. A daughter of West Acre who comes off an 8 3/4-length win in a maiden special weight Sept. 22, the filly was second in the Lindsay Frolic Stakes at Calder Sept. 1 and has never finished off the board in five career starts.
"A couple of them are a little short on experience going a distance because the longer races didn't start to fill until a little late this year," said O'Connell, who saddles four starters in the Florida Stallion Series races Oct. 13. "But you only get one chance to run them in the Stallion Stakes for $400,000, and each of mine has shown me enough to earn a chance."

In the male division, the likely favorite of the In Reality Stakes is Foolish Pleasure Stakes winner Wise Answer, a Wised Up colt trained by David Brownlee. Wise Answer was beaten 2 1/4 lengths in the first leg of the Florida Stallion Series of his division, the Dr. Fager Stakes, but sailed to a 6 3/4-length victory in the next leg, the Sept. 1 Affirmed Stakes.

Looking to run that one down will be three lightly raced 2-year-olds, all coming off recent wins. O'Connell saddles likely challengers Sir Dave, an Untuttable gelding who has only one start under his belt but won at the 1 1/16-mile distance by three lengths Sept. 9, and Check It Twice, a son of Repent whose last win was a Sept. 22 maiden special weight. Also of interest is Jose Pinchin trainee Tripplite, who broke his maiden last time out in a Sept. 1 maiden special weight going six furlongs.

In the Calder Oaks, a rematch between the top three finishers in the Sept. 22 Judy's Red Shoes Stakes will take place, with Marty Wolfson trainee Snow Cone attempting to defend her one-length victory in that race. Up to challenge will be the aptly named Arch Nemesis, who held the lead briefly in the Judy's Red Shoes but succumbed to Snow Cone in the final strides. Also right there will be third-place finisher Sweet Exchange, who was beaten only 1 1/4 lengths by the top two.

$200,000 Calder Oaks (race 7, 3:34 p.m.), 1 1/8-miles, 3-year-old fillies, turf
PP, Horse, Weight, Jockey
1. Sweet Exchange, 117, Jose Alberto Rivera II
2. Snow Cone, 119, Elvis Trujillo
3. Lady Digby, 115, Cornelio Velasquez
4. The Real Future, 115, Daniel Coa
5. Cozzi Capital, 115, Eibar Coa
6. Arch Nemesis, 115, Juan C. Leyva
7. Post Invader, 115, Carlos Olivero
8. Scooter Girl, 117, David Cardoso
9. Maria's Kitty, 115, David Cardoso
10. Casa Mimaty, 117, Julio A. Garcia
$400,000 Florida Stallion Series My Dear Girl Stakes (race 8, 4:01 p.m.), 1 1/16-miles, dirt
PP, Horse, Jockey
1. Incendiary, Jose E. Lopez
2. Natalie'spinkkaty, Eibar Coa
3. Calico Bay, Manoel R. Cruz
4. Silk Ridge, Manuel Aguilar
5. Bond Princess, Cornelio Velasquez
6. Shorty Puffs, David Cardoso
7. Awesome Dreamer, Eduardo O. Nunez
8. Mymymyboogieshoes, Elvis Trujillo
9. Asi Asi, Julio A. Garcia
(all carry 120 pounds)
$400,000 Florida Stallion Series In Reality Stakes (race 10, 4:55 p.m.), 1 1/16-miles for 2-year-olds, dirt
PP, Horse, Jockey
1. Sir Dave, Eduardo O. Nunez
2. Wise Answer, Eibar Coa
3. Tripplite, Elvis Trujillo
4. Hey Byrn, Manuel Aguilar
5. Cigar Man, Cornelio Velasquez
6. Check It Twice, Manoel R. Cruz
7. Inner Light, Larry Melancon
8. Big Al, Channing Hill
9. Honey Honey Honey, Ariel Smith
(all carry 120 pounds)
Copyright © 2015 The Blood-Horse, Inc. All Rights Reserved.