Funny Cide Responds to Hero's Welcome
by The Associated Press
Date Posted: 7/4/2007 9:24:31 PM
Last Updated: 7/14/2007 12:42:11 PM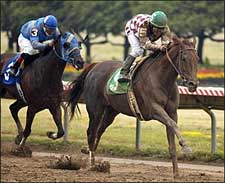 Funny Cide (5) crosses the finish line ahead of Johnie Bye Night (3) to win the 31st running of the Wadsworth Memorial Handicap at Finger Lakes.
Photo: AP/Kevin Rivoli
By JOHN KEKIS
AP Sports Writer

Funny Cide received a regal reception Wednesday and responded like a champion.

Four years removed from making a run at a Triple Crown, even-money choice Funny Cide returned to the winner's circle for trainer Barclay Tagg at a track far removed from the majesty of Churchill Downs.

The 2003 Kentucky Derby (gr. I) and Preakness (gr. I) hero captured the $100,000 Wadsworth Memorial Handicap at Finger Lakes Gaming and Racetrack, driving past pace-setting Johnie Bye Night down the stretch and pulling away by three lengths at the finish.

The 7-year-old gelding Funny Cide had not won in six straight outings, but the 1 1/8-mile test proved to his liking as a near record crowd of more than 12,000 cheered his every stride. Carrying top weight of 123 pounds, the son of Distorted Humor covered the distance in 1:51.77 on a sealed track.

"I don't think he cared for the surface," assistant trainer Robin Smullen said. "But he still loves it. He's got dapples from ear to tail. They don't look like that if they're not happy. Hopefully, we can use this as a springboard and keep going. He's healthy and he's happy, so let's have at it."
It was the first time a Derby winner had raced at Finger Lakes since the track opened in 1962. In the past six decades, only two other Derby winners -- Assault (1946) and Tomy Lee (1959) -- have raced at age 7.

After a slow break from the gate in a light drizzle, Funny Cide trailed Johnie Bye Night in fifth entering the first turn. Johnie Bye Night, who had won four straight stakes races at this out-of-the-way track just southeast of Rochester, continued to lead as the field of eight sped along the backstretch.

Alan Garcia, who gave up several mounts at Belmont to ride Funny Cide for the first time, gave the chestnut gelding the whip a couple of times as they slowly moved up entering the stretch turn.

Garcia swung Funny Cide to the outside, and they easily sailed past Tiger Speech and Johnie Bye Night for Funny Cide's 11th victory in 38 starts. The win boosted the Sackatoga Stable runner's career earnings past $3.5 million.
"Funny Cide looks the other horse in the eye and says, 'Let's go. I'm the old man. I'll show you how it's done," said Smullen, who admitted she was a bundle of nerves after her mount's slow start. "We'll figure out in discussions with Barclay what we think is next."
Funny Cide, running without blinkers for the first time in three starts, had not won since taking the $200,000 Dominion Day Stakes (Can-III) a year ago at Woodbine, but was in the money in each of his last two previous starts.
He returned $4, $2.60, and $2.20.
Johnie Bye Night paid $3.20 and $3.00, and Tiger Speech paid $4.40 to show.
Funny Cide, who arrived at dawn, looked calm as he pranced around the gazebo at the center of the paddock with hundreds of fans straining their necks to get a glimpse.

"We just wanted him to put on a good show in front of the hometown crowd," said Jack Knowlton, one of six former high school buddies from Sackets Harbor, N.Y., who purchased Funny Cide for $75,000 five years ago.

As Funny Cide approached the winner's circle, a beaming Garcia gently tapped his mount on the mane, then raised his left arm in triumph as the horse's owners and close friends, who numbered nearly 100, posed nearby for pictures.

"This is what everybody came to see," Knowlton said. "Nobody's going home disappointed, except the owners of the other seven horses."

"We may not still be on top, but it sure feels like it," said J.P. Constance, another member of the Sackatoga group.

The Finger Lakes attendance record is 13,066, set July 4, 1962.

"He won the race, and I was glad for that," Tagg said from Belmont Park. "They said they had the second-largest crowd in Finger Lakes' history. There's a New York-bred race at Saratoga for him. The owners like to barnstorm; they sent him to Canada last year and he won. They sent him to Finger Lakes this year and he won that, so you can't knock it."

(Chart, Equibase)
Copyright © 2015 The Blood-Horse, Inc. All Rights Reserved.