Meeker: No Collusion on Florida Racing Dates
by Scott Davis
Date Posted: 4/19/2001 8:47:25 AM
Last Updated: 4/19/2001 8:58:31 AM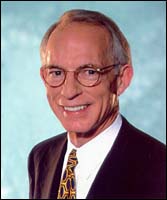 Churchill Downs CEO Tom Meeker


In an April 17 letter to Hialeah chairman John Brunetti, Tom Meeker, president and chief executive officer of Churchill Downs Inc., flatly denied allegations of collusion with Magna Entertainment Corp. in their filings for 2002 racing dates for their Florida properties.Churchill Downs owns Calder Race Course, and Magna Entertainment owns Gulfstream Park.Brunetti this week initiated communication with Meeker and Magna chairman Frank Stronach. In a letter to Meeker and Stronach, he said in part: "Obviously, you have designed your schedules not to compete with each other, but to challenge Hialeah to run against one or both of you."With the July expiration of Florida legislation that regulates racing dates, Calder and Gulfstream have filed for more racing dates in 2002. Based on those two requests, Hialeah would race unopposed on only one day next year.Meeker's letter also sought to rebut Brunetti's argument concerning the importance of Hialeah to Florida racing. He said Calder's purse structure exceeds that of Hialeah by nearly 30%.Additionally, Meeker declined Brunetti's suggestion of a meeting in Tallahassee by representatives from the three organizations. The Churchill Downs chief also expressed clear displeasure with Brunetti's release of his letter to media outlets concurrent with its delivery to him.In his letter, Brunetti floated a plan for three distinct racing periods each year, and said Hialeah would accept the one not taken by Calder and Gulfstream.



Copyright © 2015 The Blood-Horse, Inc. All Rights Reserved.