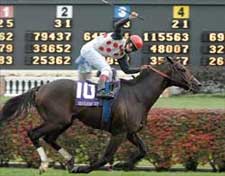 Miesque's Approval, a homebred runner for Charlotte Weber's Live Oak Plantation, was named Florida-bred champion older male, turf horse and sprinter, as per the weighted points system called "Chase to the Championship." The points system has been used by the FTBOA to determine divisional champions the last two years.

Also earning divisional championships were Take D'Tour, older filly or mare; Bushfire, 3-year-old filly; Sweetnorthernsaint, 3-year-old colt or gelding; Meadow Breeze, 2-year-old filly; and Green Vegas, 2-year-old colt or gelding.

Several other honors, including Florida-bred horse of the year, breeder of the year, and stallion of the year will be chosen by the FTBOA board of directors. Those awards will be announced during the annual FTBOA awards banquet Feb. 11 at the Ocala Hilton.