Deep Impact Charges to Japan Cup Victory; Ouija Board Third
by Ray Paulick
Date Posted: 11/26/2006 3:05:50 AM
Last Updated: 11/26/2006 11:00:41 AM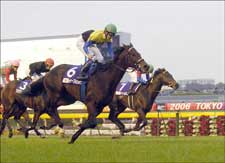 Deep Impact overtakes entire field to win the Japan Cup.
Photo: Bill Selwyn

Reigning Japanese Horse of the Year Deep Impact got the redemption his connections desperately wanted--following a defeat and medication violation in France--when the 4-year-old son of Sunday Silence rallied from last to win the 26th running of the $4.6-million Japan Cup (Jpn-I) at Tokyo Race Course on Sunday.Dream Passport finished second, a half-length ahead of the globe-trotting mare Ouija Board, who recently was named the Cartier Horse of the Year for the second time.Favored at odds of 3-10, Deep Impact broke last in the field of 11, and jockey Yutake Take kept him in that position for the opening mile, tracking just behind Ouija Board and Frankie Dettori as Cosmo Bulk set the pace. At the top of the stretch, Take swung Deep Impact to the outside while Dettori split horses to make Ouija Board's run. Dream Passport got the first jump on the pacesetter, but Deep Impact had dead aim and took command in the final furlong. He completed the 2,400 meters (about 1 ½ miles) on firm turf in 2:25.10. Cosmo Bulk, Fusaichi Pandora, Meisho Samson, Freedonia, Swift Current, Tosen Shana O, Heart's Cry, and Yukino Sun Royal completed the order of finish."I had a good view of the field, particularly Ouija Board," Take said in a post-race press conference. "I kept my eyes on her. As we turned for home, Frankie moved her to the inside, and that was a moment that really worked out because I had decided to go outside.""I was watching him all the way, too," Dettori said of Deep Impact. The jockey could be seen taking a peek to his rear several times during the race in anticipation of a big run from the Japanese champion.For the filly's owner, Lord Derby, there was no disappointment in defeat. "She ran a brilliant race," he said. "She certainly didn't let us down. She's an absolute superstar.""The winner is a monster," said Ouija Board's trainer, Ed Dunlop.Deep Impact improved his record to 11 wins from 13 starts, and he has one race left in his career, the Arima Kinen (Jpn-I) at Nakayama Race Course Dec. 24. After winning his first three starts of 2006, Deep Impact was shipped to France by trainer Yasuo Ikee, where he finished third as the betting favorite in the Prix de l'Arc de Triomphe Lucien Barriere (Fr-I) but was subsequently disqualified when testing positive for a prohibited medication to treat a respiratory problem.The victory was vindication for Deep Impact's trainer, who has carried the burden of the French defeat and disqualification."These past two months have been a very testing time for me," an emotional Ikee said. "One day could feel like a year. However, Deep Impact himself was innocent. He didn't know what happened. He's been his usual self and recovered well from the trip. He gave me the energy to carry on and to be here today. He has brought me so much and has taught me that there are ups and downs in this game. Even if you are at your lowest there are times that you just carry on. But the win does not mean that I can just feel free from everything that has happened. I will do my utmost. I will study more to prevent any kind of incident like what happened (with the disqualification), and do my utmost as a trainer from now on."Take also felt emotionally charged because of the disappointment in France. "I did have a lot of feelings before this race, and I was overwhelmed by the crowd's cheering afterwards," he said. "This was a day of resurrection."Owned by Kaneko Makoto Holdings Co. Ltd., Deep Impact will retire to Shadai Stallion Station for stud duty beginning in 2007. He was bred by Katsumi Yoshida's Northern Farm.The Japan Cup attracted an on-track crowd of 120,182. The track is in its final year of a multi-year rebuilding project. A significant portion of the grandstand was closed because of construction.



Copyright © 2015 The Blood-Horse, Inc. All Rights Reserved.