Road to Louisville: Who's Going Where
by Steve Haskin
Date Posted: 3/21/2001 1:01:17 PM
Last Updated: 3/26/2001 12:51:23 PM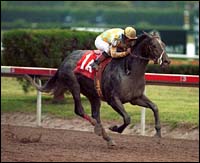 Florida Derby winner Monarchos is being pointed toward the Wood Memorial.
Photo: Associated Press/Equi-Photo/Bill Denver

The road to Louisville right now is like something out of "It's a Mad, Mad, Mad, Mad World," where everyone is scurrying frantically about in different directions trying to get to a single destination.Many trainers are still confused as to where to send their steeds, whether they're trying to avoid the big guns, like Monarchos and Point Given, or looking for the best possible spot for their horse. Derby winners usually have set plans and stick to it, so it's almost time for those trainers who are still vacillating to make up their minds.We'll also list the current jockey situation, although there no doubt will be a lot of shuffling going on over the next month.The one race that is plagued by indecision is the Santa Anita Derby. Point Given's emphatic comeback victory in the San Felipe has scared the pants off several trainers, who are now thinking of skipping town for points East. The trainers of two of his biggest threats, Millennium Wind and Palmeiro, are wavering, while another trainer would prefer to head to the Arkansas Derby, but probably will stay home, due to the owner's wishes. Here is how we stand:Point Given and Crafty C.T. definitely will run in the Santa Anita Derby, giving the race a solid nucleus of speed and closing power. I Love Silver, who ran a big race to finish second in the San Felipe in his stakes debut and first start over 6 1/2 furlongs, likely will also compete, although trainer Dean Greenman would rather head to Hot Springs. "The owner is going to be out of town that weekend (April 14), and he'll probably want to run in the Santa Anita Derby," Greenman said. If he does run in the Santa Anita Derby, he'll likely lose his regular rider Eddie Delahoussaye, who also rides Crafty C.T. Greenman said Laffit Pincay would be the replacement.As for Millennium Wind and Palmeiro, neither Dave Hofmans nor John Sadler would commit to the Santa Anita Derby. Both could run, or both could wind up in the Arkansas Derby, or Millennium Wind could head for the Blue Grass. To complicate matters even further, Jamaican Rum, a fast-closing third in the San Felipe, is 50-50 for the Santa Anita Derby, and more likely will head to either the Arkansas Derby or Illinois Derby. If that's the case, then he too may lose his rider Alex Solis, who would have to choose between Jamaican Rum and Startac, who is likely for the Arkansas Derby. Another trainer, Ron McAnally, also will have to decide between the Santa Anita Derby and Arkansas Derby with Early Flyer. Your best bet is to just stay tuned on this one.A race of more immediate nature is Saturday's Spiral Stakes at Turfway, which will attract Meetyouathebrig and Camden Park from Elliott Walden's barn; Buckle Down Ben, who could be Wayne Lukas' last hope to send a contender to Churchill Downs; Mongoose, scratched from last week's Tampa Bay Derby; Keats, a brilliant colt who is looking to stretch out in distance; Clutch Player, Dallas Stewart's second-stringer behind Dollar Bill; and Balto Star, an improving colt from Todd Pletcher's New York string who has won two of his last three by a combined 23 lengths. Two contenders, Holiday Thunder and Bonnie Scot, will miss the race due to a bruised foot and fever, respectively.Also at Turfway, Team Valor's highly promising Romolo's Fritzi will run in the Rushaway Stakes as a prep for the Wood Memorial.At Oaklawn Saturday, local hero Son of Rocket will try to win his third stakes at the meet, and will face an exciting prospect in Strike it Smart, an allowance winner at Fair Grounds in his last start. Others to watch in the Rebel are Grifter, who was scratched out of the Southwest due to a sloppy track, and Arctic Boy, a good second in the Southwest.Over in Dubai, all eyes will be on Street Cry in the UAE Derby, as well as Express Tour, who will be making his 3-year-old debut, and Arazi's brother Noverre, runner-up to Street Cry in the UAE 2,000 Guineas.Looking down the road again, the Flamingo Stakes, Illinois Derby, and Lone Star Derby all will be run the same day as the Santa Anita Derby. The Flamingo will have an exceptionally strong field, with A P Valentine facing off against Florida Derby Derby and Fountain of Youth runner-up Outofthebox, Florida's 3-year-old grass king Proud Man, and Talk is Money, a disappointment at Gulfstream.The Lone Star Derby looks like a showdown between Louisiana Derby winner Fifty Stars and El Camino Real Derby winner Hoovergetthekeys. The Bob Baffert-trained Global Gait is a possibility. Dream Run, fourth in the Florida Derby, likely will head for the Illinois Derby.Looking ever farther down the road, the Wood Memorial could be a showdown between Monarchos, Congaree, and Gotham winner Richly Blended, with Ommadon and Romolo's Fritzi possibles, depending on how they do in upcoming starts. Burning Roma, winner of the Tampa Bay Derby, could also show up if he doesn't run in the Blue Grass Stakes or Federico Tesio. One live horse to keep an eye on is It's So Simple, who could run in the Wood or Blue Grass. One other horse pointing to either the Wood or Blue Grass is Invisible Ink, who should be ready for a big effort off his excellent third in the Florida Derby. Scorpion didn't handle the Aqueduct track in the Gotham, so he may ship elsewhere.Those definitely pointing for the Blue Grass Stakes are Dollar Bill, Hero's Tribute, and Songandaprayer, with one or two others likely to come out of the Spiral Stakes. Possibles, as mentioned before, are Invisible Ink and Burning Roma.Finally, the Arkansas Derby could also be an excellent race if it gets some of the refugees from Southern California who are contemplating fleeing the West Coast – Millennium Wind, Palmeiro, Jamiacan Rum, and Early Flyer. Even if it doesn't, it still should lure Startac, looking to bounce back from the El Camino Real Derby; True Concern, who scared the pants off everyone with his monster move from last to first in the Louisiana Derby; as well as the top finishers in the Rebel Stakes.Following is the current jockey line-up: Monarchos (Chavez), Point Given (Stevens), Dollar Bill (Day), Hero's Tribute (likely Bailey), Millennium Wind (McCarron), Outofthebox (Nakatani), Invisible Ink (Velazquez), Congaree (Espinoza), Palmeiro (Desormeaux), Songandaprayer (Prado), Hoovergetthekeys (Warren), Burning Roma (Migliore), I Love Silver (Delahoussaye or Pincay), Jamaican Rum (Solis or Delahoussaye), Startac (Solis), Street Cry (Dettori), Fifty Stars (Meche), Crafty C.T. (Delahoussaye), Strike it Smart (Albarado), Meetyouathebrig (Prado), Richly Blended (Wilson), Buckle Down Ben (Velazquez), Mongoose (Espinoza), Early Flyer (McCarron), Clutch Player (Day), Ommadon (Gryder), It's So Simple (Coa), Distilled (Smith), Keats (Melancon), Proud Man (Douglas), Talk is Money (Verge), Thunder Blitz (Prado), Scorpion (Flores), Camden Park (Solis), Balto Star (Guidry), Dream Run (Court). Nothing definite yet on A.P. Valentine, Global Gait, and Romolo's Fritzi. The last named will get a rider on Thursday.



Copyright © 2015 The Blood-Horse, Inc. All Rights Reserved.