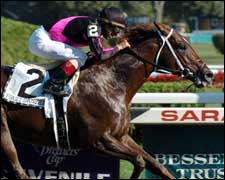 too impressively, as strange as that sounds. The speed-favoring nature of Keeneland should play right into the hands of the Baffert-trained Sinister Minister, who no doubt will blast away from the gate and try to run his opponents into the ground with some dazzling fractions. Considering the three horses to beat – First Samurai, Bluegrass Cat, and Strong Contender – all like to be right up there with the pace, that scenario would appear to be the best way to knock them all out at once.First Samurai has taken his share of knocks from the "experts" who believe the son of Giant's Causeway is nothing more than a miler who cannot come home fast. But the feeling here is that this is an immensely talented colt who is just now ready to define who he really is. He has been working up a storm at Churchill Downs, closing fast, and galloping out strongly. He has the looks, the strength, and the pedigree to go along with his ability, and if he's ever going to step up and utilize all those traits this is the time.If Sinister Minister does bust out of there and set blazing fractions, does Rafael Bejarano try to run with him or try to teach First Samurai to relax, with the Derby in mind, even at the risk of having to settle for second? If they want to win the Derby they cannot try to win the Blue Grass at all costs. Winning on the front end or battling with Sinister Minister will do him no good for the Derby.Bluegrass Cat does not have the speed of First Samurai, and John Velazquez will not be confronted with that decision. He will take up a nice stalking position in third or fourth and hope his colt takes to the track better than he took to the loose surface at Tampa in the Tampa Bay Derby.And then you have Strong Contender, who is being given a crash course on getting to the Derby. After missing the Lane's End Stakes (gr. II) due to lack of earnings, he was supposed to go to New York for the Wood Memorial (gr. I), but those plans also were scrapped when John Ward decided to wait for the Blue Grass. The bottom line is that the big, handsome son of

Maria's Mon

has had only two career starts and hasn't run since Feb. 22. Ward is not known for his impetuosity, so he obviously feels Strong Contender is capable of extraordinary things, and he'll have to be if he's going to win or place on Saturday and then come back three weeks later and be competitive in the Derby off only three career starts.So, is this nothing more than a four-horse race or can a longshot actually close on this track and pick up a piece of it? Court Folly will get some support off his fast-closing third in the Swale Stakes (gr. II), but there is a question how far he wants to go.The horses to keep an eye on are Little Cliff and Seaside Retreat. Zito, who has been firing every weapon he has in his arsenal all winter trying to find something even remotely resembling a Derby horse, has one final bullet in his holster. He does have Superfly in the Arkansas Derby, but it is Little Cliff on whom his hopes ride. The son of

Gulch

already has wins at Keeneland and Churchill, and his poor recent record is based mostly on fourth-place finishes in the Sam F. Davis and Tampa Bay Derby. In both races, he could not handle the Tampa surface, and after making a brief move on the turn, he was pretty much spinning his wheels in the stretch. Zito has been on a tear at Keeneland and his horses are running 10 lengths better than they did in Florida. On paper, Little Cliff does not have the kind of speed you want to see to win a race like the Blue Grass, but Zito is not going to risk a shot at the Derby by trying to go all out to win the Blue Grass. All he's looking for is a second. Zito is big on charting a horse's steady progress against a proven star, and he is well aware that Little Cliff finished 5 3/4 lengths behind Bluegrass Cat in the Sam Davis and 3 1/2 lengths behind him in the Tampa Derby. Another two-length jump puts him right there.Seaside Retreat will be ignored in here off his second to 48-1 shot With a City in the Lanes End Stakes. But the long-striding son of

King Cugat

was hung very wide on both turns and looked as if he needed that race. He was striding out nicely in the stretch and is capable of moving way forward off that effort - if, of course, Poyltrack form holds up. He has excellent 2-year-old form in Canada, and you have to throw out his fifth in the Sam Davis in his 3-year-old debut. Keeneland doesn't look like the kind the track that suits his style or his big stride, but if a miracle occurs and the speed horses actually back up a bit, he could very well pick up a piece of it.So, while bettors have to decide how they want to handle the short odds on First Samurai and Bluegrass Cat, as well as Strong Contender, the key scenarios are Sinister Minister stealing the whole thing, and Little Cliff and Seaside Retreat coming on to close out a high-priced exacta. Sinister Minister tore out some blazing fractions in the California Derby before making a left turn and bouncing off the rail several times. He was beaten four lengths by Cause to Believe in 1:41 flat, but he came on strongly following his mishap and actually galloped right on by the winner after the wire. Now, it is just a question whether he can use his speed effectively and not blow his mind, as he's done a few times before.As far as the Kentucky Derby goes, a good closing effort and solid final furlong is all First Samurai needs to put him in great shape for the Run for the Roses.The Arkansas Derby is pretty simple: you either think Lawyer Ron is in a different class than his opponents or the race is wide open. After racing at least once in every month for the past nine months, are the screws ready to fall off, or is Lawyer Ron one of those long-lasting machines we used to see years ago? There is no way to tell, so you'll just have to take a stand and decide whether you feel he's worth the short odds.The fast-closing and consistent Steppenwolfer deserves to get into the Kentucky Derby field, but he still needs to finish no worse than second, while Red Raymond has a bit more leeway, thanks to two graded stakes placings. With a City shocked everyone in the Lane's End, and this race will show whether that was a fluke or not. And then there is Sayhellotolarry, who is coming off two impressive victories at Oaklawn.Because this race is so confusing, the move here is to go back to last year's Kentucky Jockey Club Stakes (gr. II) at Churchill and look for Private Vow and High Cotton to return to that form. The former, despite his light schedule of only two starts, was high on the Derby Dozen list for a long time, based on the gut feeling that he is a very talented colt and the magnificent physical appearance he made in the Bessemer Trust Breeders' Cup Juvenile (gr. I).His debut this year was disappointing, and did not put him in a good position to be ready for the Kentucky Derby. He ran with his head too high and didn't appear to be focused. But it may have been enough for him to move forward off it, just as Afleet Alex moved way forward off his Rebel debacle last year. Whether that's good enough to win is another question, but if he can win or finish a strong second or third, it might be enough to set him up for a big race on May 6. So, once again, this endorsement is based mainly on gut feeling and confidence that he has the talent to bounce back from the Rebel.High Cotton is another who was highly regarded last year, mainly because of his toughness and tenacity, and his ability to consistently fight back in the final sixteenth, even where he was already beaten. His first start this year was a throwout after he stumbled badly coming out of the gate and then just shut it down, as if he had lost his air. He came back in the Rushaway and, although he beat a horse who was still a maiden after seven starts, looked good doing it, returning to his aggressive style and striding out beautifully. Of course, there is no way to know if that race was good enough for him to step up and beat Lawyer Ron and some of the others. So, this also is based on gut feeling, and the belief (or hope) that top 2-year-old form still carries some weight. Even a tough 2-year-old campaigner like Superfly can run well in here if he can overcome the 12-post. He looked as if the had the Lane's End field at his mercy, but drifted out nearing the top of the stretch and never fired, finishing fifth. Was it Polytrack or is he just not good enough? He'll be monster odds if you want to take a chance it wasn't the latter.