Rockport Harbor Re-injures Foot; Retirement Possible
by Steve Haskin
Date Posted: 3/13/2006 2:15:26 PM
Last Updated: 3/15/2006 6:31:57 PM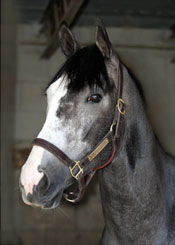 Re-aggravated injury could end Rockport Harbor's racing career.
Photo: Jeff Coady

Fox Hill Farms' Rockport Harbor, who has had more than his share of bad luck during his racing career, came out of his fifth-place finish in the March 12 Razorback Breeders' Cup Handicap (gr. III) with a foot injury that may force his retirement.It was discovered following the race that Rockport Harbor had opened an old wound on the back of his right hind foot and, because of its severity and the possibility of infection, there is concern whether the son of

Unbridled's Song

will be able to race again."Stew (jockey Stewart Elliott), John (trainer John Servis), and I knew something was wrong when he wouldn't respond at the half-mile pole," owner Rick Porter said. "We discovered after the race that his old scar had split, and it's going to be a problem. Bacteria and other things can penetrate the foot and cause all kinds of problems, including infection."He was training at the top of his game going into the race, so this was quite a surprise. We're going to clean the patch around the scar without penetrating the meat of the foot like we did last time. We'll then re-patch it, but it doesn't sound good to me. I told John I didn't want to put him through anything near what we did last year. If he can't get him 100% right without being invasive to the foot, I am going to retire him. He's been through enough already with that foot and, in all likelihood, we wouldn't be able to get it 100% anyway."Servis, who won the previous day's Azeri Breeders' Cup Stakes (gr. III) with Porter's Round Pond, also feels Rockport Harbor probably has run his last race."The cut is only about a sixteenth of an inch, but the real problem is, I can take my fingernail and pull apart the edge of it," Servis said. "And you can see moisture in there. The foot's not real hot, so I don't think it's infected, but it's definitely bothering him. It'll be touch and go for the next four or five days to see if we even have a shot to get him 100%. "We're going to go in and cut out the scar tissue, and if we can throw a patch on it without having to wire it, we'll go along slowly and see how it goes. If not, we're just gonna stop on him and retire him. The sad thing is that this horse never ever got a chance to show the best of his ability. We'll never know how good this son of a gun was. And it's frustrating, because, outside of this foot injury, he's as sound as they come. He doesn't have a pimple on him."Rockport Harbor had returned from a 10-month layoff to win the Essex Handicap (gr. III) by 2 1/4 lengths after being headed in the stretch. He previously had won the Remsen Stakes (gr. II) at two and finished second by a half-length in the Rebel Stakes (gr. III) at three coming off a four-month layoff.Porter purchased Rockport Harbor at the 2003 Keeneland September yearling sale for $470,000. Out of the Copelan mare Regal Miss Copelan, he was bred in Kentucky by Heiligbrodt Racing Stable and Taylor Made Farm.



Copyright © 2015 The Blood-Horse, Inc. All Rights Reserved.