Steve Haskin's Weekend Preview: Samurai's Sword Will Prove Deadly
by Steve Haskin
Date Posted: 3/2/2006 2:21:43 PM
Last Updated: 3/3/2006 12:44:21 PM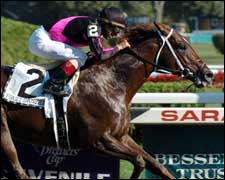 First Samurai, winning last year's Hopeful Stakes.
Photo: NYRA/Adam Coglianese

First Samurai finally gets his opportunity to show what he can do going two turns when he heads a field of nine in the $300,000 Fountain of Youth Stakes (gr. II), one of four 3-year-old stakes to be run on Saturday. The other big-name horse in action is Brother Derek, who will be a heavy favorite in the Santa Catalina Stakes (gr. II).With most of the big-name stakes horses fleeing South Florida for more suitable races, it leaves First Samurai as the only proven stakes winner in the Fountain of Youth. The son of Giant's Causeway has his share of detractors, who cite his slow closing fractions in several major races, and feel he is best at shorter distances.You normally don't know if any horse is going to relish 1 1/4 miles, or even two turns, until they do it, but for now, based on his brilliance, power, and class, First Samurai has the capability of blowing the Fountain of Youth wide open and establishing himself as a clear-cut favorite for the Kentucky Derby presented by Yum! Brands (gr. I).If he shows his distance ability is indeed limited, then the Fountain of Youth is up for grabs, with just about anyone capable of winning. There doesn't appear to be any true speed horses in the race, and if the pace is slow, it would give First Samurai a perfect opportunity to show he can harness the blazing speed he showed in the Hutcheson Stakes (gr. II). As for his slow closing times in the grade I Hopeful and Champagne, that can be attributed to the fast early fractions he chased, especially the outrageous :43 3/5 half in the sloppy Champagne. In the Bessemer Trust Breeders' Cup Juvenile (gr. I), he was found to have had a breathing problem. If he continues to press the kind of fractions he has in the past, he will not be a factor in the Derby. But if he can learn to sit back off the pace, as he did in the Breeders' Cup Juvenile, there is nothing to stop him. His pedigree shouldn't stand in his way, and he's already shown he has tremendous talent to go along with his good looks.If First Samurai does stub his toe in the Fountain of Youth for whatever reason, you have Great Point, My Golden Song, Corinthian, Jazil, and Flashy Bull all capable of getting the job done. And if you throw out his fifth-place finish in the Aventura, Itsallboutthechase has the ability to bounce right back into the thick of things. Just remember, Saint Augustus, who ran horribly in the slop in the Holy Bull, came back and scored an impressive allowance victory last weekend going 1 1/8 miles. Great Point made a spectacular appearance Thursday morning, galloping strongly.Flashy Bull has the most tactical speed and should be stalking the pace, followed by My Golden Song, Corinthian, and Jazil. Rehoboth is coming off a sprint victory and he should also be fairly close to the pace. All we have to do is figure out who will be on the lead. First Samurai could inherit it whether he wants it or not.It's not who wins the Fountain of Youth that's important, but who looks like a Derby horse, and who can compete at this level. Two of the horses who have no stakes experience – Corinthian and Jazil – are coming of a one-two finish, respectively, in a classy 1 1/8-mile allowance race, and both look to be improving the right way and at the right time. If either turns in a big performance on Saturday, win or lose, you'll be looking at a live Derby horse.For now, the Fountain of Youth looks to be First Samurai's race to win or lose. After that, the rest are so close, just look for the most attractive prices on the board.Hallelujah, BrotherLet's face it, Brother Derek should not lose the Santa Catalina Stakes, if brilliance, class, experience, and seasoning mean anything. Already the winner of a grade I and two grade II stakes, while knocking off last year's 2-year-old champion, Brother Derek will be facing mostly lightly raced, unseasoned horses who have not even faced winners yet.That's not to say he won't be up against talented horses. The word has been out on Latent Heat for a while, and the Bobby Frankel-trained son of

Maria's Mon

has unlimited potential. But, he's only run twice and hasn't been over seven furlongs. If he can upset Brother Derek, or even run him to a close finish, then he is one serious horse.Wanna Runner, who finished a solid third behind Brother Derek and Stevie Wonderboy in the san Rafael (gr. II), has the most credentials, and trainer Bob Baffert attributes his fifth-place finish in the subsequent El Camino Real Derby (gr. II) to coming back only in only 15 days. He's now had five weeks since that race, and should make his presence felt. One horse who should get an ideal scenario at a big price is Sacred Light, a powerful closer who was at a disadvantage in a small field in the Sham StakesDeep, competitive Swale Field; Other Key Races
Also at Gulfstream Saturday, the Swale Stakes (gr. II) drew a deep, competitive field of 12. While In Summation and Catcominatcha have the stakes experience, the hot horses will be Noonmark and Showing Up, both of whom are coming off brilliant victories. From Canada, comes the promising Bear Character who has been training super for Canadian trainer of the year Reade Baker. Nick Zito will be represented by the highly regarded Beacon Shine. Noonmark likely will be the favorite and it's going to take a big effort to beat him. Showing Up has a bright future following his dazzling maiden victory, but with one career start he's giving up a good deal of experience to the others.Also on Saturday's card, Zito and Todd Pletcher will square off in a 1 1/8-mile allowance race with Superfly and Sunriver, respectively. Zito will also send out 1 1/18-mile maiden winner Patriot Game in the race. And watch out for High Blues, who chased Corinthian and Jazil home in an allowance race last time out.A seven-furlong allowance race on the card will feature impressive maiden winners Exclusive Quality, trained by Pletcher, Protagonus, trained by Zito, and the Tom Albertrani-trained Songster, who won his career debut in 1:21 2/5 for seven furlongs



Copyright © 2015 The Blood-Horse, Inc. All Rights Reserved.