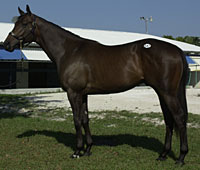 The number sold fell 12.8%, from 156 last year to 136 this year.


The gross revenue dropped 16.3%, from $33,690,000 to $28,186,000.


The average price slipped 4%, from $215,962 to $207,250.


The median price declined 8.3%, from $163,500 to $150,000.


The highest individual price for a horse fell from $1,950,000 to $1 million, and the number sold for seven figures dropped from four to one.


The buy-back rate increased from 40.9% to 42.6%.
In addition, the number sold for $200,000 or more slipped from 70 to 54 and the number sold for $100,000 or more declined from 108 to 102."There are some very nice, useful horses here, but I don't know that you had the real brilliant horse that caught everybody's eye like Yonaguska did last year," said Kentucky bloodstock agent John Moynihan.Fasig-Tipton officials tried to put a positive spin on the results, pointing out the average and median were the sale's second-highest ever, even though their declines ended seven consecutive years of growth. Walt Robertson, the company's president, also suggested any expectations of significant increases probably had been unrealistic given the slowdown in the American economy and setbacks at most recent breeding stock auctions."You're never happy when you're not up," Robertson said. "But everything in the world -- the stock market, the broodmare market -- told us that we would be damn lucky to hold on to what we had gotten here last year. I don't think it was too prudent to hope for big gains."One of the sale's most encouraging developments was the increased participation of Japanese buyers. They spent at least $6,650,000 for no fewer than 27 horses. In comparison, they paid $5,055,000 for 21 horses in 2000. Their expenditures accounted for 23.6% of the gross this year compared to 15% last year. Terence Collier, Fasig-Tipton's director of marketing, called this year's Japanese contingent the largest ever."Without the Japanese, this sale would be in big-time trouble," said consignor Ken Ellenberg. "We're lucky they're here. If they weren't, we would all just be standing around looking at each other.""The Japanese helped this market tremendously," Robertson said. "They bought a lot of horses, and they ran second a lot of times. Everybody had hoped they would be reckless, but they weren't. The yen is still not as strong as it was five or six years ago. But since the dollar has gained strength, we have not seen this kind of Japanese participation until today."Naohiro Goda of the Tokyo-based Regent Co. said there were several factors involved in the surge of Japanese participation. Fasig-Tipton Calder graduates have done well recently in Japan. They include Nobo True, winner of this year's February Stakes (Jpn-I), and Kurofune, considered to be one of Japan's most promising 3-year-olds. In addition, Goda said, the Japanese have been impressed with Fasig-Tipton's efforts to recruit them as buyers. Pacific Rim horsemen also were hoping to find some bargains because of the downturn in the American economy, but "this is a very strong market," Goda said. "We expected it to be weaker."The most expensive horse purchased by a Japanese buyer was Sequel Bloodstock's $850,000 Afternoon Deelites filly, named Linda Seek. Northern Farm's Katsumi Yoshida bought her on behalf of Makoto Kaneko, a computer software businessman from Tokyo. Kaneko races Kurofune, a $430,000 graduate of last year's Fasig-Tipton Calder auction who finished third in the 2000 Radio Tampa Hai Sansai Stakes (Jpn-III).Continued. . . .