Danehill Colt Tops International Sale at HK$3 Million
by Tom LaMarra
Date Posted: 12/10/2005 9:28:04 AM
Last Updated: 12/11/2005 5:16:08 PM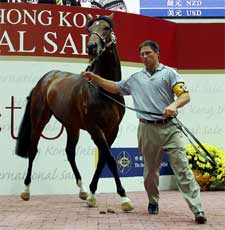 A 2YO bay colt by Danehill fetches the highest price at Hong Kong International Sale.
Photo: Hong Kong Jockey Club

A 2-year-old colt by Danehill sold for HK$3 million ($386,847) to top the Dec. 10 Hong Kong International Sale, an auction held for the purpose of getting well-bred racing prospects into the hands of Hong Kong-based owners.This year's sale, held at Sha Tin racecourse, was billed as perhaps the last chance to acquire offspring of Danehill, the record-setting Coolmore stallion who died in 2003. Danehill is the first stallion to sire 300 stakes winners.Three sons of Danehill were catalogued to the sale held by the Hong Kong Jockey Club on the eve of the Cathay Pacific Hong Kong International Races. One was withdrawn, one sold for $2 million, and the third took top honors among the 27 horses sold.The purchaser of the colt out of the Caerleon mare Tamarino was Lyraa Ng, a Hong Kong-based owner who was swarmed by individuals toting cameras and video equipment as she stood in the Sha Tin paddock, where the auction was held. Ng told the media previous success with Danehill was the impetus for the purchase."I think the price is very fair," said Ng, who operates a toy-making company. "I had a Danehill before, and he gave me great happiness and glory. I think this one will give me more glory if he's good enough to get out of Hong Kong and go around the world. Let's cross our fingers for that."Hong Kong Jockey Club chairman Ronald Arculli made two purchases worth a combined HK$2.8 million--a 2-year-old gelding by Marju and a 2-year-old gelding by Acatenango. Arculli said Ivan Allen, who trained Hong Kong standout Indigenous (by Marju), selected the horses for the sale.The Jockey Club hires agents to purchase racing prospects at other auctions and then sells them each year in an attempt to improve the racing stock in Hong Kong. The organization offers a HK$1-million bonus to the sale graduate that has the highest cumulative purse earnings at the end of the 2006-07 racing season in Hong Kong.This year's sale recorded a profit of HK$28,000, according to end-of-sale figures, even though average declined 21.5%.Winfried Engelbrecht-Breges, the Jockey Club's executive director of racing, didn't seem bothered by the decline given the fact the 2004 auction featured a HK$6-million horse and several other expensive purchases that sent the average to HK$2.63 million for 19 lots. This year's average was $1.77 million for 27 lots."In the end, this sale is really a service for owners," Engelbrecht-Bresges said. "We're hoping to provide some good horses for very good money, and I think we had some good bargains. It's really not a business proposition for us. We want to provide a service."Gross was up 11.6%, from HK$43 million last year to HK$48 million. Median dropped 10% from HK$2 million to HK$1.8 million.Engelbrecht-Bresges said the 2004 results were "excessive," and that he anticipated a correction. He also noted the expected sale topper, a 2-year-old colt by Redoute's Choice out of the Miswaki mare Chilkat, was a late withdrawal, and that impacted the final numbers.Second-highest price of HK$2.8 million was paid by Gary Coull for a 2-year-old gelding by Desert King out of the Palace Music mare Queen's Choir. Of the 27 horses sold, none sold for less than HK$1 million.The auction was a high-tech spectacle of sorts, with all the proceedings shown on a huge video screen that fronts the paddock. There were zoom-in shots of buyers or agents as they bid or pondered bids, and the screen also reflected the current bids and their value in several different currencies.Servers walked around the auction area offering hors d'oeuvres and beverages to guests. Flight attendants for Cathay Pacific, sponsor of the International Races, brought the purchase slips to buyers in the crowd.



Copyright © 2015 The Blood-Horse, Inc. All Rights Reserved.