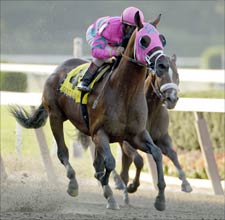 1--Rock Hard Ten, Gary Stevens, 7-2
2--Sun King, Rafael Bejarano, 30-1
3--Choctaw Nation, Victor Espinoza, 15-1
4--Oratorio, Kieren Fallon, 10-1
5--Perfect Drift, Mark Guidry, 12-1
6--Sir Shackleton, Javier Castellano, 20-1
7--Super Frolic, Eibar Coa, 30-1
8--Suave, Edgar Prado, 20-1
9--Flower Alley, John Velazquez, 10-1
10--Jack Sullivan, Frankie Dettori, 50-1
11--Borrego, Garrett Gomez, 9-2
12--A Bit O'Gold, Jono Jones, 30-1
13--Saint Liam, Jerry Bailey, 3-1
14--Starcraft, Pat Valenzuela, 12-1In all, there will be 101 total starters and three of the races will have full fields: the Juvenile (gr. I), the Filly & Mare Turf (gr. IT), and the Classic. Total purses will be a record $15,755,000. If all 101 horses start, it will be highest number of starters since the record 103 when the Breeders' Cup was run at Churchill Downs in 2000. The only other year there were more than 100 starters was in 1999 when 101 went to the posts at Gulfstream Park. The draw was conducted by Andrew Byrnes, stakes coordinator for Belmont Park, and racing secretary P.J Campo.