It's Just Business
by Ray Paulick
Date Posted: 9/20/2005 9:28:34 AM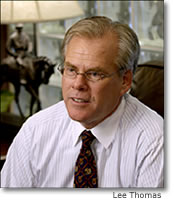 Ray Paulick
Editor-in-Chief


The bidding duel between Dubai's Sheikh Mohammed and Ireland's John Magnier for the $9.7-million sale-topping Storm Cat--Tranquility Lake colt wasn't the only drama at Keeneland in the opening days of the annual September yearling auction. Those same two parties, Sheikh Mohammed and his two brothers and Magnier and his associates from Coolmore, are fierce rivals. They compete to buy the world's best racing prospects and breeding stock, and they lock horns on the international stage while trying to win this sport's biggest races. Coolmore has established itself as the leading Thoroughbred breeding operation in the world, with massive businesses in Ireland, Australia, and Kentucky. The Maktoums have farms in Australia, Japan, Europe, and Kentucky, and they are getting more aggressive in acquiring and marketing stallions. That competition, obviously, is why the Maktoums and Coolmore fought tooth and nail during the Keeneland sale's Sept. 12-13 select sessions for sons of Storm Cat and A.P. Indy, whose stud fees--they were $500,000 and $300,000, respectively, in 2005--generate enormous income and whose best progeny possess great potential on the racetrack and in the breeding shed. The final score from those two sessions: 50 yearlings purchased by the Maktoum family for $58,835,000, including five Storm Cat colts and three by A.P. Indy; 16 yearlings purchased by Coolmore's Demi O'Byrne for $20,275,000, including one Storm Cat colt and two by A.P. Indy. The combined spending of the two groups accounted for 42% of the select sale's gross receipts of $187,214,000. The rivalry went beyond the Storm Cat and A.P. Indy yearlings. Though denied by Sheikh Mohammed's bloodstock agent, John Ferguson, the Maktoums appeared to engage in some hardball with their Irish counterparts involving yearlings sired by Coolmore stallions. Of the 494 yearlings through the ring during the select sessions, 118 of them (23.9%) were sired by stallions standing either at Coolmore in Ireland or at Ashford Stud in Kentucky. Not one of those yearlings was purchased by the Maktoums, which, were it not for Ferguson's denials, would seem to confirm the widespread rumor going into the sale that the Maktoums planned to boycott yearlings sired by Coolmore stallions. Perhaps "boycott" was too strong a word. It can, however, be said that Dubai's royal family avoided buying any yearlings sired by Coolmore stallions. Among other things, their actions may have led to a lower-than-expected select sale average for Giant's Causeway, Coolmore's Storm Cat stallion who ranks seventh on the general sire list despite having just two crops of racing age. Last year at this time, while seventh on the list of first-crop stallions, Giant's Causeway had 31 yearlings sell during the select sessions for an average of $441,129. Four were purchased by Ferguson on behalf of Sheikh Mohammed. This year, after siring four group I winners, Giant's Causeway had 26 select session yearlings sell at Keeneland for an average of $531,731. Ten failed to meet their reserve price and were bought back by consignors who expected bigger things as a result of Giant's Causeway's ascension into elite sire status. Those consignors were the ones who felt the impact of the Maktoum family's absence during the bidding for Giant's Causeway yearlings and others sired by Coolmore stallions. Perhaps it's just business. It's hard to imagine Michael Dell sitting down to a Hewlett-Packard computer, Bob Lewis sipping a Coors Light, or Mike Pegram munching on a Burger King Whopper. But the Thoroughbred marketplace has always been a little different from the rest of the business world. Until now.



Copyright © 2015 The Blood-Horse, Inc. All Rights Reserved.