Storm Cat Scales New Heights at Keeneland Sale
by Evan Hammonds
Date Posted: 9/14/2005 11:32:45 AM
Last Updated: 9/16/2005 2:07:11 PM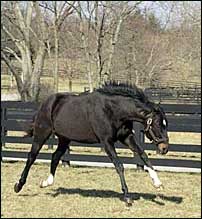 Overbrook Farm stallion Storm Cat.
Photo: Anne E. Eberhardt

There was a huge run on the market for sons and daughters of

Storm Cat

by the ultimate high-end buyers at the select sessions of the Keeneland September yearling sale. Leading the charge, of course, was the fall sale record $9.7 million bid by Sheikh Mohammed for a dark bay or brown colt by Storm Cat out of multiple grade I winner Tranquility Lake.It was the third-highest price for a sale yearling, eclipsed only by $13.1 million for a son of Nijinsky II in 1985 and $10.2 million for a son of Northern Dancer in 1983. Both of those prices came during the heady days of the Keeneland July auction in the mid '80s.An astounding seven yearlings by

Storm Cat

sold at the Sept. 12-13 select sessions for at least $3 million. In all, 22 were sold for an average of $2,028,409."Like all big prices, it didn't hurt the fact that the ($9.7 million) colt came in right after all the other (Storm Cat) colts," said Ric Waldman of Overbrook Farm, where Storm Cat stands. "That helped fuel the bidding duel between Coolmore and Sheikh Mohammed."While

Storm Cat

commands the world's highest stud fee, $500,000, and has had a hammerlock as a leading sire of sale yearlings for years, this year's spike in enthusiasm has only been eclipsed historically by Northern Dancer's reign more than 20 years ago."The impact is a combination of factors," Waldman said. "One, I think this is the best group of Storm Cat yearlings that have ever come into this sale; and two, there is a strong turnout at this sale--all of the major buying groups are here."Basic facts make Waldman's comments quite an understatment. At the sale's first session, seven yearlings by

Storm Cat

sold for seven figures, topped by the $3.5 million colt out of champion Serena's Song and a $3 million colt out of champion Ajina. Both tickets were signed by Sheikh Mohammed's bloodstock agent John Ferguson. During the sale's second session, five

Storm Cat

yearlings sold for a minimum of $3 million, topped by the September sale record $9.7 million colt and followed by the $6.3 million paid by Ferguson for a son out of two-time grade I winner Secret Status."The older he gets, the more success you see coming from him," Waldman said. "Not only on the track, but from his sons. The success of Giant's Causeway has done an awful lot to help sons of Storm Cat."Giant's Causeway , the sire of seven stakes winners this year, was the sixth leading sire by average at the select sessions with 26 yearlings selling for an average of $531,731. To see the sire list, go to:http://auctions.bloodhorse.com/SaleResults/KeeSep05Sires1.asp

Storm Cat

, North America's leading sire of 1999 and 2000, has led the juvenile list seven times and has been the leading sire of sale yearlings for four straight years. He's well on his way to a fifth title.

Storm Cat

is now 22 years old. The son of Storm Bird is the sire of 137 stakes winners and has a co-leading 12 stakes winners this year. Waldman said

Storm Cat

was bred to 109 mares in 2005, and his book for '06 "will likely be reduced, but to what extent we haven't predetermined."As

Storm Cat

slows with age and sires less foals, that will only heighten future demand for the commercial sale giant.
Storm Cat at Keeneland September Select:Year - Sold - Gross - Average
2005 - 22 - $44,625,000 - $2,028,409
2004 - 12 - $20,600,000 - $1,716,667
2003 - 12 - $11,480,000 - $956,667
2002 - 12 - $9,795,000 - $816,250*
2001 - 13 - $22,835,000 - $1,756,538
2000 - 16 - $22,428,000 - $1,401,750
*Second to DanzigNorthern Dancer at Keeneland JulyYear - Sold - Gross - Average
1987 - 13 - $12,435,000 - $956,538
1986 - 8 - $8,925,000 - $1,115,625
1985 - 10 - $14,655,000 - $1,465,500
1984 - 12 - $41,360,000 - $3,446,667
1983 - 10 - $24,775,000 - $2,477,500
1982 - 14 - $12,440,000 - $888,571



Copyright © 2015 The Blood-Horse, Inc. All Rights Reserved.