Track and Field
by Ray Paulick
Date Posted: 6/28/2005 3:10:16 PM
Last Updated: 6/28/2005 3:14:24 PM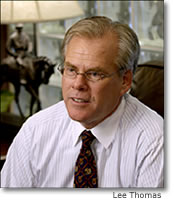 Ray Paulick
Editor-in-Chief


In an industry where horse owners and racetrack management often find themselves on opposite sides of an issue, racetrack safety is something upon which both parties certainly can agree. A safe racetrack can help reduce the frequency of injuries to horses and riders and thereby provide long-term economic benefits to both owners and tracks. Catastrophic injuries that occur during a race are a nightmare to everyone. Not all of the injuries are preventable or can be attributed to one of numerous possible causes, including an unsafe or uneven racetrack, medication abuse, or pre-existing physical condition. But vigilance by track superintendents, trainers, or veterinarians certainly can reduce the incidence. The worst of these injuries--fatal breakdowns--have caused some people to get out of the industry, both from the ranks of owners and fans. But lesser injuries, the kind that don't necessarily end a horse's career but put him on the sidelines for weeks or months at a time, have just as significant an impact on racing's economic well-being. These injuries place an economic burden on owners, whose investment in bloodstock, training, and veterinary costs dwarf the return on investment from purses. They also contribute to a shortage of horses that translates into fewer runners per race. The fewer the runners, the less likely a track can offer the exotic bets (trifectas, superfectas, etc.) that drive handle. Reduced handle means a smaller revenue stream for tracks and horse owners alike. Racetrack safety can be a daunting task. Turfway Park in northern Kentucky has had ongoing issues during its winter meet when warm weather turns a previously frozen dirt track into a gooey mess unsafe for horses or jockeys. To their credit, Turfway's owners--led by the Keeneland Association--have taken the bold step of installing Polytrack, an artificial surface from England that many think is the future of all-weather dirt racing. That move will be watched with great interest when Turfway opens in September. Turfway isn't alone. Mountaineer Park in West Virginia had to shut down for nearly a month last year when a newly installed surface failed to meet expectations from horsemen. Earlier this year, a rebuilt Evangeline Downs in Louisiana had to be shut down after a rash of injuries and complaints from jockeys. Most recently, Delaware Park jockeys refused to ride midway through the June 19 program because of track-safety concerns. Management replaced its track superintendent the next day. Some suggest it may not be a coincidence the latter three businesses derive a majority of their revenue from slot machines, but that may be a simplistic conclusion. Virtually every racetrack in the country has had safety issues from time to time. It is not an exact science, because no two racetracks are alike. In recent years, however, an annual conference that should be mandatory for track superintendents has, at the very least, put the subject in an educational spotlight. The Track Superintendents' Field Day was first held at Pennsylvania's Philadelphia Park in 2002, and subsequent meetings were held at Arlington Park near Chicago in 2003 and at Sam Houston Race Park in Texas last year. This year's fourth annual Track Superintendents' Field Day will take place Aug. 8-9 at Del Mar in Southern California. The agenda focuses on dirt and turf racing and will include perspectives from Australia, France, and England. There will be demonstrations of several products, including Polytrack, a biomechanical hoof tester, and ground-penetrating radar. A presentation of statistics from California's racetrack injury necropsy program also will be given. Horsemen should be aware of this conference and find out if their local track superintendent plans to attend. If his answer is "no," pass the hat and find enough money to send him. It will pay off in the long run.



Copyright © 2015 The Blood-Horse, Inc. All Rights Reserved.