Rare White Horse Third in Career Debut
by Blood-Horse Staff
Date Posted: 6/6/2005 11:20:52 AM
Last Updated: 6/6/2005 12:50:19 PM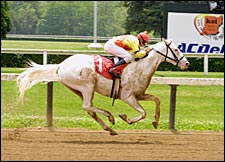 The White Fox, finishing third in his career debut.
Photo: Longshot Photos

Edited from River Downs report
The White Fox, one of only 17 pure white Thoroughbreds that have ever been registered in the 300 years of recorded Thoroughbred breeding, finished third in his career debut as the 9-10 favorite in Sunday's first race at River Downs."I wished we didn't draw the inside post," said jockey Perry Ouzts. "We got away just a step slow, but it (inside post position) cost us position in the early going. He got hit in the face with a lot of dirt but they ran that race in race horse time (1:10 for six furlongs) and he'll be a race horse."

Showing promise early in his career, the son of

Pioneering

out of the white mare Patchen Beauty was nominated to this year's Visa Triple Crown Challenge. Shin problems set his training schedule back and he was forced to delay his debut until Sunday. The White Fox, who is trained by Bill Connelly for owner-breeder Patchen Wilkes Farm, appeared to come out of the race in fine order.A friendly horse that likes to have his tongue pulled, The White Fox actually has his own web site at www.thewhitefox.com



Copyright © 2015 The Blood-Horse, Inc. All Rights Reserved.