Look Out, Laffit! Baze Rings Up 9,000th Win
Date Posted: 6/2/2005 8:14:10 PM
Last Updated: 6/4/2005 2:40:38 PM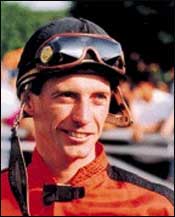 Russell Baze reaches 9,000 win plateau.
Photo: CTBA

by Jack Shinar, Debbie Arrington, and Pete Spanos
Hall of Fame jockey Russell Baze became the second North American-based rider to reach the 9,000 plateau in career wins Thursday at Golden Gate Fields.The 46-year-old Baze trails only Laffit Pincay Jr. on the all-time victory list. Pincay won 9,530 during a career that ended in 2003."Only one guy has done it before me, so that makes it pretty special," Baze said of reaching 9,000. "I thought I had a pretty good shot to get it done today."Baze said he hasn't talked to Pincay in a while. "I expect as I get closer (to his record), we'll be in contact quite a bit."It's a year down the road at least – 530 wins is not peanuts," he noted. "That's a lot of races to win. If I can stay healthy, I'll get it -- eventually. But a lot can happen. So, I just do my job every day."Baze drove California-bred 3-year-old filly Queen of the Hunt to a gate-to-wire triumph as part of a favored 2-5 entry in the eighth and final race of the day for $6,250 claimers. Trainer Jerry Hollendorfer, who has saddled a good percentage of Baze's winners over the years, conditions Queen of the Hunt, who paid $2.80 to win. She was lugging out while tiring in the stretch but got to the wire first under determined handling from Baze, one length in front of She Made It Happen."She was getting leg weary," Baze said. "I had a choice to keep her from getting out or keep her running. I chose to keep her running and she got it done." Baze received a warm welcome from his fellow riders as he dismounted. Peter Tunney, representing Golden Gate Fields, presented Baze with a horse blanket with a congratulatory message on it."I don't have a horse right now, so I gave that to Jerry Hollendorfer. He trained the winner." He kept the other gift, a certificate for a deluxe weekend stay (including dinner) for Baze and his wife at the Ritz-Carlton at Half Moon Bay. Needing two victories to reach the milestone, Baze had six mounts Thursday. He won the third race aboard Somethinaboutlaura ($3.80) for trainer Chuck Peery, and then lost four consecutive races before tallying in the nightcap.Baze said he is most excited about being the regular jockey for the undefeated 3-year-old sprinter Lost in the Fog, who is expected to compete in the Riva Ridge Breeders' Cup (gr. II) at seven furlongs at Belmont Park June 11, Belmont Stakes day."He's such a thrill to ride -- but that's all him, not me," Baze said. "He's such a push-button horse. He's just wonderful to be associated with."Baze was inducted into racing's Hall of Fame in 1999. He broke in as a 16-year-old apprentice at Yakima Meadows, winning his first race Oct. 28, 1974, aboard Oregon Warrior, who was trained by his father, Joe Baze.

A native of Vancouver, British Columbia, Baze has led the nation in victories seven times: 2002 (431 wins), 2000 (412), 1996 (415), 1995 (448), 1994 (415), 1993 (410), and 1992 (433).No other rider has won more than 400 races for more than two consecutive years. In 1995 Baze was presented with a Special Eclipse Award for being the first jockey ever to win 400 or more races in a year for four consecutive years.Baze won the Isaac Murphy Award, given to the jockey with the nations highest winning percentage, for nine straight years from the year of its inception, 1995, until he was unseated in 2004 by Ramon Dominguez.Baze has won 33 riding titles at Bay Meadows and 26 at Golden Gate Fields. He set a Northern California record for most victories on a single card when he won with seven at Golden Gate Fields in 1992. He carried home the 2002 George Woolf Memorial Jockey Award, a prestigious award from fellow riders given to one whose career and personal character reflect positively on themselves and the sport.Baze hales from a family of prominent horsemen: his father, Joe, was a jockey who won riding titles at Bay Meadows, Golden Gate Fields, and Longacres before becoming a trainer; younger brother Gary, an inductee of the Washington Thoroughbred Racing Hall of Fame in 2003, recently retired from riding to exercise horses; and a cousin and two second cousins still are riders.All-Time North American Jockeys Ranked by Wins1. Laffit Pincay, Jr., 9,530 2. *Russell Baze, 9,000 3. William Shoemaker, 8,833 4. *Pat Day, 8,784 5. David Gall, 7,396 6. Chris McCarron, 7,141 7. Angel Cordero, Jr., 7,0578. Jorge Velasquez, 6,795 9. Sandy Hawley, 6,449 10. Larry Snyder, 6,388 * Active
(Chart, Equibase)



Copyright © 2015 The Blood-Horse, Inc. All Rights Reserved.