Afleet Alex Favored in Advance Derby Wagering
by Dan Liebman
Date Posted: 5/6/2005 3:34:40 PM
Last Updated: 5/7/2005 12:50:08 PM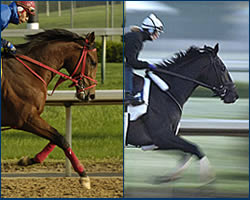 Afleet Alex (left) and Bellamy Road, pictured in final Derby works, are early favorites in advance wagering.
Photo: Anne M. Eberhardt

Granted, the pool is still small, but the bettors on Kentucky Oaks day pushed more than $380,000 into the Kentucky Derby (gr. I) win pool on Friday. And they made Afleet Alex the favorite over program pick Bellamy Road.Afleet Alex is 7-2 and Bellamy Road is 9-2 in the advance wagering at Churchill Downs Friday. Two other horses are single digits: Bandini, who is 5-1, and High Fly, who is 7-1. The Kentucky Oaks (gr. I) and Kentucky Derby Daily Double followed the same pattern, the will pays showing the shortest price on Afleet Alex and next on Bellamy Road.Many millions will flow into the pool over the next 23 hours, but the odds are much in line with what has been discussed in recent days. The three impressive final prep winners, Afleet Alex, Bellamy Road, and Bandini are all being bet and one of Nick Zito's "other" horses, High Fly, is also receiving support.The early odds:
1. Sort It Out, 48-1
2. Andromeda's Hero, 47-1
3. Sun King, 15-1
4. Noble Causeway, 11-1
5. Coin Silver, 25-1
6. High Limit, 22-1
7. Flower Alley, 36-1
8. Greater Good, 35-1
9. Greeley's Galaxy, 25-1
10. Giacomo, 54-1
11. High Fly, 7-1
12. Afleet Alex, 7-2
13. Spanish Chestnut, 74-1
14. Wilko, 22-1
15. Bandini, 5-1
16. Bellamy Road, 9-2
17. Don't Get Mad, 19-1
18. Closing Argument, 66-1
19. Going Wild, 43-1
20. Buzzards Bay, 42-1



Copyright © 2015 The Blood-Horse, Inc. All Rights Reserved.