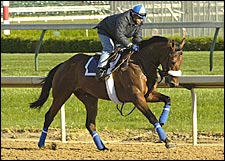 Empire Maker

in his barn, and the horse's sore feet made the daily media conclaves a lesson in medicine as well as Derby mania.This year, however, the press heaves itself against the PVC barrier surrounding Nick Zito's barn, where five Derby contenders munch hay awaiting the big day a week hence. While Zito busies himself each morning at 9:30 answering the same questions over and over, Frankel relaxes in his office, surrounded by rattan furniture, Derby runner High Limit, and a few visitors."Well, the press hasn't hounded me here yet, so that's good," Frankel laughed. "Actually, the truth is, I didn't mind it with Empire Maker. I enjoyed it. If they don't talk about you, you're not doing too good. So being in the spotlight isn't bad at all."The problem with Empire Maker was everything went wrong with him. He had problems going into the race, so it was a headache. This time, I'm not going to be over there shaking before the race worrying about it like I did with Empire Maker. This one now hasn't shown the greatness yet. He's only run four times--twice this year--and we know he's a good horse, but we don't know how good he is. At least he's doing well. He's sound and has no problems. That's all you can ask."Empire Maker finished second, as the 5-2 favorite, to Funny Cide in the 2003 Derby, and his

Peace Rules

was close behind in third.Not exactly as lonely as the Maytag repairman, Frankel did mention he had a small crowd come around mid-week, but nothing that couldn't be handled by a well-placed vehicle or sawhorse.Owned by Gary and Mary West, High Limit won his first three career starts, including the Louisiana Derby (gr. II), before finishing second to Bandini in the Toyota Blue Grass Stakes (gr. I).In last year's classic, Frankel saddled Master David to a 12th-place finish in the Derby behind Smarty Jones, and he now has two seconds (

Aptitude

in 2000) and one third from seven Derby starters.