Big Numbers
by Evan Hammonds
Date Posted: 4/26/2005 4:06:12 PM
Last Updated: 4/26/2005 4:12:18 PM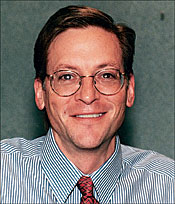 Evan I. Hammonds
Managing Editor


There have been some gaudy numbers put up over the last couple of weekends by horses and humans alike. Some add spice to the coming Kentucky Derby (gr. I); some show a renewed vigor in the sport of Thoroughbred racing. First, let's try these on for size: 17 1/2, eight, and six. Kinsman Stable's Bellamy Road ran off with the Wood Memorial (gr. I) April 9 by 17 1/2 lengths in his first stakes win since last September. The following Saturday, Cash is King's Afleet Alex drew off in the stretch of Oaklawn Park's Arkansas Derby (gr. II) by a stakes-record eight lengths. About a half-hour before Afleet Alex's milestone victory, Michael Tabor and Derrick Smith's Bandini scored his first stakes win by running away with the Toyota Blue Grass Stakes (gr. I) by six lengths, a margin of victory in Keeneland's Derby prep that hadn't been surpassed since Spectacular Bid outclassed three rivals by seven lengths 26 years ago. While these convincing wins were defining scores for the horses and their connections, they don't necessarily project what will happen come May 7 at Churchill Downs. The scrapbook of 130 years of Derby history is stuffed with the tales of horses heading into the Run for the Roses off scintillating performances, and the record shows it's an unlikely scenario that this trio will fill out the trifecta. Those that finished in their wake should keep the faith. Regardless of their rich purses, the Wood, Arkansas Derby, and Blue Grass are preps--races to use as stepping-stones to the touchstone moment on the first Saturday in May. There's plenty of hope left alive for those that ran behind these stellar performances. Like the NCAA men's basketball tournament, first-round games can be blowouts, but March Madness' mantra is "survive and advance" to that one shining moment in the championship game. Sure, Smarty Jones won the Arkansas Derby last year, and then went on to win two legs of the Triple Crown along with the nation's heart, but in the last dozen years eight horses won the Derby off a losing effort. Funny Cide was outmuscled by Empire Maker in the Wood two years ago, and in 2001, Monarchos was no match for Congaree at Aqueduct. Charismatic in 1999 did win the Coolmore Lexington Stakes (gr. II), but had been drilled by 81/4 lengths in the Santa Anita Derby (gr. I) in his previous start. Real Quiet (1998), Silver Charm (1997), and Grindstone (1996) all finished second in their Derby preps, then came a three-year stretch when the eventual Derby winner came to Churchill labeled more a pretender than a proven commodity. Thunder Gulch (1995) didn't even hit the board in the Blue Grass, beaten 41/2 lengths. Go for Gin (1994) was second in the Wood, 11/2 lengths in arrears of Irgun. Sea Hero (1993) was fourth in the Blue Grass, beaten 23/4 lengths by eventual Derby favorite Prairie Bayou. Were these guys discouraged from charging ahead to the Twin Spires? Hardly. There were still weeks...and the magical 10 furlongs ahead of them. The other numbers of note recorded April 16 were 33,621 and 71,010. Such was the allure of the classic campaign that a record crowd of 33,621 passed through the gates at Keeneland for Blue Grass afternoon. While Bandini won by open lengths, there wasn't an open space to be had on the other side of the fence at Keeneland. The previous Saturday, again with perfect weather, Keeneland drew more than 32,000 to the track that comfortably handles about 20,000. For two weekends running, college-age groups came out by the carload to see and be seen taking in a day at the races. Meanwhile in Hot Springs, Ark., 71,010 attended the Arkansas Derby, the second-largest crowd ever at Oaklawn Park, behind only the 71,203 that attended the event in 1986. These recent figures show big-time racing is making a comeback in a big way after more than a decade of doom and gloom regarding national attendance. Let's be honest, these were special-event days, but the numbers clearly show a resurgence in interest in racing. With all of the other leisure options out there, they came to the track. As an industry, let's say "welcome" and embrace these numbers with all the enthusiasm of a certified public accountant and let's figure out a way to make these numbers work for us.



Copyright © 2014 The Blood-Horse, Inc. All Rights Reserved.