Fletcher Bullish on Horse Industry But Notes Challenges
by Tom LaMarra
Date Posted: 4/21/2005 11:38:05 AM
Last Updated: 4/23/2005 5:02:07 PM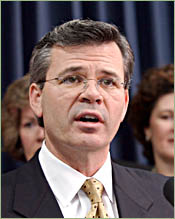 Kentucky Gov. Ernie Fletcher


Kentucky Gov. Ernie Fletcher reiterated his view of horse racing and breeding in the state April 21 and acknowledged the challenges, including in-state and out-of-state competition from other forms of gambling.Fletcher delivered his remarks at the Association of Racing Commissioners International convention in Lexington. Fletcher, who was elected in 2003, made regulatory reforms in racing a chief objective."We intend on staying the horse capital of the world," Fletcher said.The governor noted how Kentucky battled back from the effects of mare reproductive loss syndrome in the spring of 2001, and said Kentucky's share of the United States Thoroughbred crop continues to grow. He also cited a recent all-time attendance record at Keeneland and completion of a $121-million reconstruction project at Churchill Downs as signs of industry health.Among the challenges, Fletcher said, is competition from other forms of gambling, even in-state charitable games and the lottery. He stopped short of offering suggestions on how to level the playing field but indicated there's more to be done."It's clear Kentucky and the entire horse industry must continue to work hard to remain competitive," Fletcher said. "What we do in Kentucky to improve the horse industry will improve the horse industry in the nation and perhaps globally as well."Fletcher has said any push for expanded gambling would have to come from the state legislature. Bills for racetrack gaming failed in 2002, 2003, and 2004, though it's widely believed 2006 will prove an active year on that front.Fletcher touched on the state's new motto--"Unbridled Spirit"--and its relation to the horse. He said economic development as it relates to the horse industry remains a focus of the administration.He recalled visiting Monarchos on the backstretch at Churchill the day after the colt had won the 2001 Kentucky Derby (gr. I), and tied it to the fact horses always have the right of way on the backstretch."Monarchos knew he had the right of way, and he had the air of a champion," Fletcher said. "That spirit of the horse is something that's contagious in Kentucky and around the world."As for regulatory matters, Fletcher said it's imperative to foster and protect integrity in the horse business. He said no industry, particularly one that relies on gambling, can survive without the public's confidence.He said when he took office, he was told about alleged "cheaters" and liberal equine medication rules and set out to "close loopholes." The effort has resulted in medication reform and the rewriting of many Kentucky racing regulations.



Copyright © 2015 The Blood-Horse, Inc. All Rights Reserved.