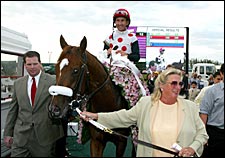 Fusaichi Pegasus ), respectively, all of whom should have a major say in the outcome of those races. Andromeda's Hero still could be Zito's secret weapon despite his fifth-place finish in the Lane's End Stakes (gr. II), beaten three lengths over a sealed track he never got hold of. He is a true mile and a quarter horse who deserves another chance to show he can compete with the best.As of now, however, Zito's big three are Sun King, High Fly, and Noble Causeway, who have a lot more in common than simply residing in Zito's barn. Just about a year ago, all three were concluding their early lessons in "Racehorse 101" at Live Oak Stud in Ocala, which is owned by High Fly's owner Charlotte Weber. Not only were they broken at Live Oak and received their early training there, all three came off the farm with glowing reports that have proven to be warranted.If there are still any doubts about the ability of High Fly, who was born at Live Oak, to get a mile and a quarter, they appear to be unfounded. In addition to having a dynamite female family, the son of

Atticus

as a yearling scored an A+ on his heart scan, taken by Patty Miller. Miller is a former trainer who is vice president and technician for EQB, a bloodstock consulting company that deals with new technology, such as cardiovascular measuring and high-speed film analysis of 2-year-olds in training. Miller's partner, Jeffrey Seder, originally was involved with a group that did over three-quarters of the elite biomechanics projects in the late '70s for the U.S. Olympic team."What impressed me about High Fly was that he had a very good cardiac profile," Miller said. "It's not just heart size we look at it, it's flow factors and how the heart works. His was a strong heart that worked efficiently. It did everything right. But it wouldn't do him very much good if he couldn't run. It's up to (farm manager) Eric Hamelback and (farm trainer) Johnny Collins to use all the information and put it all together. From what it says in his cardiac profile, he should be able to get a mile and a half." Around the end of March 2003, when the Live Oak team got together to judge all the yearlings, it was determined, according the Hamelback, that High Fly was "an excellent athlete with good conformation."The thing I remember most about him," he continued, "was that he had great depth of heart, which goes along with his heart scan. The capacity of his chest was deep, and it just looked as if he was going to be a good athlete. You can't believe looking at him now he's as young as he is. His maturity level is more like a 4- and 5-year-old."The colt was so laid-back and took everything in stride, Collins nicknamed him "Sleepy," because the colt would come back to the barn after training and literally would go to sleep. "Mrs. Weber came to the barn one day and was there for an hour and a half, and he was pretty much asleep the whole time," Hamelback recalled."He'd stand by the stall door and never move," Collins said. "His eyes were barely open. But after you tacked him up, he always said, 'I'm ready to go now,' and his eyes would pop open. He always wanted to do what needed to be done. What I remember most about him is that he didn't want to be beaten. Even when we worked him with horses better than he was at that time, you could see he didn't want to get beat. He just needed time to grow up and get his act together."Well, High Fly certainly has his act together, and not only does he still not want to be beaten, he rarely is. In fact, he's become pretty much a winning machine and is the first 3-year-old to win three stakes in 2005.As for his pedigree, his Slewpy (broodmare sire) – Northern Dancer (paternal great-grandsire) cross has produced champion European classic horses Helissio, winner of the Prix de l"Arc de Triomphe (Fra-I) and Falbrav, winner of seven group I stakes in five different countries, and a near winner of the Breeders' Cup Turf (gr. I). His maternal great-granddam, One Sum, is a half-sister to Belmont Stakes (gr. I) winner Summing, so there is plenty of stamina there. And remember, his sire, Atticus, did win the Oaklawn Handicap (gr. I) and Kentucky Cup Classic (gr. II), and Atticus' sire, Nureyev, is the sire of classic stayers

Theatrical

, Peintre Celebre, and Skimming.Another thing you have like about High Fly is that he rates kindly, regardless of the pace, and whenever the rider throws a cross on him he always kicks into another gear and gives you that big burst of speed.In the Florida Derby, run in 1:49 2/5, he tracked hot fractions of :22 4/5, :45 4/5, and 1:09 4/5, then kicked in beautifully when Jerry Bailey asked him. By comparison, the brilliant Value Plus went six furlongs in 1:09 2/5 in a 7 1/2-furlong race. Although some may knock High Fly's slow closing fractions, his :13 2/5 final eighth wasn't bad considering the rapid pace. In the Skip Away Handicap (gr. III) for older horses the race before, they went much slower early (:23 3/5, :47 1/5, and 1:10 4/5) and closed in :13, with the 1 1/8 miles run a tick faster. Also note that the winner, Eurosilver, carried nine pounds less than High Fly. And before anyone compares his final time to the 1:49 3/5 turned in earlier in an allowance race, if you look at that race closely, you'll discover it would prove nothing to compare the two.Noble Causeway keeps improving with every start, and although he wasn't getting to High Fly at the end of the Florida Derby (gr. I), his race was very reminiscent of Zito's first Kentucky Derby winner Strike the Gold's race in the '91 Florida Derby, in which he finished second and was unable to catch Fly So Free. Because Noble Causeway has already made four starts this year at Gulfstream, three of them at 1 1/8 miles, Zito and owner Len Riggio have agreed to train the the son of Giant's Causeway up to the Derby.Collins said Noble Causeway always looked like a horse who was going to make a good 3-year-old. "He liked to do what you asked him to do, but wasn't in a hurry to be a big horse," Collins recalled. "He'd say, 'Just let me take my time, and I will show you I'll be the horse you need me to be. When it's time, I'll be there. Don't worry about me.' He always liked to come from off the pace, and he'd keep picking it up; he'd never stop. I'd work him a half-mile, and the others would be three or four lengths in front of him turning for home. At the eighth pole, you could see him kickin' it in and comin' with everything he had."Noble Causeway showed signs of greenness in his earlier races, but has become more professional with each race. He now levels off beautifully and is able to use those long, fluid strides to their fullest.Collins said that Sun King was "one of the greatest horses he's ever been around," and there was nothing on the farm that could keep up with him. "He was a very special horse," Collins said. Hamelback added that Sun King "looked like man among boys" and was "hands down the best horse on the farm. You always had to make sure the rider was ready to be strapped on, because when he went, he went." But more on Sun King's exploits at Live Oak at a later date.In other Derby doings:-- Bandini, assuming his foot bruise is a non-issue, is looking more and more like a smart Future Wager or future book play, especially after the result of the Florida Derby. There is just something about this horse that is very appealing, and if he shows in the Blue Grass Stakes he can focus a bit better, and runs the way he did in the Fountain of Youth (gr. II), the son of Fusaichi Pegasus is going to be a very live horse on Derby Day. -- There are several intriguing horses in Saturday's Santa Anita Derby (gr. I) who could change the face of the Kentucky Derby picture. Of course, we all know what a victory by Sweet Catomine (

Storm Cat

) would mean, but how many people have totally forgotten about Wilko? In the battle between Breeders' Cup winners, Wilko looks to be ready to step up big-time following his dazzling six-furlong work in 1:10 3/5. The son of Awesome Again 's fourth in the San Felipe (gr. II) is a throwout race considering he broke badly, had to go very wide on both turns over a blazing wet-fast track he obviously despised, and returned with his second quarter crack. As long as he doesn't re-aggravate them, look for the real Wilko to show up on Saturday.-- Also look for a big effort from Don't Get Mad (Stephen Got Even ), who could emerge as a star in the division after this race. The way he leveled off in the San Felipe after a less-than-perfect trip was encouraging, especially being his first start around two turns. And trainer Ron Ellis deserves to be in the Kentucky Derby as much as anyone after losing Declan's Moon.

And if you're looking for some longshots, Wannawinemall (

Royal Anthem

) and Buzzards Bay (Marco Bay) bear watching after both colts bled severely in their respective second and third-place finishes in the El Camino Real Derby (gr. III). Wannawinemall is a late developer with tremendous promise, and we don't know how good he really is, which makes him an enticing future book horse, based on the unknown factor.-- Defer (Danzig), who has been a disappointment this year, is up to a half-mile in his breezes, as he attempts to recapture his 2-year-old form following two dull efforts at Gulfstream Park.