Fans Celebrate John Henry's 30th Birthday
by Amy Whitfield
Date Posted: 3/9/2005 5:24:37 PM
Last Updated: 3/11/2005 5:30:53 PM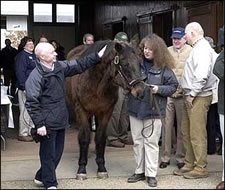 Jockey Chris McCarron among guests at John Henry's 30th birthday celebration.
Photo: Anne M. Eberhardt

A crowd of more than 200 fans and friends of John Henry gathered Wednesday afternoon to wish the five-time Eclipse Award winner a happy 30th birthday at the Kentucky Horse Park near Lexington.Birthday cards and baskets brimming with carrots and apples lined the walls of the gelding's barn. Some fans brought roses, and many others from across the country made phone calls and sent e-mails to the Horse Park throughout the week, said Horse Park executive director John Nicholson. Included in the fanfare was retired jockey Chris McCarron, who rode John Henry in his final 14 of 83 career starts, including his second win in the 1984 Arlington Million (gr. I) at nine. "When I got the mount on John it sent my career to another level because everywhere John went, people followed," McCarron told the crowd. "If you had the mount of John Henry, all of the sudden people all over the world--not just in the racing industry--knew who you were. I got this old man here to thank a great deal for sending my career into the stratosphere." Despite his reputation as a grouch, John Henry, who turned the equivalent of 98 in human years, greeted the crowd rather calmly as they joined to sing Happy Birthday and moved in for a close-up view of the gelding in his winter coat.McCarron was joined by his wife Judy, along with other connections, breeder Verna Lehmann (who bred John Henry in the name of Golden Chance Farm), first owner Jean Calloway, and early trainer Bobby Donato. Trainer Ron McAnally even called in on McCarron's cell phone to wish John Henry happy birthday. McCarron proceeded to hold the phone to the gelding's ear. Hearing McAnally's voice on the line, the sleepy-eyed, old gelding perked both his ears and opened his eyes. "He recognizes you," McCarron told McAnally.John Henry won 26 of 39 starts with McAnally.John Henry has resided at the Hall of Champions at the Horse Park since he was retired in 1985. He suffered a bout with colic and underwent surgery in 2002 when he was 27. Cathy Roby, barn manager at the Kentucky Horse Park, said John Henry's disposition hasn't changed over the years, but fans love him all the same."This horse has been an inspiration not only to racing fans, but also to people all over the world, mainly because of his determination and his tenacity to keep going and going no matter what," Roby said. "I think that's why so many people who aren't even racing fans love this horse: because he's given them courage over the years to keep digging and keep trying and eventually you'll win. For him to live this long is proof to that."McCarron compared John Henry to a modern-day Seabiscuit."This horse is the most intelligent horse I've ever been around," he said. "I think John had this incredible talent to communicate with other horses when he was running against them. He was so domineering that he beat them by more than being able to flat out run them. He had more desire to win than any horse I've ever seen."Tammy Siters, John Henry's groom since 1996, said she's taken a few bites and bumps from the gelding throughout the years, but that's just a part of the job."You always know what you're going to get with John -- either teeth or feet," Siters laughed. "But the thing about John is you have to love him for who he is, not who you want him to be--that's the one thing that sticks with me about his life. He's always done things his way. He's never taken a backwards step for anybody and he's still here at 30 years old and everybody loves him and certainly, everyone respects him. Former owner Jean Calloway, who is credited with giving John Henry his name, said she felt like a proud parent as she watched fans turn out for cake and autographs."I get a bit weepy thinking about it," Calloway said. "He is totally a beloved animal because he stands for so much. He stands for the common man. What a wonderful life he's had and how he has inspired people."



Copyright © 2015 The Blood-Horse, Inc. All Rights Reserved.