Kentucky Derby Trail: An Eye on the Future
by Steve Haskin
Date Posted: 2/10/2005 7:10:35 PM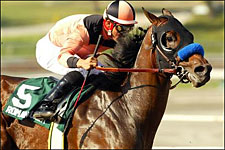 Norfolk winner Roman Ruler gets his 2005 campaign underway in Sunday's San Vicente.
Photo: Benoit

It's Future Wager time again, and with six of the 23 individual betting interests in Pool 1 running this weekend and six having run last weekend, you pretty much have some idea how the betting will go on more than half the field.Unfortunately, two live horses--Rush Bay at 50-1 and Galloping Grocer at 30-1--are among those running Saturday, so there's a good chance their morning-line odds will be hammered down quite a bit after the Risen Star (gr. III) and Whirlaway Stakes, respectively. And if Harlington manages to win the Risen Star Saturday, watch his odds plummet to the point where he'll be right up there with the favorites, especially in the Vegas future book.The other two hot horses competing this weekend are Roman Ruler and Consolidator, who face off in the seven-furlong San Vicente Stakes (gr. II) Sunday. As one who believes Roman Ruler will return to the brilliant form he showed last summer before his feet and an undescended testicle started bugging him, the timing is bad to try to get a bargain price on him. He's listed at 12-1 on the morning line. Of those who ran last Saturday--Bandini, Closing Argument, Proud Accolade, Going Wild, Giacomo, and High Fly--you can say goodbye to the 30-1 odds on Bandini, who was brilliant winning an allowance race by nine lengths and should be bet pretty heavily off that performance. Expect fairly big prices on the other five, especially the two favorites who were defeated--High Fly and Giacomo.Saturday's Risen Star looks like a very intriguing race with Lecomte winner Storm Surge and Kentucky Jockey Club (gr. II) runner-up Rush Bay defending their home turf against undefeated Florida invader Harlington and California invaders Buzzards Bay, winner of the Golden Gate Derby, and Scipion, third in last year's Miller Genuine Draft Cradle Stakes (gr. III). Even Nick Zito will be making a rare appearance at Fair Grounds, sending Electric Light, recent winner of the Pasco Stakes at Tampa Bay.Steve Asmussen holds a strong hand, sending out Lecomte runner-up Smooth Bid and Real Dandy, an allowance winner last out. D. Wayne Lukas, who holds two big cards in Consolidator and Sham Stakes winner Going Wild, will be represented by recent maiden winner Silent Bid.Adding to the intrigue of the Lecomte is the draw, with the two likely favorites, Harlington and Rush Bay, drawing the two outside posts (10 and 11 respectively), which is not where you want to break going 1 1/16 miles. What they do have going for them is their feathery weights of 114, and pulling eight pounds from the three stakes winners: Storm Surge, Buzzards Bay, and Smooth Bid.Much was expected of Scipion, a half-brother to 2002 2-year-old champ Vindication, after his explosive maiden victory at Saratoga last year, but he hasn't exactly set the world afire in his three subsequent starts. He was third in a decent allowance race at Santa Anita in January as the 6-5 favorite, but he's since turned in three powerful works at five, six, and seven furlongs and gets the services of Gary Stevens, which makes him an interesting longshot in here. He should like the long stretch at Fair Grounds, and trainer Patrick Biancone doesn't ship horses across the country for nothing.Saturday's Whirlaway Stakes marks the 3-year-old debut of Galloping Grocer, one of the most exciting 2-year-olds of 2004. The 1 1/16-mile race could very well wind up with a one-two New York-bred finish. Galloping Grocer looks like a standout in here if he runs back anywhere near his race in the Remsen (gr. II), but also look for a big effort from Naughty New Yorker, who ran a strong second in the Count Fleet Stakes and should improve off that race. Count Fleet winner Scrappy T is a tough, consistent speed horse, and he and Daddy Joe should also supply the competition. This is a pretty strong field for the Whirlaway, but Galloping Grocer right now has to be considered one of the premier 3-year-olds in the country.With the official announcement Feb. 11 that Rockport Harbor will skip the Southwest Stakes to await the Rebel Stakes on March 19, it means four of the leading Kentucky Derby (gr. I) contenders--Declan's Moon, Afleet Alex, Rockport Harbor, and Wilko--will have only two starts prior to the Derby. The last horse to pull that off was Sunny's Halo in 1983, and it must be noted he had 11 starts as a 2-year-old, many of them two-turn races. Of the four horses in question, only Wilko has that kind of experience, having made 12 starts last year. Rockport Harbor will benefit from having a gut-wrencher at 1 1/8 miles in the Remsen last year.So, with most of the hot Derby contenders remaining in mothballs until March, that gives ample opportunity for several new faces to come along and challenge them for leadership in the division, at least for now. Victories this weekend by Roman Ruler, Galloping Grocer, Rush Bay, Harlington or a couple of others could cause some shifts in power. We already saw that on a smaller scale last week with Bandini's runaway allowance victory. And you can bet Going Wild, Proud Accolade, and Closing Argument now have their supporters following their respective stakes scores.If there is one horse whose Future Wager morning-line odds appear a bit perplexing, it is Wilko at 30-1. This is the Bessemer Trust Breeders' Cup Juvenile (gr. I) winner who defeated 12-1 morning-line horses Afleet Alex, Roman Ruler, and Proud Accolade at Lone Star, then came back and ran a big third (while suffering from a quarter crack) to Declan's Moon (6-1 in the morning line) in the Hollywood Futurity (gr. I). Don't count on getting anything near those odds this weekend. Speaking of Wilko, he had his second work of the year Feb. 10, breezing a half in :51 3/5 at Hollywood Park.One surprise horse among the 23 individual betting interests is High Limit, who was two-for-two at Delaware Park last year and is now trained by Bobby Frankel. The raves have been pouring in on this colt from everyone who has been around him from the time he was a yearling. And owners Gary and Mary West turned down a half-dozen substantial offers for him last year. He was brilliant in both his victories for Tony Dutrow and has never been asked to run. The son of

Maria's Mon

will be discussed in greater detail next week.Ron Ellis certainly doesn't seem to be having any problem keeping Declan's Moon sharp, as evidenced by the gelding's six-furlong breeze in 1:12 3/5.One interesting work to note was the :47 flat drill by the stakes-placed Diamond Isle, who is a horse to watch come April. He has a fascinating pedigree and is trained by Kenny McPeek.



Copyright © 2015 The Blood-Horse, Inc. All Rights Reserved.