Afleet Alex's Connections Hope for Some 'Smarty' Magic
Date Posted: 1/21/2005 11:09:22 AM
Last Updated: 1/23/2005 1:53:02 PM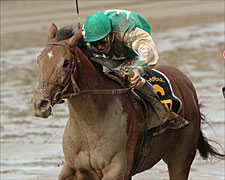 Afleet Alex
Photo: AP/NYRA Adam Coglianese

by Jason Shandler
"There was something about the way he moved."That's the way trainer Tim Ritchey described his initial attraction to Afleet Alex, one of the top 2-year-old colts in the country last year and a finalist for an Eclipse Award. Now, Ritchey and the colt's owners are looking forward to a 3-year-old campaign and the Kentucky Derby (gr. I).They're also hoping for some of that Smarty Jones magic. Like last year's Kentucky Derby winner, Afleet Alex calls the Mid-Atlantic region home.Ritchey, one of the leading trainers at Delaware Park, first saw Afleet Alex at the Fasig-Tipton Midlantic yearling sale in Timonium, Md., last May. While there were certainly Thoroughbreds with classier pedigrees and higher price tags, Ritchey used his intuition when he recommended the Florida-bred colt."He ran a :22.2, not real fast," Ritchey said of the 2-year-old son of Northern Afleet out of Maggie Hawk. "A lot of others were running :21 flat. But Alex did it well within himself, very easily. There was a certain presence about him. I thought he was very athletic and had good intelligence, too."Based on Ritchey's recommendation, majority owners Bob Brittingham and Chuck Zacney (Cash is King Stable) purchased Afleet Alex for $75,000. It didn't take long for him to prove Ritchey's intuition correct. Less than two months later, he came within two-fifths of a second of setting the track record when he broke his maiden by more than 11 lengths at Delaware Park. The rest is history.Afleet Alex went on to win his next three races, including the Sanford Stakes (gr. II) at Saratoga, where he broke a 34-year old stakes record by running six furlongs in 1:09.32. Two second-place finishes in the Champagne Stakes (gr. I) and Bessemer Trust Breeders' Cup Juvenile (gr. I) followed, but with $680,800 in earnings, Afleet Alex could be voted top 2-year-old of 2004.That will be determined Jan. 24 at the Eclipse Awards dinner in Beverly Hills, Calif. Afleet Alex is one of three finalists, along with the gelding Declan's Moon and Irish-bred Wilko.Declan's Moon is a perfect four-for-four, including an impressive win in the Hollywood Futurity (gr. I). Wilko shocked everyone by rallying to beat Afleet Alex in the Breeders' Cup Juvenile."My horse ran six times, won four of them and had excuses in the other two," Ritchey said. "He ran in the four toughest races for 2-year olds. He won the Hopeful Stakes (gr. I), ran faster than Secretariat did in the Sanford, overcame trouble in the Champagne, and was unlucky in the Breeders' Cup. I would think he's the best, but there are a couple of other good horses, too."Brittingham, who lives in Collegeville, Pa, is even more adamant when asked if Afleet Alex should win the Eclipse Award."I know we have the best horse," he said. "We put him out there six times, and that should count for something. He had a bad trip in two of them, but we think he has done enough."No matter what happens at the Eclipse Awards, Afleet Alex will get his chance to prove if he's the best as a 3-year-old later this year. He is now under Ritchey's care at Oaklawn Park in Hot Springs, Ark.Ritchey is considering whether to run Afleet Alex in the Feb. 19 Southwest Stakes at Oaklawn. Right now, at the very least, he is penciled in for March 19 Rebel Stakes (gr. III). The Arkansas Derby (gr. II) is the goal for April.If everything goes well, Ritchey hopes his horse will be one of the favorites in the Kentucky Derby--and maybe do for him what Smarty Jones did for John Servis and Philadelphia Park."(Alex) is definitely the best horse I ever trained," Ritchey said. "I was lucky to find him. He's a once-in-a-lifetime horse. I'm hoping for even more from him. I hope Delaware Park can feed off of him, too. It would be tremendous for us to do something similar to what Smarty did for Philadelphia last year."



Copyright © 2015 The Blood-Horse, Inc. All Rights Reserved.