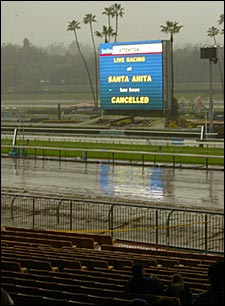 Jockey Mike Smith, who went down during the spill in Sunday's first race which caused fatal injuries to the gelding, said the track surface wasn't the cause.

"He didn't step in any hole or anything like that," Smith said of Unusual Sunrise, who suffered broken sesamoid bones. "That track was good, he just slipped.

"Both riders and management all felt the same," he added. "It was the right thing to do. There's always tomorrow.""We had three inches since last night," said track superintendent Steve Wood early Sunday morning.

Wood said that nearly 16 inches of rain has inundated Santa Anita during the 11 days of racing since the meet began on Dec. 26. "Average for the entire year is 14 inches," Wood said.