CHRB to Discuss Judge's Ruling on Valenzuela
by Lenny Shulman
Date Posted: 1/3/2005 4:11:31 PM
Last Updated: 1/5/2005 8:26:02 PM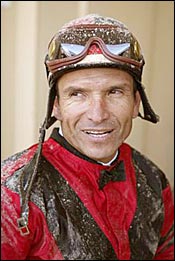 Suspended jockey Pat Valenzuela.
Photo: Associated Press

The California Horse Racing Board is scheduled to meet Jan. 7 in executive session to discuss an administrative law judge's ruling regarding the suspension of rider Patrick Valenzuela.On July 2, 2004, the board of stewards suspended Valenzuela for the remainder of 2004 after the CHRB determined the rider's hair wasn't long enough to submit to hair-follicle drug testing.Valenzuela and his attorney, Neil Papiano, appealed the suspension, and that appeal was heard before an administrative law judge Nov. 12. Later that month, the administrative law judge handed down a ruling that has not yet been made public, but which is reported to be favorable to Valenzuela.Papiano said Jan. 3 that just before Christmas he went to the stewards with an application to re-license Valenzuela. He said the stewards sent him to the CHRB enforcement agency, which sent him to acting CHRB executive director Roy Minami, who had originally sent him to the stewards.At their meeting Jan. 7, the seven CHRB commissioners can accept the ruling of the administrative law judge, reject it out of hand, or modify it. Papiano said if the board rules not to re-license Valenzuela, he would be in court no later than Jan. 10 seeking legal action that would allow Valenzuela to ride again.Valenzuela, 42, is a talented but troubled rider who has had at least a dozen suspensions for substance abuse and personal issues. When he is riding consistently, he is one of the premier riders on the Southern California circuit.



Copyright © 2015 The Blood-Horse, Inc. All Rights Reserved.