Sales Task Force Meets Friday; Code of Ethics to Follow
by Dan Liebman
Date Posted: 11/18/2004 3:44:19 PM
Last Updated: 11/18/2004 3:59:30 PM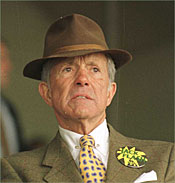 Sales Integrity Task Force chairman Cot Campbell: "I'm delighted with the progress."
Photo: NTRA

The Sales Integrity Task Force will meet for the third time Friday at Keeneland, and within a week, will hold a press conference to release its first recommendations to the industry.Cot Campbell, head of Dogwood Stable and chairman of the task force, said the group will issue a position paper that will include a code of ethics for both consignors and buyers at Thoroughbred auctions."On Friday we really are just going to clean up some loose ends; to see where we stand so we can go on with our recommendations," Campbell said Thursday afternoon.The group, comprised of buyers, sellers, sale company officials, and veterinarians, previously met Sept. 2 and Oct. 19."The code of ethics will cover the three areas we've previously stated: veterinary practices, disclosure, and dual agency," Campbell said. "This is not about pie in the sky; we're trying to address issues we think should be addressed at this stage."At this point, I'm delighted with the progress."The task force was formed following Thoroughbred owner/breeder Satish Sanan's public comments about possible fraudulent practices in the auction arena. Sanan formed the Alliance For Industry Reform, which prompted a call for an industry-wide task force to study the subject.Along with Campbell and Sanan, task force members are Headley Bell of Nicoma Bloodstock, Reynolds Bell Jr. of The Jockey Club, Dr. Larry Bramlage of the American Association of Equine Practitioners, Boyd Browning of Fasig-Tipton, Bill Casner of TOBA, Robert Clay of Three Chimneys Farm, Lincoln Collins of Kern Thoroughbred, Nick de Meric of Eclipse Farm, Bill Farish of Lane's End Farm, Greg Goodman of TOBA, Reiley McDonald of Eaton Sales, Gerald McMahon of Barretts, Nick Nicholson of Keeneland, Walt Robertson of Fasig-Tipton, Geoffrey Russell of Keeneland, Fred Seitz of Brookdale Sales, Duncan Taylor of Taylor Made Sales Agency, D.G. Van Clief Jr. of the National Throughbred Racing Association, Tom Ventura of the Ocala Breeders' Sales Co., and trainer John Ward Jr..



Copyright © 2015 The Blood-Horse, Inc. All Rights Reserved.