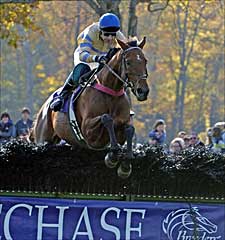 Edited release from National Steeplechase Enterprises
Michael Moran's McDynamo, bidding for a second consecutive Eclipse Award, leads a list of eight Thoroughbreds nominated to the $100,000 Marion du Pont Scott Colonial Cup (NSA-I). To be run Sunday, Nov. 21 at Springdale Race Course in Camden, S.C., the 35th annual Colonial Cup ends the 2004 National Steeplechase Association racing season.The nomination list includes the first four finishers from last month's Breeders' Cup Steeplechase: McDynamo, Hirapour, Sur La Tete and Tres Touche plus newcomers Preemptive Strike, Raise A Storm, Imperial Gold and Gallant Turk. Entries close Tuesday, Nov. 16. All carry 156 pounds.McDynamo, a 7-year-old son of

Dynaformer

trained in Pennsylvania by Sanna Hendriks, ended an 11-month layoff with a 1 1/2-length victory in the Breeders' Cup. The victory pushed the 2003 steeplechase champion's winning streak to six. Hendriks said her horse, who set a course record in last year's Colonial Cup victory, could improve off his Breeders' Cup run."He came out of the (Breeders' Cup) better than he did last year," she said. "He definitely needed that race a little bit, and he should improve a little bit fitness-wise. The Colonial Cup will be just as tough as the Breeders' Cup, probably tougher."At 2 3/4 miles over 17 natural brush fences that are a bit higher than the standard National Fence, the Colonial Cup has been a proving ground for champions since its creation in 1970. Then the first $100,000 race for U.S. jumpers, the Cup has been won by three Hall of Famers and 14 champions. The favorite could be in for some new tactics from his challengers. Connections of Hirapour and Sur La Tete agreed that they need to stay closer to McDynamo as opposed to trying to run him down from behind. Front-runner Preemptive Strike, who won the Carolina Cup over the Camden course this spring, will be a pace factor and more."I think I'll stay a little closer to him. He's obviously a good horse, and I'm not taking anything away from him, but I'm not sure we didn't wait a little too long," said Doug Fout, who trains Hirapour. "The other horse had a better trip and we had to go around everyone down in the bottom. When you only get beat that much, you look for things to change. We're going to stay closer and be a little more on top of him. I know my horse has enough speed."