Dogwood's Campbell Honored at TCA Dinner
by Ray Paulick
Date Posted: 11/6/2004 2:02:22 PM
Last Updated: 11/11/2004 11:20:18 AM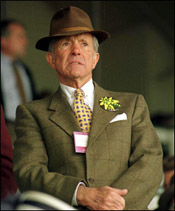 TCA honoree Cot Campbell.
Photo: NTRA

Dogwood Stable founder W. Cothran "Cot" Campbell was the guest of honor at the Thoroughbred Club of America's 73rd annual Testimonial Dinner, dinner Nov. 5 at Keeneland.Campbell, a 77-year-old native of New Orleans, La., developed organized partnerships for Thoroughbred ownership 35 years ago. He was introduced by his wife, Anne. She recalled the first trip after the couple's honeymoon nearly 46 years ago was "to this hallowed spot" -- Keeneland -- and how they viewed the paddock from outside the hedges, watching owners with envy as their horses were being saddled and paraded in the walking ring.She described her husband as a high school drop-out, a recovering alcoholic who worked stints as a car-parker, a nightclub bouncer, an apprentice mortician, and a sports writer "who couldn't type." But he eventually succeeded with his own Atlanta advertising agency, then capitalized on that success by investing in his first love, Thoroughbred racehorses. That move brought Anne Campbell and more than 1,000 others inside the hedges of the paddock as partners in Thoroughbred ownership."I got lucky," Anne Campbell said, "because racing has never had a more devoted fan than Cot Campbell."Cot Campbell talked about the evolution of Dogwood, first based in Atlanta and since 1987 in Aiken, S.C., and offered a wide range of opinions on various facets of the Thoroughbred industry.While Dogwood's first major success came with Alcibiades Stakes winner Mrs. Cornwallis, a $5,000 purchase as a 2-year-old in 1971, Campbell said the stable relied on imported horses from Europe and South America in the early years, "but it got too expensive."Since then, he has focused on yearling and 2-year-old sale prospects, trying to find horses "that have fallen through the cracks" and are available for an average price of $150,000. "The challenge we face is this: Dogwood wants to compete at the highest level in racing, but we must do it at an economic level." Campbell said he does not employ veterinary services when buying horses at public auction and admits this practice means "less than perfect horses" for the stable.But, Campbell pointed out, "We have campaigned 66 stakes winners, two champions, a Breeders' Cup winner, we've represented this country many times in international racing competition. We've run 10 times in Triple Crown races, with a win, second, two thirds and a fourth. Doesn't eclipse Calumet, but we're doing OK."As chairman of the Sales Integrity Task Force, Campbell said, "We think the Thoroughbred auction sale process needs to be made as buyer-friendly as possible." He then offered some observations that were his own and not those of the Task Force, whose final report has not been written."One needs to be cautious when approaching any endeavor," he warned. "It has been said that "the lion and the lamb may lie down together...but the lamb ain't going to get much sleep!" But he said "no one has cheated me yet" during the nearly four decades he has bought horses.He added that he "has some empathy for the breeders trying to market these animals, and for the hoops they've having to jump through" – particularly on veterinary issues. "Today's sales yearling, after buyer selection, has to pass the heart scan, the biomechanical measurements, the repository, the scope, and finally the rumor mill," he said.Campbell also cited "many a boardroom giant" who came into the racing game with great confidence and enthusiasm but made the mistake of departing from the "due diligence that he applied in his day job."On soundness, he commented: "The American racehorse is not as durable and tough as was his grandfather. That is a fact." But he said some trainers and owners are too gun-shy. "I think when they're right, you'd better put 'em in the entries."The end use of a racehorse is to compete in races, and earn money. And we need more end users! We need more racing people, owning more geldings. We need more Azeris and not more breeders and not more sellers. There are too many people wanting to sell horses. They are titillated with tales of the multi-million-dollar yearlings."Click appropriate link below for full text of:



Copyright © 2015 The Blood-Horse, Inc. All Rights Reserved.