The fifth and final on-complex sale day of the New Zealand Bloodstock Karaka Yearling Sale finished Jan. 28 with the second Book 2 session and it was Wairarapa's Ardsley Stud who enjoyed a flurry of six-figure activity, parting with a Satono Aladdin colt who made NZ$150,000 (US$108,014) and another colt by Per Incanto who went for NZ$130,000 ($93,612).
A Wandjina colt bred and sold by Heidi Richardson also made NZ$150,000 on the final day at Karaka. Ardsley Stud's Jim Wallace was delighted with the way the sale concluded for the experienced breeder.
"I'm very, very pleased as it takes a lot of work from everyone to get these results," he said. "We had 13 altogether over the whole sale, and I think we have got them all away bar one. We have had a very good sale overall."
By Rich Hill Stud's shuttle stallion Satono Aladdin, the NZ$150,000 colt was bought by Singaporean Mr. Pang.
He is the sixth foal out of the unraced mare My Hope who is a half sister to group 3 winner Exinite and Sydney listed winner Vitrinite. He was offered as Lot 908.
"This colt was one of the best horses I've ever put through a sale," he said. "He is an absolutely outstanding individual. He probably doesn't have a $150,000 pedigree, but he is a $150,000 colt on type.
"He was very popular in his parades and had 15 or 16 hits on his x-rays. You know there is something about a horse when a number of good judges are hanging around until so late in the sale."
The NZ$130,000 Per Incanto colt, cataloged as Lot 785, is the second foal out of the placed mare Enyanna Marie, herself a daughter of group 3 winner Yanna Marie.
"We had a clue that he would make his money. A really nice mover; has been since we weaned him, so we've overseen him since day one. He is a good example of the sire," Wallace said. "He had at least 16 x-ray hits and was very popular here. His owners were Brian Nally, Ivan McColl, and Kevin Melville, who is one of the sponsors of the Wellington Cup.
"The 2-year-old colt is with Shaun Clotworthy; the mother has a Time Test colt, but she had a rest this year. She will go back to Per Incanto in the spring."
Wallace embraced online technology at the Karaka sale and it paid off.
"I think the sale has exceeded all of our expectations to be honest," Wallace said. "The good horses made good money, there has been a broad spectrum of buyers, and the online system has worked very well. For someone of my generation the whole online thing can be a bit of a mystery.
"My two sons and my daughter have kept me up to the mark and have dragged me kicking and screaming into the 21st century. It has been a steep learning curve, but I think we can make improvements as it is the way of the future."
The other session topper sold Thursday was the Wandjina colt who was bought by Wexford Stables' Lance O'Sullivan and Andrew Scott for the NZ$150,000 figure from his Te Awamutu breeder Richardson.
He is the first foal out of the unraced mare Home Alone whose third dam is the dual stakes winner Playful Fingers. He was offered as Lot 826.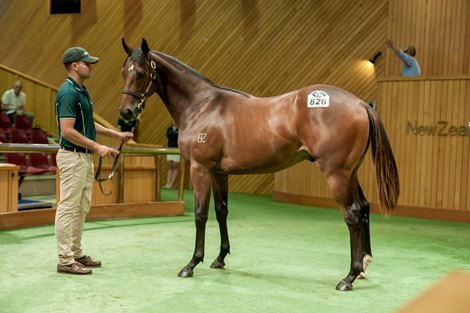 "I actually bought the mare online in Australia, and I really liked her bloodlines," Richardson said. "She got sent up to my brother Blair Richardson in the Hunter Valley. He is a breaker and pre-trainer at Vantage Hill. I had a quick five-minute conversation with him and the next minute I flew over there to find a stallion to put her to. I went to Newgate and liked Wandjina on type, and she got in foal first pop."
Richardson also thanked her neighbor Gordon Cunningham, whose Curraghmore presented the horse on her behalf.
"He is a close friend of mine, and I asked him about the mare and the bloodlines, and he has come and seen the horse the whole way through, so we're pretty happy and very impressed with how he has turned the horse out," Richardson said.
A radiographer, Richardson also runs a broodmare agistment property.
"I am normally foaling down other people's horses, and this is my first dabble into the breeding side of things myself, and I am just blown away," she said. "I have now got a Pins mare and a Reliable Man filly, in addition to Home Alone, who has a Reliable Man filly and is in foal to Turn Me Loose, so you're going to see a lot more horses under my banner."
Moroney puts in long hours to participate at Karaka
Meanwhile, respected Australian-based Kiwi agent Paul Moroney made the most of a complex situation, sifting through hours of video in order to compile a short list and then buy the eventual 17 yearlings he bought at the Karaka sale, 16 in partnership with his brother Mike and his Matamata co-trainer Pam Gerard.
"It's a completely new experience as far as Karaka is concerned. It is the first Karaka sale I have missed in the last 38 years," said Paul Moroney from Australia yesterday. "Fortunately, we did Sydney Easter remotely as well because we were in Melbourne and couldn't get up to that sale, which never took place anyway. We had a very good experience doing that online, and we were confident we could analyze horses online.
"In the videos we didn't believe were of high enough quality, or they weren't good enough for conformation analysis, so we got some people to go out for us, and anything we needed extra on, we sent them to video the horses. It has been a lot of work, but we trust our eye, and we trust the group of people we work with. Between myself and my partner Catheryne, we have spent more than 100 hours on video analysis. Since last Tuesday, when we first started looking at Karaka, we have had five 2 a.m. finishes, and we have never finished earlier than midnight. It's been hard work, but it is a process you have to go through."
Moroney believes the hard work paid off and was just as pleased that the New Zealand buyers appeared to take advantage of unique circumstances to be a significant force on the usually internationally-dominated buying bench.
"It has been great to see the sale go ahead, and the support it has received. It has been really wonderful to see New Zealand buyers get involved and have a real go," Moroney said. "There is going to be a lot of good stock racing in New Zealand, and hopefully the prize-money can lift and can run with that, because some of the best bloodstock to remain in New Zealand will come from this year's sale.
"That is good for the future of New Zealand racing. Everybody has rallied around. and I think everyone has done a tremendous job across the board."
Vendor Gareth Downey of Valachi Downs, reflecting on the sale, was pleased the Kevin and Jo Hickman-owned farm was able to achieve a 100% clearance with its draft.
"We've had great support throughout the sale from some very good stables, which is one of our highlights when reflecting on the results," Downey said.
"Guy Mulcaster signed for a couple, going to Chris Waller. Phill Cataldo signed for a couple, going to Mick Price and another to Chris Waller. Two selected by Paul Moroney, with one of those going to Shaune Ritchie, and two to Lance O'Sullivan and Andrew Scott at Wexford Stables. So, they will continue to get every opportunity as racehorses, which is brilliant.
"Top horsemen Mark Brooks and Chris Rutten also bought from us, and the overall feedback we had on the draft: the quality of horse and way they were prepared and presented was exceptionally positive all the way through from when we paraded on the farm, to here at Karaka, so that is great response and reward for everyone involved."
Across the two Book 2 sessions, 212 horses changed hands at an average of NZ$41,759 ($30,070), up 19% year-on-year, while the median climbed 20% to NZ$30,000 ($21,603), with a smaller catalog of horses offered this year.
NZB managing director Andrew Seabrook was elated with the figures achieved in Book 2.
"The amazing success in Book 2 illustrates the increasing confidence in the New Zealand domestic market," Seabrook said. "Book 2 figures usually mirror Book 1, so to see the significant increase in average and median over the past two days is very encouraging going forward.
"We are very thankful for the support we have received from our domestic market on the ground here at Karaka, as well as our international markets, who were active via our online bidding platform. We must give full credit to our vendors who took things to the next level this year, allowing buyers to have full confidence in our sale."
The Book 3 yearling catalog will be sold via NZB's online Gavelhouse.com platform starting Jan. 29.