Florida-based horseman Jaime Mejia, who owned and trained last year's Hutcheson Stakes (G3) winner, Gladiator King , died Nov. 9 in his native country of Colombia. He was 70.
Family members reported Nov. 20 that Mejia had traveled to Colombia for a liver transplant but while awaiting the transplant, he contracted COVID-19. His daughter, Maria Ines Mejia, and son-in-law, Sebastian Pereira, said he bravely fought that disease for two weeks before passing away.
Racing for Mejia's Thoroughbred Champions Training Center, Gladiator King won the 2018 Inaugural Stakes at Tampa Bay Downs, as well as the 2019 Roar and Hutcheson stakes at Gulfstream Park. He also finished second in last year's Chick Lang Stakes (G3) May 18 at Pimlico Race Course.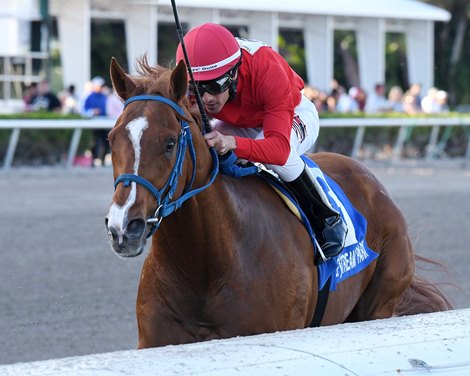 After an off-the-board finish in the Ocala Stakes in June 2019 at Gulfstream, Gladiator King was sold privately to Sheikh Bin Humaid Al Nuaimi and transferred to trainer Satish Seemar. For his new connections, Gladiator King won a pair of group 3 races at Meydan before finishing third in this year's Saudia Cup Sprint.
Horses campaigned by Mejia's Thoroughbred Champions Training Center earned more than $2.9 million from 2014-20.
Before Mejia arrived in Florida, his family said he bred, owned, and trained horses in his native Colombia. When racing faced hard times there, he even launched two racetracks in Colombia. Jaime Mejia's father also was a horseman in Colombia.
The family noted that Mejia's favorite horse in the U.S. was Golden Actor , who was owned by Mejia and trained by Ignacio Roncancio. Golden Actor scored a dominating maiden win in his second start before winning the 2014 Jean Lafitte Stakes by 4 1/4 lengths at Delta Downs.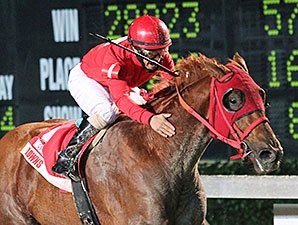 Maria Ines Mejia said her father started going to the track with her grandfather when he was 7 years old in Colombia. "That's where his passion was born," she said in Spanish, with her husband translating. "He bred horses all his life in Colombia.
"In 2013 he saw that nobody was supporting horse racing and breeding in Colombia, and he realized that he was fighting against a big, big, big wall. He could have spent more time there, but he saw that it was useless. So he decided it's time to put a step forward. And that's when he decided in 2013 to come to Florida."
Pereira noted that Mejia entered the organ donor list in Colombia a year ago, and when he was the next person on the list, he traveled back to his native country. But while he was awaiting a transplant at the hospital, he contracted COVID-19.
"He was a fighter, just like he was in life. He was always a fighter," Pereira said. "He was a wild man and he stayed conscious as long as he could. He was in the hospital for two weeks, resisting, resisting."
Maria Ines Mejia plans to take over the racing operation from her father. She said he had been working with her for years, from training to attending sales together.
With his passing outside the U.S., a memorial service has not yet been scheduled in Florida.