Japanese Trainer Buys Storm Cat Colt for Record $8 Million
by Ron Mitchell
Date Posted: 9/15/2004 8:40:17 AM
Last Updated: 9/16/2004 2:37:46 PM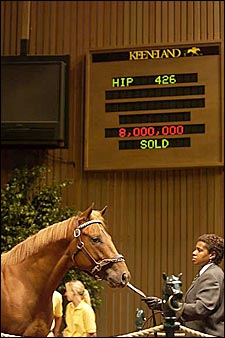 Storm Cat colt, sold for $8 million.
Photo: Anne M. Eberhardt

In a scenario reminiscent of the horse industry's heyday of the 1980s, Japanese trainer Hideyuki Mori won a bidding duel with Irish agent Demi O'Byrne Tuesday to acquire a

Storm Cat

colt for $8 million at Keeneland's September yearling sale.The price was a record for the fall sale and was the fourth-highest price all time for a Keeneland yearling. Mori's $8 million bid topped the previous sale record of $6.8 million paid by Demi O'Byrne for another son of Storm Cat, consigned by Lane's End, during the 2000 auction. It was the highest price for a yearling sold at Keeneland since BBA (England) bought Seattle Dancer, a son of Nijinsky II, for a world record $13.1 million at the 1985 July Selected Yearling Sale.Mori declined to name his client and would not discuss his purchase with the media. Keeneland representatives said they knew on whose behalf Mori was buying but would honor the request for confidentiality.At the Inglis & Sons Easter Sale in Australia earlier this year, Mori represented Yoshinori Sakae, a 38-year-old Japanese businessmen making his foray into the horse business. With Mori bidding on his behalf, Sakae secured a (AUS)$1.5 million Sunday Silence colt.At Tuesday's Keeneland session, the trainer also bought a half-brother to Kentucky Derby (gr. I) winner Fusaichi Pegasus for $1.8 million and a Storm Cat colt out of Bless, an unraced full sister to Fusaichi Pegasus, for $3.4 million.Mori and O'Byrne, who was representing Coolmore interests, made their bids within arms' length of each other while standing at the rear of the Keeneland sales pavilion where horses are given final inspection before being sold.As O'Byrne conferred with his clients and advisers before deciding whether to proceed, Mori, on the telephone with his unnamed client, did not hesitate before upping the ante.O'Byrne declined comment on the development once the bidding had ended.Among the horses trained by Mori have been Seeking the Pearl, owned by Masako Uenaka, and Agnes World.Consigned by Lane's End, the colt is out of the

Seeking the Gold

mare Welcome Surprise, a grade III winner whose female family includes leading sire

A.P. Indy

and Summer Squall.Boosted by Mori, O'Byrne, and John Ferguson, Monday's leading buyer representing Sheikh Mohammed, Tuesday's session soared.Keeneland reported that 179 yearlings were sold Tuesday for $87,463,000. The session average price of $488,620 represented at 19.5% gain over the average of $408,642 when 173 horses grossed $70,695,000. The Tuesday session median price was $260,000, compared with $240,000 last year. The 52 horses that did not attain their reserves was 22.5% of the total through the ring, compared with a second-day buyback rate of 27.6% last year.For the first two sessions, Keeneland reported 349 horses were sold for $150,648,000. The average was a two-day record of $431,656 and the median price was a record $260,000. Through two sessions one year ago, 339 horses averaged $387,168 from a gross of $131,250,000, with a $230,000 median.The results left Keeneland officials nearly speechless."What has happened this year is indescribable," said Geoffrey Russell, Keeneland's director of sales. "It is way past any expectations we had."Russell said the success of the first two days were a combination of factors, but came down to the bottom line: "This is the global marketplace. This is where the world comes to buy yearlings. When all the signs align together...you can't guess what is going to happen. We are very pleased it happened here at Keeneland."Top Prices ($1 Million or More)Price -- Hip No. -- Description -- Consignor -- Buyer$8,000,000 -- 426 -- Chestnut colt by Storm Cat-Welcome Surprise--Lane's End, Agent--Hideyuki Mori$3,400,000 -- 455 -- Bay colt by Storm Cat –Bless--Taylor Made Sales Agency, Agent for ClassicStar LLC--Hideyuki Mori$3,100,000 -- 436 -- Bay colt by Kingmambo-Zuri -- Dromoland Farm Inc., Agent I --John Ferguson $2,850,000 -- 489 -- Bay colt by Kingmambo-Crown of Crimson -- Lakland LLC, Agent -- Shadwell Estate Co.$2,000,000 -- 373 -- Bay colt by Danzig-Scads -- Claiborne Farm, Agent -- D. L. O'Byrne$1,900,000 -- 361 -- Bay colt by Galileo-Regina Maria -- Runnymede Farm (Catseby W. Clay), Agent -- D. L. O'Byrne$1,900,000 -- 477 -- Bay colt by Forestry-Clever Bertie -- Taylor Made Sales Agency, Agent CXXXI--Buzz Chace, Agent$1,800,000 -- 442 -- Bay colt by Seeking the Gold-Angel Fever-- Stone Farm, Agent for Stone Farm and Stonerside Stable--Hideyuki Mori$1,500,000 -- 264 -- Bay colt by Danehill-Fiji--Eaton Sales, Agent Fiji--D. L. O'Byrne$1,400,000 -- 384 -- Bay colt by Danzig-Shouldnt Say Never -- Lane's End, Agent--John Ferguson $1,300,000 -- 422 -- Dark bay/brown colt by A.P. Indy-Warrior Queen -- Eaton Sales, Agent -- Fleetwod/N/ W. Management$1,300,000 -- 381 -- Bay colt by Grand Slam-Sheza Honey-- Michael C. Byrne, Agent--D.L. O'Byrne $1,250,000 -- 354 -- Bay colt, by Storm Cat-Program Pick-- Eaton Sales, Agent
--Shadwell Estate Company, Ltd.$1,250,000 -- 412 -- Dark bay/brown filly by Unbridled's Song -- Paramount Sales, Agent VII -- Brushwood Stable$1,100,000 -- 274 -- Dark bay/brown filly, by Storm Cat-Gone to the Moon--Hill 'n' Dale Sales Agency, Agent--Roger King $1,050,000 -- 490 -- Bay colt by Rahy-Crystal Crossing -- Four Star Sales, Agent -- John Ferguson$1,000,000 -- 320 -- Dark bay/brown colt, by A.P. Indy-Million Gift-- Taylor Made Sales Agency, Agent CLXVIII--Mike Ryan, Agent $1,000,000-392 -- Roan/gray colt by Giant's Causeway -- Smokey Mirage -- Brookdale Sales, Agent of Audley Farm -- John FergusonResults, leading buyer, leading consignor, leading sire lists from Keeneland



Copyright © 2015 The Blood-Horse, Inc. All Rights Reserved.