In this year of change due to the COVID-19 pandemic, there is a possibility the Keeneland September Yearling Sale will be moved to begin earlier than presently scheduled to coincide with the rescheduled Kentucky Derby Presented by Woodford Reserve (G1).
The nearly unprecedented decision to consider moving arguably the world's most famous horse race from its traditional date the first Saturday in May to the first Saturday in September—Sept. 5, Labor Day weekend—is one of the consequences of the pandemic.
The world's largest yearling market, this year's September sale is scheduled for Sept. 14-26. Last year there were 2,974 yearlings sold for gross receipts of $372,004,700, an average price of $125,201, and a $47,000 median.
"In times like these, we have to be nimble and responsive; nothing is off the table," Keeneland vice president of sales and racing Bob Elliston said when asked if a date change was under consideration. "We are in constant contact with our customers, buyers, and consignors, and as this rapidly changing environment continues, together we will take the necessary actions to adapt to those changes to ensure the best marketplace possible to offer these yearlings."
Keeneland has already been impacted by the pandemic, canceling its spring race meet and April 2-Year-Olds in Training Sale.
"I have had some conversations with Keeneland about the timing of their September sale, so maybe the kickoff date for the sale could be bumped up so people would be able to leave the Derby and go right into looking at yearlings rather than having a week in limbo," said Mark Taylor, whose family's Taylor Made Sales Agency is the largest September consignor.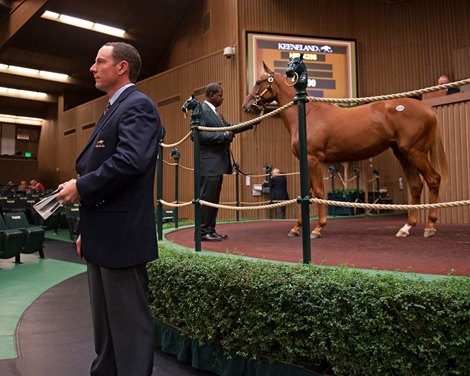 Beth Bayer, sales director at Woodford Thoroughbreds, said a post-Derby start to the September sale could have a positive effect on the market in this era of uncertainty.
"This is probably a good idea, similar to the Breeders' Cup for the November sales," Bayer said, referring to The November Sale, Fasig-Tipton's select mixed sale, and the Keeneland November Breeding Stock Sale that are conducted the week after the Breeders' Cup World Championships.
Prominent buyer Mike Ryan said he would not be in favor of an earlier start to the yearling sale, especially since both Derby Week and the sale are time-consuming.
"(Derby Week) is a huge event and it's rather exhausting," adding that Labor Day weekend is traditionally the end of the race meet at Saratoga Race Course and those would be the days typically set aside for pre-sale inspections. "I think they should stick with what they've got scheduled. Let everybody enjoy the (Longines Kentucky) Oaks on Friday and the Derby because they don't have to be showing yearlings. It's (the September sale) so labor intensive. I would be opposed to starting the sale so soon after the Derby. You need that break."
Ryan said a post-Derby sale would not get the same bump that the November sales get from the Breeders' Cup because the classic race and auction attract different crowds.
"Ninety-eight percent of the people who go to those races don't go to the sale anyway," he said. "People come to Lexington in September for one purpose and one purpose only. They're on a mission to buy horses."
Also, Ryan said the September sale attracts a larger number of international buyers who would be attending major races in Ireland and the United Kingdom rather than the Derby over that weekend.
"Keeneland will do what's necessary, and I trust them to make the right call on what days work for the consumers and producers in our industry," said Mike Recio, of South Point Sales. "Sale dates changing at a rapid pace are just part of what's going on. We are living in the unknown currently and just trying to live day to day. It's becoming more and more difficult as a consignor and bloodstock agent with what's going on with COVID-19 to plan properly for the sales calendar of 2020. I would like everyone to take a deep breath in regards to what dates work best."