The March 28 Dubai World Cup card, a $35 million event highlighted by the Dubai World Cup Sponsored by Emirates Airline (G1), has been called off due to the COVID-19 pandemic.
The Dubai media office released the news March 22.
"To safeguard the health of all participants, the higher organizing committee of the Dubai World Cup 2020 has decided to postpone (the) 25th edition of the global tournament to next year," read a statement issued from the office's Twitter account Sunday morning.
The March 28 card is the highlight of the racing season in Dubai and features six group 1 events and three group 2 contests. Organizers had planned to hold the card without permitting spectators, but rising concerns over the virus caused them to call off the card entirely.
Among the contenders set to compete were 2019 Belmont Stakes Presented by NYRA Bets (G1) winner Sir Winston and grade 2 winner Tacitus (fifth last out in the Feb. 29 Saudi Cup at King Abdulaziz Racetrack in Saudi Arabia), both pointing for the $12 million Dubai World Cup. Japanese superstar Almond Eye also has been training at Meydan in preparation to defend her title in the Dubai Turf Sponsored by DP World (G1).
A total of 21 American horses were listed as likely participants on the Dubai World Cup card. Those currently in Dubai include Dubai World Cup runners Math Wizard and War Story, Longines Dubai Sheema Classic (G1) contenders United and Killybegs Captain, Dubai Golden Shaheen Sponsored by Gulf News (G1) contender Imperial Hint , 3-year-olds Shotski, Tizamagician, and Wrecking Crew—all slated for the $2.5 million UAE Derby Sponsored by Emirates NBD (G2)—Godolphin Mile (G2) contender Gray Magician, and Al Quoz Sprint (G1) runner Texas Wedge.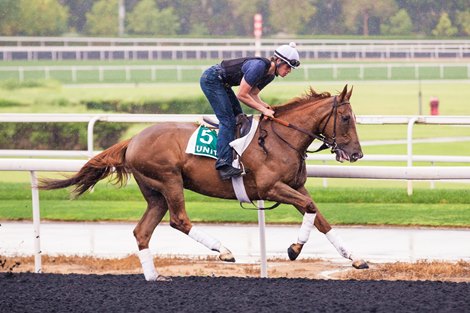 Trainer Mark Casse said he is not certain when Sir Winston will ship back to the United States. Tracy Farmer's homebred son of Awesome Again arrived in Dubai on March 18 in the care of a traveling member of Team Casse while the trainer himself remained in the U.S.
"We only found out about (the cancellation) about 15 minutes ago," Casse said when reached by phone Sunday morning. "We sent somebody over with (the horse), and they're telling him if he doesn't get out of there in two days, who knows when he'll get out.
"Yesterday they said it was going to go on, and today's it's canceled, but one thing is for sure—there are more serious matters than horse racing. We've just got to go on and try to get the world fixed. Yes, it's disappointing, but it's not life-threatening. Every day is a new challenge all over the world, and we're all just trying to stay healthy."
Trainer Luis Carvajal Jr., who conditions multiple grade 1-winning sprinter Imperial Hint, said the decision to cancel racing six days out from the World Cup came as a shock to both himself and his crew.
"I'm really surprised that this happened," Carvajal said. "When they told me they canceled this afternoon, it was like someone threw a bucket of cold water at me. I wasn't very concerned about the cancellation leading up to the race. We got here two weeks ago from Saudi Arabia, and they were shipping horses here not even five days ago from the USA. And the day before yesterday, all the Japanese horses arrived and more people arrived. I was shocked this afternoon when they told us that everyone had 48 hours to leave and everything was canceled.
"I know what's going on around the world with this virus, and I think it's the right thing to do in terms of closing borders so we can be safe, but I don't understand why they waited so long to decide because this has been going on for a while now. I came from Saudi Arabia with Imperial Hint March 3, and it would have been more realistic then to say it was canceled and to tell the horses from the USA don't come and then Japanese horses not to come. But to cancel when everyone was here, that was kind of awkward."
Carvajal said the Meydan team had been working tirelessly since the announcement to book new travel plans for any connections of horses already on the grounds. Imperial Hint will stay behind until April 4, when Carvajal said the horse was originally scheduled to ship back to the United States.
"People from Meydan are doing a great job trying to put everyone who is here on a flight back home, but, as you can imagine, we have all these people from different countries and we're all packing as fast as we can," Carvajal said. "The horses are scheduled to go back to the USA April 4, but there are still issues back home with customs to see what we will do when the horses arrive. The horses travel by themselves, but there is a crew on the plane handling them from Dubai. My horse is doing great, and he ships well.
"Unfortunately, I have to leave tonight, but luckily in my barn where I was staying, there are probably eight horses and there are two people staying behind, plus the people from Dubai Racing who will be watching these horses. The horses will only be walking until they ship back, so it will be like a little vacation for them. They were ready to run, but we cut down a little on the feed since they'll just be walking. I'm not there, but I know the horses will be well taken care of. The people with Meydan racing here have top-notch helpers and grooms and hot-walkers. Right now, the horses are at basically a five-star hotel. They're OK."
While any travel fears for himself and his horse have been placated by the staff at Meydan, Carvajal said the expense of shipping horses and hiring additional employees without the benefit of being able to race will likely be a financial blow to his stable.
"I have a 15-horse stable, and I have clients that aren't billionaires," Carvajal said. "My client (Raymond Mamone) who owns Imperial Hint is a blue-collar guy, and even though they pay for everything when you get here, it's still expensive. We have to pay international compensation, and we have to pay for extra people to come here and work for me, plus the people who stay in Tampa to work, so it adds up. For a small stable, it's very expensive for us to just fly back. We already went to Saudi Arabia, and you have to leave your family behind. When you come here, they always treat you really well, but this time has been a little soured by the way everything went."
Jeremiah O'Dwyer, who conditions Shotski, said he, too, was caught off guard by the abrupt cancellation.
"It was bit of a shock. I just got here this morning myself, and then a few hours later they run around and say we have to go home," O'Dwyer said. "But, you know, all things in consideration, it's about the safety of the world and the population.
"I don't have any plans for (Shotski) at the moment. He'll have to ship back to the U.K. and then to Kentucky, and then we will go from there. We'll have to see what comes up for him. We're flying back tonight and will arrive in the morning. The horses will go back ASAP. We'll get on a plane here in another hour and be on our way."
Trainer Doug O'Neill, who announced in January that he would be sending 11 horses to compete in the Dubai World Cup Carnival, said he was completely on board with the decision to cancel racing in favor of addressing any lingering health concerns.
"I'm excited to get our fellow barn members and horses home in the next 48 hours," O'Neill said. "We'll get through this."
The Emirates Racing Authority released an additional statement that the remainder of the UAE racing season also would be canceled.
"Following the precautionary measures taken by the UAE government against the spread of the virus, it is our responsibility to contribute in stopping it and safeguarding our participants, residents, and guests," read the release.
Tracks included in the cancellation are Al Ain Racecourse, Jebel Ali Racecourse, and Meydan Racecourse.