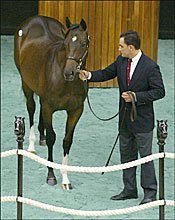 Storm Cat

were in demand Thursday night during the third and final session of the Fasig-Tipton Saratoga yearling sale in Saratoga Springs, New York.After gross and average price declines during the Tuesday and Wednesday sessions, numbers rose during the final session when compared with the same night one year ago.Fasig-Tipton reported 50 horses sold Thursday for a gross of $16,970,000, an average price of $339,400, and a median of $200,000, the same as last year. During the comparable session one year ago, 51 yearlings averaged $279,804 from gross receipts of $14,270,000. There were 11 horses which did not attain their reserve prices during the closing session, compared with 15 last year.Overall, 150 yearlings were reported sold this year for a total of $45,705,000, an average of $304,700 and a $212,500 median price.Last year, 154 horses averaged $313,357 from total receipts of $48,257,000, with a sale median price of $240,000.Sales company officials were satisfied with the results, noting that it appears the auction market has reached a plateau after a period of steady gains."After significant increases from 2002 to 2003, we have plateaued a little bit," said FT chairman D. G. Van Clief.Company president Walt Robertson said the differences between this year's numbers and those last year could not be attributed to any single cause. He noted that the buy-back rate was a healthy 21%."All in all, it was a good sale," Robertson said. "We had good horses here and the buyers showed up. You get through the sale and you're under 25% charge-backs, that part's terrific. I've never been to a sale that I didn't want it to average more than it did. People sold their horses, and if that's what they're worth, that's what they're worth. The market's there, it's real; mine's just an opinion."When it was pointed out that Satish Sanan, the leading buyer at last year's Saratoga sale with $4,150,000 in sales, did not make any purchases because he is not buying at yearling auctions this year, Robertson said, "We missed that and we missed him as an underbidder."Top price Thursday was paid by King World chairman Roger King, who went to $1.4 million to acquire a daughter of Storm Cat produced from champion Jewel Princess, a daughter of Key to the Mint who won the Breeders' Cup Distaff (gr. I). King, who attended the sale Wednesday night, was bidding by telephone from Atlantic City through trainer Wesley Ward.Speaking via speaker cell phone, King said he liked the filly primarily because of her pedigree on the male and female sides."I think she looks like a runner and I think I got her cheap," King said. "I think she is going to be a champion. Slap a number on her ass and let's get it on."The filly was bred in Kentucky by Barnett Enterprises.A full brother to multiple graded stakes winner Saudi Poetry was purchased by Hall of Fame trainer D. Wayne Lukas on behalf of Bob and Beverly Lewis for $1 million.The son of Storm Cat produced from the

Gone West

mare Gone to Venus was consigned by Robert Clay's Three Chimneys Sales."I was extremely pleased to get him for a million," Lukas said. "He is very elegant and has a little bit of refinement to him.""I have looked at a lot more Storm Cats than almost anyone," Lukas said, referring to his relationship as trainer for Overbrook Farm, where Storm Cat stands at stud, "and he fits my criteria.""I think Wayne got a hell of a bargain," said Three Chimneys president Dan Rosenberg. "That is one of the best horses we have ever sold and I am delighted he is going to be trained by Wayne and racing for the Lewises. We would love to have him back in the stallion barn some day.""He was a special horse with a special pedigree," Clay said.The colt was bred in Kentucky by Beau Ravine Farm. Saudi Poetry was the Saratoga sale topper when sold for $1.7 million in 1999. A full brother, later named Habayeb, brought the top price of $3.3 million at the 2001 Saratoga sale.Another yearling bringing a final bid in excess of seven figures was an

Unbridled's Song

colt produced from the Dehere mare Mesmerized. Brad Haines, a newcomer to horse ownership, paid $1,150,000 for the colt consigned by Pat Costello's Paramount Sales."I thought he was the most outstanding horse in the sale," said Haines, who declined to say who will train the colt or who is advising him on his foray into horse ownership."It's a fantastic price," Costello said of the amount paid for the colt bred in Florida by William B. Schettine.