As much as the Juddmonte Farms duo of Tacitus and Hidden Scroll are both on the comeback trail for trainer Bill Mott, they could not have more diverse targets.
While Tacitus will make his first start of 2020 in Saudi Arabia, running in the world's richest race, Hidden Scroll will open the new year Jan. 17 in the modest setting of an allowance race at Gulfstream Park.
Such is life at 4 for two of the most recognizable names from the 2019 Triple Crown chase.
Tacitus was a relatively unknown commodity at this time last year, but emerged as one of the top 3-year-olds, winning the Lambholm South Tampa Bay Derby (G2) and Wood Memorial Stakes Presented by NYRA Bets (G2) and finishing second in both the Belmont Stakes (G1) and Runhappy Travers (G1) and third in the Kentucky Derby Presented by Woodford Reserve (G1).
"He was close to getting a major grade 1 win last year," said Garrett O'Rourke, general manager of Juddmonte Farms, "and we hope he can catch up with the best horses this year."
At the same point 12 months ago, Hidden Scroll was approaching his career debut, which turned out to be one of the most impressive maiden wins of 2019. Running on Pegasus World Cup Series Day at Gulfstream, the homebred son of Hard Spun made his Jan. 26 debut on a sloppy track a tour de force as he won by 14 lengths in the sensational time of 1:34.82 for a mile.
That victory led to Hidden Scroll being favored in the Xpressbet Fountain of Youth Stakes (G2) and Xpressbet Florida Derby (G1), but the hype outweighed the reality of the situation. He was fourth in the Fountain of Youth and sixth in the Florida Derby, then retreated to the sidelines after finishing third in a Kentucky Derby Day allowance race at Churchill Downs.
"Maybe we asked too much of him too quickly and maybe some health issues, like a lung infection, hurt him, and maybe a combination of both caught up with him, but there's no doubt from what we see in the mornings. This horse has something very special ability-wise," O'Rourke said.
Now, with both horses at Payson Park in Florida to prepare for their 2020 campaigns, there's hope that they can finally register the grade 1 win that proved elusive a year ago.
Hidden Scroll, who owns just that auspicious maiden win from four starts, has been entered in Friday's ninth race at Gulfstream Park, a $51,000 test at six furlongs.
"Bill wanted an easy comeback race and if all goes well then we might jump him back up again," O'Rourke said. "I think an allowance race is the plan to get him back to his winning ways and see where it goes from there, but we have to walk on egg shells a bit with him until we figure out where we are."
Hidden Scroll has been the busier of the two homebred 4-year-olds, putting in seven works since Nov. 14. Most recently, he zipped through four furlongs Jan. 11 in a bullet :48 flat and O'Rourke said the handsome colt out of the Empire Maker mare Sheba Queen has been flashing reminders of the keen speed that made him the talk of the Triple Crown trail for a while.
"He's back working like a star again. He's a beautiful, gorgeous horse. He's lovely to be around. We're hoping he shows us what we're seeing in the mornings because his works are spectacular," O'Rourke said. "Obviously, at this time last year the expectations after the maiden race were off the charts, and in his subsequent works he was blowing the wings off (Kentucky Derby winner) Country House and Tacitus and that's the natural talent the horse has. He has grade 1 talent, but things went wrong with him. He had a lung infection that took a while to heal and we decided to give him a lot of time off. Bill is under no pressure to push him."
Tacitus has not raced since finishing third Sept. 28 in the Jockey Club Gold Cup (G1). O'Rourke said the son of Tapit will make his next start Feb. 29 in the $20 million Saudi Cup at the King Abdulaziz Racetrack in Riyadh, Saudi Arabia.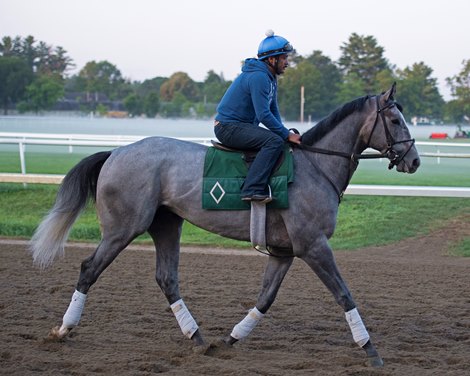 Though Tacitus will be running for the first time in five months against world-class rivals such as Maximum Security and McKinzie without the benefit of a prep race, O'Rourke believes the homebred's sharp, near track-record win in the Tampa Bay Derby off a four-month break bodes well for Tacitus' chances in the 1 1/8-mile test.
Tacitus, whose dam is Juddmonte's champion grade 1-winning mare Close Hatches, has put in three leisurely, four-furlong works since Dec. 31, including a :50 2/5 drill Jan. 12.
"Bill gave him some time off and he just started back with open gallops and some light works. We'll get serious from here on," O'Rourke said. "Things have been rather straight forward so far and we hope things continue that way. We'll run in the Saudi Cup without a prep race. We talked that over and Bill feels that since Tacitus nearly broke the track record in the Tampa Bay Derby off a layoff we're confident he can run well fresh. We're hoping the time off and turning 4 will help him get stronger and he can finish things out better."
Looking at Tacitus' career record of 3-3-2 in nine starts with earnings of $1,677,500, O'Rourke believes Tacitus has more than enough talent to be a major player in the older male division, if he takes a few steps forward.
"I would think Tacitus is the type of horse who could improve five or six lengths as a 4-year-old," O'Rourke said. "He'll need that to take on the big guns but he's probably better set up to improve than some of the other horses."
The Juddmonte horses with Mott includes another candidate for some of the year's top distance races in the 5-year-old Hofburg. Third in the 2018 Belmont Stakes Presented by NYRA Bets, Hofburg has been sidelined by a leg injury since July 18 when he captured an allowance optional claiming race at Saratoga Race Course in his lone 2019 start.
The homebred son of Tapit is back in light training at Payson Park and breezed four furlongs in :50 2/5 Jan. 12.
"It looked like he was back in top form at Saratoga then he injured his hind leg and unfortunately we had to give him time off. We were hoping to run in the races like the Whitney (G1), Jockey Club Gold Cup, and Breeders' Cup Classic (G1), but things didn't work and we'll have to start over again," O'Rourke said. "But he looks magnificent and should be back in February or March. He's a lovely horse with a lovey pedigree. He's come close to being a top horse and with some luck he can get back to the top."
After having two major prospects on the Road to the Kentucky Derby last year, Juddmonte's leading 2020 possibility is Toledo, an Into Mischief homebred with trainer Chad Brown who has one win in three starts and is a possibility for the Feb. 1 Holy Bull Stakes (G3) at Gulfstream Park.
Also returning is the grade 1-placed turf mare Juliet Foxtrot, who closed out 2019 with a third in the Dec. 1 Matriarch Stakes (G1T) at Del Mar.
"Juliet Foxtrot really surprised us. She came from nowhere to be a grade 1 horse," O'Rourke said. "She's back at the farm taking a break and the plan is to have her back in training in three weeks and aim for basically the same races as last year. Hopefully she can get over the hump at the grade 1 level. She's been knocking on the door but unfortunately it looks like most of the best horses in the division are all coming back and we might have to tip-toe around them."