Having a fast Thoroughbred would seem to be nirvana for a horseman, but for trainer Juan Carlos Guerrero, life with Spun to Run has its moments of angst.
Guerrero's 4-year-old colt surely has a big turn of speed, which he put to full use in the Big Ass Fans Breeders' Cup Dirt Mile (G1) when he posted a frontrunning 2 3/4-length victory over favored Omaha Beach .
Yet that same measure of brilliant speed can also create a headache or two when Spun to Run flashes it in the morning as opposed to the afternoon.
"If you let him do what he wants, he'll fly around there when he works," Guerrero said. "He's crazy fast. We have to slow him down a little bit, and sometimes you have to play with his mind to do that because he wants to go so fast."
While preparing owner Robert Donaldson's son of Hard Spun for his richest test Jan. 25 in the $3 million Pegasus World Cup Invitational Stakes Presented by Runhappy (G1), Guerrero saw a bit too much of that speed during a routine gallop Jan. 10. Concerned his colt had exerted too much energy, Guerrero called off the plan to work Jan. 12 and moved it to Jan. 13 at Palm Meadows Training Center.
"I want everything to be perfect for the Pegasus. I don't want to make any mistakes. He went a little fast Friday. It wasn't what I wanted, so I decided to back off the work from Sunday and do it Monday," said Guerrero, who also plans to equip his rider with a communication device during the work to make sure everything goes as planned.
Guerrero said he'll give Spun to Run a four- or five-furlong work Monday, which will serve as his final serious work for the Pegasus, a 1 1/8-mile test at Gulfstream Park in which he'll meet up with Omaha Beach once again.
"After this, we'll give him an easy half-mile blowout a few days before the race, and he'll be ready," Guerrero said.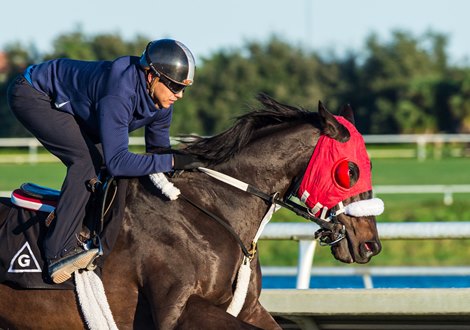 There could be some tinkering should Spun to Run reprise the antics Guerrero witnessed before the grade 1 winner's previous race, the Cigar Mile Handicap (G1) at Aqueduct Racetrack.
On the heels of his Breeders' Cup win, Spun to Run uncorked a five-furlong work in :59.98 at Parx Racing in his final drill for the Cigar, and Guerrero believes it came back to haunt the son of the Grand Slam mare Yawkey Way in a runner-up finish at the Big A, 3 1/2 lengths behind Maximum Security in the Dec. 7 race.
"Before the Cigar, I thought he went too fast. I had timed him in 1:12 for six furlongs, and then he galloped out strong. I don't want that to happen again," Guerrero said. "I think the workout took something out of him. He ran good, but I think he could have run better in the Cigar. I don't know if we were going to beat Maximum Security, but we would have given him a better fight with a better work."
A winner of five of 12 starts, Spun to Run has earned $1,160,520, which dwarfs the $64,000 Donaldson paid when he bought him from the de Meric Sales consignment at the 2018 Fasig-Tipton Midlantic 2-Year-Olds in Training Sale.
Guerrero said the Pegasus will determine whether Spun to Run will head to the Middle East for even richer tests in Saudi Arabia and Dubai.
Guerrero said he will nominate Spun to Run to the $20 million Saudi Cup at 1 1/8 miles Feb. 29. He might also consider two March 28 races, the $12 million Dubai World Cup Sponsored by Emirates Airline (G1) at 1 1/4 miles or the $1.5 million Godolphin Mile Sponsored by Mohammed bin Rashid Al Maktoum City-District One (G2).
"It all depends on the Pegasus. We'll see how he comes out of it, and I'll discuss our options with (Donaldson)," Guerrero said about future plans. "There's no Lasix in the Pegasus, and we don't know how he'll do without it. He's working fine without it, but a race is a different ballgame. Let's see how he does.
"It's a free nomination, so we have nothing to lose by nominating to the Saudi Cup. I'm not sure if he wants to run 1 1/4 miles, but he has plenty of speed. He's a great miler and they have a mile race in Dubai, so that might be an option as well if our country is on good terms with everyone. I don't want to go over there if there's trouble."
For now, Guerrero will be delighted if he can simply get Spun to Run to become a little more selective about the times when he uncorks his top speed.