Craig Fravel, president and CEO of the Breeders' Cup for an eight-year stretch that began in 2011, accepted a position this fall to become CEO of racing operations for The Stronach Group, which owns Santa Anita Park, Gulfstream Park, Golden Gate Fields, the Maryland Jockey Club tracks of Pimlico Race Course and Laurel Park, and other tracks in the U.S.
Fravel faces several hurdles in his new position as the sport of Thoroughbred racing is under intense scrutiny over several issues, including the health and welfare of its participants. The job of running racetracks also has its challenges with rising costs, smaller foal crops, and attracting and retaining owners and bettors.
On the job for TSG since the Breeders' Cup World Championships concluded Nov. 2, Fravel discussed his new TSG role in mid-December with BloodHorse associate editor Byron King and reflected on his experiences at the Breeders' Cup and Del Mar, where he had been a longtime executive before joining the Breeders' Cup.
BloodHorse: The Pegasus World Cup races this year—why the changes?
Craig Fravel: Well, I think Belinda (Stronach) and The Stronach Group are interested in constantly evaluating the success of various properties and definitely want to take a leadership role in the national medication front. When we began to look at some options for doing that, we felt there might be a better model for the coming year, and we gave this a shot.
BH: Purses for the Pegasus races are obviously now down sharply, but it's a different format. Gone are the buy-ins. The slot-buying model—was that a tricky sell to participants when they didn't have one of the favorites?
CF: I think we all know the first five spots are generally pretty easy. I wasn't here trying to fill the race for the first three iterations of it, but originally that business model was interesting and attractive to people, but I do think if you step back a little bit and look at the economics if you were in the 9-10-11-12 slots, and whether you think you have the same chance at winning the top prize as one of the top-five folks, it does make the recruiting of that more difficult at that level. And since we wanted to try a different approach on the medication front, we felt like $3 million with no entry fee was a very compelling number in a race that's now well-established and quite popular, and an event that is appealing to a younger demographic and horse people in general—that this model would make more sense for the coming year.
BH: This year, too, it is a different landscape with the new Saudi Cup race ($20 million, Feb. 29) and the supporting races. How much did those alternatives force your hand?
CF: I don't know that they forced our hand. It was really a question of putting together the most compelling offering we thought we could. Not having to pay an entry fee, not having to travel anywhere near the distances that one would have to go to Dubai or to Saudi Arabia, it was definitely an appealing approach and hopefully it will be well-received.
BH: In the weeks you have now been at TSG, what are your impressions and goals that you see for the company?
CF: It is kind of like drinking water from a firehose. There is a lot to learn, a lot of people to meet with and get to understand who is doing what, but it is very exciting. I think the focus for me since I've started has been on California for the most part since Santa Anita reopened Dec. 28. There are challenges here, and we are excited to tackle them. I think there is a huge upside for Santa Anita and California racing, and we're very excited about that. There have been a lot of great changes here that have been effective, and we just have to make sure that we are working closely with the constituents here in California.
BH: When you say "upside for California," can you elaborate? What do you see?
CF: The racing industry has been under stress. There are public perception issues. There is some nervousness from horsemen about the long-term future. I think those are things that need to be addressed head on, and we need to make sure that horsemen in particular and our fans understand how committed we are to California racing and the future of it.
BH: How can California racing win back that support? Increase the field size, for example. Excluding the two Breeders' Cup days, the average field was 7.1 starters per race during the autumn meet. How do you get that back up, encourage owners, trainers, and jockeys to want to race in California?
CF: First of all you need to remind them of what an incredible place this is to race. There is absolutely no more beautiful, spectacular racetrack than Santa Anita. I think that showed at the Breeders' Cup. The people who were there had a fantastic time. It was a beautiful venue, and handle was a record. Clearly the fundamentals for continuing the greatness of California are there, and our job is to remind people of that, to build on that, to bring back the glory days of old for California.
BH: What about gamblers in terms of appealing to them? Obviously we know—it's a statistical fact that gamblers like larger fields—but do you have any fears that any (pushed) restrictions, say like limiting the whip, might turn them off?
CF: We need to be sensitive to the thoughts and concerns of the wagering public. I do think gamblers, particularly those that gamble on racing, are intelligent people and understand things are quite adaptable. I think back to the days when we put in the synthetic racetracks in California. A lot of people were quite critical, but our handle held up quite nicely during that time. So sometimes it is just a matter of people getting used to things and understanding.
We are all a little reluctant to change sometimes, but I think the wagering public will be quite adaptable. They need to understand that it is not directed at putting on a poor product. It is directed at putting on a better product.
BH: Speaking of synthetic tracks, when Aidan Butler (of TSG) spoke at the California Horse Racing Board meeting in November, he mentioned Santa Anita was considering a number of racetrack surface options, from synthetic to fibersand to other types of dirt. How does TSG plan to analyze those options, and what's the most up-to-date status on any racetrack or training track changes?
CF: Well, there is not a public-facing decision on anything yet. We are going to get samples and work with manufacturers on different varieties of materials and make sure we understand the properties of those the best we can and also work with (track superintendent) Dennis Moore and see what the options are with respect to our existing dirt track. Then we can make the recommendations to management. But we aren't in a position to make those recommendations at this point, and a lot of that is going to require consultation with our owners and trainers and our constituent groups.
BH: Santa Anita and other major tracks in the state previously had synthetic surfaces under a mandate from the CHRB in 2007. Ultimately they were removed, except for Golden Gate, for a combination of reasons. You were at Del Mar when the Polytrack was there—or for a portion of the time it was in use there—and of course, Golden Gate Fields has Tapeta. What are your impressions of synthetic tracks, first from Del Mar and second from Golden Gate?
CF: I would say that since the synthetic surfaces went in and came out, it is hard to describe the initial mandate as a success. There were some disappointments in terms of the performance of some of the surfaces from a consistency and quality-control standpoint, but that didn't mean they weren't a significant improvement at times in the safety area. I think the fact of the matter is the technology improves, the technology changes. We've had good success with Tapeta. I had a phone call with a very prominent owner a couple of weeks ago that races in Canada, and he said the Tapeta racetrack at Woodbine is completely different than the original synthetic surface that was in there; a much more updated and modern version. He was quite enthusiastic about it.
We have to be open-minded. I think it's important to learn from your failures, not abandon the inquiry.
BH: Calling upon your experience at the Breeders' Cup, you had to work with a number of prominent farms and breeders. What is the breeding industry's take on synthetic tracks?
CF: People like to think that the decisions at Keeneland and Del Mar (to remove synthetics) were done in consultation at the behest of the Breeders' Cup, but that was really quite untrue. The fact of the matter is they made those decisions on their own and for very independent reasons. I don't think the breeding industry—my sense of it is that they are not all that opposed to anything related to synthetic surfaces. When you look back at some of the horses that became very prominent stallions that began their careers on a synthetic racetrack, it's a pretty impressive list.
BH: What is the possibility of the Santa Anita training track being used as a trial for a new synthetic track to see how it handles conditions?
CF: That is certainly one of the suggestions that has been made, and it deserves to be looked at. It is a significant investment in the surface, and you do want to make certain when you make that investment it is with the most education.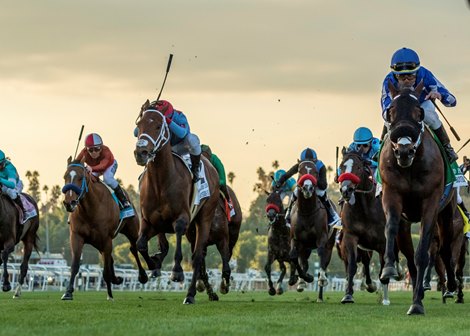 BH: Martin Garcia, Kent Desormeaux, and Joe Talamo are jockeys that have left or plan to leave California, and now (trainer) Doug O'Neill said he plans to pull back a little bit from Santa Anita, mentioning Oaklawn Park and Dubai. He was also critical of management, stating what he feels is a lack of promoting and marketing of racing in California. What is your response? Is he on target?
CF: Just to be clear, I've met with Doug and communicated with him regularly, emphasized with him no one has been more committed to California racing than I have. The Breeders' Cup board made a rather strong endorsement of California racing by deciding to stay there this past year. I look forward to working with Doug. He's a great guy. He's still a great part of the circuit. He's still going to have a large number of horses here. So I don't blame people for trying things. It's our job to convince him that we're doing the right thing. We're going to work on that.
BH: What is the vision for Maryland racing? The Breeders' Cup has been on a California/Kentucky rotation since 2008. The last eastern host site was in 2007 at Monmouth Park. Reflect on your years at the Breeders' Cup and what led to this two-state rotation. Is it feasible that a track such as Laurel could join the mix? Would that be appealing to TSG?
CF: When I got to the Breeders' Cup in 2011 we essentially had two tracks I would describe as Breeders' Cup eligible at the time. Those were Churchill Downs and Santa Anita. Fortunately for us, both Keeneland and Del Mar (became options). Those were both challenges but great opportunities, and they ended up being two of the more successful events in Breeders' Cup history.
I don't speak for the Breeders' Cup anymore, but I think there is an openness to new places and trying new things, and if the plans (improvements) at Laurel and Pimlico come to pass, that will be an incredibly exciting and unique opportunity and obviously that should be a consideration for the Breeders' Cup board.
This article originally appeared in the Jan. 4 print edition of BloodHorse.