Pletcher's Purge Dominates Jim Dandy
by Blood-Horse Staff
Date Posted: 8/8/2004 6:19:39 PM
Last Updated: 8/11/2004 5:31:53 PM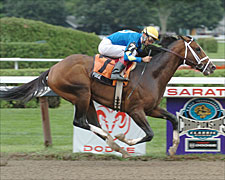 Purge captures Jim Dandy with near record-setting run.
Photo: AP/NYRA Adam Coglianese

The Todd Pletcher-trained Purge gobbled up speed merchant Medallist on the far turn and romped to victory in the $500,000 Jim Dandy (gr. II) for 3-year-olds at Saratoga Race Course Sunday."He was in the sweet spot all the way around," winning rider John Velazquez said. "He was cruising at the three eighths pole. I knew I had Medallist when I got to him. I showed (Purge) the whip a little bit and he took off. He was awesome.""It set up like we thought it would," added Pletcher, who along with Velazquez, won the Jim Dandy with Strong Hope in 2003. Purge, who was unproven around two turns and hadn't raced since finishing last of nine, beaten by 37 1/2 lengths in the Belmont Stakes (gr. I) June 5, uncoiled a devastating winning move with Velazquez in the irons, capturing the major pre-Travers Stakes (gr. I) 1 1/8-mile event by 4 1/2 lengths in 1:47 2/5, just two-fifths off the track record.The time was a tick off of the stakes record of 1:47 1/5 set by Louis Quatorze in 1996. Two other horses – Carr de Naskra (1984) and Thunder Rumble (1992) – matched Purge's clocking.the race set up beautifully for Purge. Medallist, under Jorge Chavez, clicked off rapid splits of :23, :45 3/5 and 1:09 3/5 and succumbed with little fight."We felt like it was an advantage for us with Medallist in the race because (Purge) seems to relax more when there's a target," Pletcher said. "That's kind of unusual because most of the time you see horses relax on the front end. All of his victories have been when he's had someone to track. When we drew the outside post and Medallist drew the inside, it seemed pretty straightforward."The 8-5 favorite Cliff's Edge, a dozen lengths off the sharp pace set by Medallist down the backstretch, closed steadily for Shane Sellers to finish second, a half-length in front of Eddington. However, Eddington, who was ridden by Richard Migliore, was judged guilty of shifting inward at the top of the stretch and interfering with Canadian Queen's Plate winner Niigon. Eddington was placed fourth, with Niigon and Robert Landry moved up to third.Purge settled into second position while racing three wide on the backstretch, tracking 2-1 shot Medallist. Medallist, who ran away with the 1 1/16-mile Dwyer (gr. II) at Belmont July 11, tried to repat those tactics, opening up a three-length advantage. But Purge challenged on the outside, quickly putting Medallist away and experienced no serious threat from The Cliff's Edge, who ran a similar race in finishing second to Medallist in the Dwyer. Purge finished under a vigorous hand ride from Velazquez.The Cliff's Edge stumbled slightly at the start, then closed a huge gap on the far turn to reach contention, swinging to the outside of Eddington for the run to the wire. Eddington circled four wide on the turn and was closing willingly when he struck Niigon, who was knocked off stride.Sellers said The Cliff's Edge ran well. "Purge's running style fit him for this race. My horse has his running style and that's the way it is. Unfortunately, we ran into a horse that was able to kick on."Added Nick Zito, the trainer of The Cliff's Edge: "I liked the performance of my horse. The winner's a good horse and he had it his way and he ran big today."A winner of the one-turn Peter Pan (gr. II) at Belmont May 22 at the Jim Dandy distance by 6 3/4 lengths, Purge was overpowering in registering his fourth win in seven career starts. The $300,000 winner's share more than doubled his career earnings to $537,400 for owners Starlight Stables, Paul Saylor and Johns Martin."The Belmont was back too soon and he got shook up in the paddock that day," Pletcher said. "When he was warming up that day, I knew it wasn't the Purge we normally see. We let him settle into Saratoga. He's been up here since the week after the Belmont. He schooled in the paddock six times this week. Basically right after the Belmont, we said, 'Forget about the Dwyer and everything else, lets go to the Jim Dandy.' It just seemed like this was the right spot for us."A son of

Pulpit

from the Copelan mare Copelan's Bid Gal, Purge was a $180,000 Keeneland sale as a yearling in 2002.He paid $7.60, $3.60 and $2.80. The Cliff's Edge ($2.70, $2.30) completed a $22.60 exacta. Niigon's show was $3.40. Medallist and Courageous Act followed Eddington in the official order of finish. Swingforthefences scratched.(Chart, Equibase)



Copyright © 2015 The Blood-Horse, Inc. All Rights Reserved.