Two-time Triple Crown winner and Hall of Fame trainer Bob Baffert wants the Thoroughbred racing industry to adopt a more scientific approach to constructing and maintaining racetracks, especially at his home base in California.
After watching some of the world's best Thoroughbreds compete on a deep and tiring main track during the Nov. 1-2 Breeders' Cup at Santa Anita Park, and after the catastrophic injury of Mongolian Groom in the $6 million Longines Breeders' Cup Classic (G1), the sport's most famous trainer has seen enough.
"They kept adding more sand and more sand to the track. It was tough to get through it. Horses start to get tired when you have a deep, tiring track like that, and then fatigue sets in and that's when injuries can happen," Baffert said. "It's something we never talk about, but I would like to see more science put into the surfaces.
"Synthetics are a Band-Aid. We need more experts. I know they brought in a lot of vets (for the Breeders' Cup). We don't need (more) vets, we need track experts."
The Breeders' Cup had roughly 30 veterinarians on hand to inspect the horses entered in the World Championships. Several prominent starters, including Fleeting and expected pacesetter Thais in the $2 million Maker's Mark Breeders' Cup Filly & Mare Turf (G1T) and Imperial Hint in the $2 million Breeders' Cup Sprint (G1), were scratched by the medical staff.
In the wake of 30 equine fatalities during the winter/spring meet at Santa Anita, extra amounts of sand were added to the main track as a precautionary measure, producing a surface that yielded considerable kickback and unusually slow times from some of the world's best horses at the Breeders' Cup.
Yet even with all those precautions in place, Mongolian Groom was injured in the final race of the World Championships, and had to be euthanized, becoming the 37th equine fatality at the Arcadia, Calif., racetrack since December. He was the only fatality at Santa Anita during four days of racing Oct. 31-Nov. 3, and the track has greatly reduced its rate of racing breakdowns—compared with a problematic start to the winter/spring meet—since relaunching March 29 after a hiatus to address equine safety issues. While Santa Anita is closed for racing in advance of its Dec. 26 opening day, horsemen were informed by management Nov. 13 that the cushion on the main track will be reblended and reconditioned Nov. 18.
Baffert expressed deep sympathy for the loss of Mongolian Groom and said the industry has to make a better commitment to improving dirt surfaces instead of focusing on synthetic alternatives.
"The Jockey Club has to focus on track experts and the right kind of dirt. (Trackmen) need help. They might know how to maintain a track, but if a track is not even, the deeper you get it, the more uneven and wavy it will get," said Baffert, who pointed out how the track at Santa Anita has been so coarse that the brand name of horseshoes are often worn down in a few weeks' time. "I'd like to see more money go into the right equipment. Every sport does it. They worry about their surfaces. We bring in all these investigators from everywhere, but they should bring in a bunch of trackmen from all over to look at it. Maybe you don't have your track right. Maybe that's where they are missing the boat.
"Churchill Downs has it dialed in. They don't have it dialed in (at Santa Anita). You have to bring in outside people, and when you do, you are going to have hurt feelings. But trainers have to deal with it with the vets, so why can't the track people deal with it?"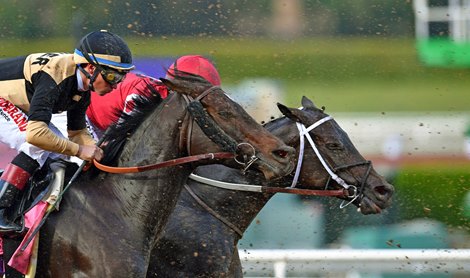 During The Jockey Club's 67th annual Round Table Conference on Matters Pertaining to Racing in August, Nancy Cox, dean for the University of Kentucky's College of Agriculture, Food, and Environment, called for racing to add additional mobile testing devices under the supervision of Mick Peterson, a renowned expert in racing surfaces and director of UK's Ag Equine Programs, through an endowed professorship at UK. The Jockey Club's CEO and president, James Gagliano, said at the Round Table that his organization has committed roughly $850,000 to the initiative.
When contacted for this story, Gagliano reaffirmed The Jockey Club's commitment to the venture, saying the funding method is in the process of being worked out.
Cox said the opening this summer of the National Thoroughbred Racing Association Charities Equine Surfaces & Safety Laboratory at UK is part of a growing program at the university to study racing surfaces and make them safer while educating more people in the field of track maintenance. The lab was created through a $100,000 grant from the NTRA.
"As a dean, I'm always for more science, and I'm thankful to many groups in the industry for their support," said Cox, who listed Keeneland, Churchill Downs Inc., Breeders' Cup, New York Racing Association, The Stronach Group, The Jockey Club, the NTRA, and Del Mar as main supporters. "We have initiated a research lab for Mick to use at the College of Agriculture, and we are planning on growing that laboratory so that we can increase Mick's reach to produce a pipeline of scientific and engineering experts to expand what we can do to serve the tracks.
"We're underway in trying to create a bigger program in the surface aspects of the industry. We envision and want to deliver easier access to experts and access to the best kind of equipment to monitor tracks. We want to have fine-toothed-comb equipment to check surfaces, having the right sensors and making all of it a bigger part of the tool kit for track managers. A major objective is to train students, some in graduate programs, and we want to enhance the pipeline of experts and offer continuing education programs for existing managers so we can offer them what they need at their track."
Peterson, who is also executive director of the Racing Surfaces Testing Laboratory, has been monitoring the racing surface at Santa Anita since 2006. The racetrack is one of 14 involved in the RSTL's Maintenance Quality System, and is tested twice a year.
Peterson echoed Baffert's call for a more scientific approach to surfaces.
"I love hearing Bob Baffert saying that, and I couldn't agree with him more," he said. "We've made some progress with surfaces, but it's not enough. And, to be clear, it's not all just the surfaces. We have other things that worry me."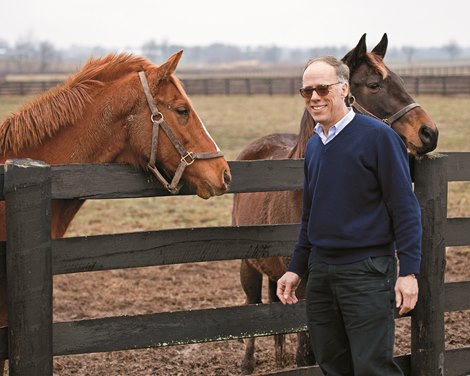 Peterson said dealing with the moisture in tracks is key to maintaining a safe racing surface on dirt.
"On dirt, we need to figure out how to control the moisture more consistently," he said. "We know synthetic is safer than dirt, and what's different between dirt and synthetic is that dirt is more sensitive to moisture. Some years are better than others, and it's not that the track superintendents get stupid or the horsemen get stupid. It has to be the weather. We know moisture is the single biggest variable on turf and dirt, so anything we can do to improve the moisture consistency on dirt and turf will pay huge dividends on safety."
Baffert, whose horses have earned more than $293 million, said the track for the Breeders' Cup was "embarrassingly slow" and pointed to the Sprint, in which the victorious Mitole covered six furlongs in 1:09, well off the track record of 1:06.98 set in 2010.
"Mitole is one of the best sprinters I've ever seen, and he should be going 1:08 or 1:07, not 1:09," Baffert said.
When the Breeders' Cup was contested at Santa Anita in 2016, the winning time for the Sprint was 1:08.79. But the times for this year's Classic (G1), TVG Breeders' Cup Juvenile (G1), and Breeders' Cup Juvenile Fillies (G1) were considerably slower than the clockings in 2016. The Classic was won in 2:02.80 for 1 1/4 miles, compared to 2:00.11 in 2016; the Juvenile checked in at 1:44.93 for 1 1/16 miles, after a time of 1:42.60 three years ago; and the Juvenile Fillies, also at 1 1/16 miles, went from 1:45.12 to 1:47.07.
Peterson and his team monitored and measured the sand, silt, and clay in the racetrack at Santa Anita for a month before the Breeders' Cup, and he said the racing surfaces on both days of the Breeders' Cup were fine, even with the additional sand on the track.
"I thought the surface was good. The problem with California is that things dry out so quickly and you're checking the moisture content on a minute-to-minute basis," Peterson said. "We have target compositions and they were spot-on, though (Santa Anita track consultant) Dennis Moore is pushing us to improve the precision of our measurements. He thinks we have to be more accurate than our tests are now. That's how tight our tolerance is in the composition of the track."
Officials at Santa Anita Park did not respond to requests for comment.
Peterson said his goal is to craft a consistent surface so that horsemen can use race times to judge the fitness of their horses.
"Speed is something I struggle with. What we need to figure out is how to keep the racetrack consistent on a day-to-day basis," he said. "What bothers me most about slow times is that the trainers need to know if their horses are fit. The trainers want a consistent surface. We want to give horsemen the same track every day, and if times are slower, then we didn't succeed and I have to go back to the drawing board. I'm the first to say we don't have this figured out, and I'm on board with Bob Baffert that we need to figure this out and do it in a hurry."
When asked if a slower track is necessarily a safer track, Peterson was uncertain.
"Some experts love to say speed kills, and I say, 'Prove it.' I understand Bob's point about deep, fatiguing tracks and injuries, and I can speculate that's true. Yet I can also say we tend to not see the same high catastrophic injury rate on slower tracks. So I don't know. This is where the science has to guide us," Peterson said. "One of the challenges with California, especially at Santa Anita, is that it's incredibly difficult to keep the moisture content consistent. When you have the Santa Ana winds, the tracks dry fast. When it's slow and deep, they are adding sand to try to keep up with the moisture."
Trainer Todd Pletcher, who won the Classic with Vino Rosso , said he believed the racetrack was slower for the Nov. 1 card for 2-year-olds and agreed that consistency and some middle ground between an overly fast and slow surface was needed.
"Friday it appeared to be deeper than it was Saturday, but better horses were running Saturday. I would agree that you want a balance," said Pletcher, a seven-time Eclipse Award winner and the sport's all-time leader in earnings. "You don't want a rock-hard racetrack, but sometimes you can go the other way and make it too deep and demanding. When horses get tired, sometimes they can get hurt. What you want is somewhere in the middle: a good cushion … not overly demanding. Consistency is the key."
Baffert said there was disappointment in knowing the emphasis on safety at the Breeders' Cup did not prevent a fatality.
"Everybody felt we worked so hard and were so careful to make things safe, and it's still going to happen. At the end of the day, it's on us as trainers. Did we miss something? We need to talk about it. Yet hind-end injuries happen with a deep track, but no one wants to talk about it. At the end of the day, we're all in the same boat, and we need to talk about these things," said Baffert, who had a second and third from four Breeders' Cup starters.
Peterson was equally disturbed by the death of Mongolian Groom.
"I can tell you we felt good about the track and did everything we could, but we have to get better," he said. "We were as good as we could be, and it wasn't good enough."
Baffert, who is tied for second on the Breeders' Cup all-time wins list (15) with Chad Brown, said the industry's heated debate over medications is obscuring what's happening with racing surfaces, adding the sport would be making a major mistake if it moves away from dirt tracks.
"The focus should be on dirt surfaces. We need dirt. It's too hot for synthetics here, and slowing the track by two seconds is not the answer. Horses behind couldn't get going on this track. It wears on them. We're missing the whole picture. Dirt is safe, but trackmen need help and better science," said Baffert, who spends much of the year stabled at Santa Anita. "People are too worried about Lasix. It's easy to get rid of medications because all you need is a pen and paper. But it costs money to fix tracks. We eat our own in this sport. I don't think it will take a lot of money to fix things, and I'm not blaming Santa Anita management, but you have to help people like (Moore) out.
"I'd like to see The Jockey Club do some serious testing and hire the guys who build freeways. All we need is a mile done right."
Peterson believes there should be a focus on finding a surface that marries the best qualities of dirt and synthetics.
"I think we can make a more biomechanically appropriate synthetic, which would mean designing synthetics so the break-over with the hoof looks more like dirt. That might be the Holy Grail of surfaces, if we can combine the biomechanics of synthetics with the properties of dirt," he said. "There's no work being done on this at this time. There's no funding. We need biomechanical studies of both surfaces to understand what we need."
Peterson also expressed concern about turf courses at a time when grass racing is booming in the United States.
"We see all this pressure everywhere on turf courses, and it makes me nervous seeing how much we use turf courses, but that's the only place where we can fill races," he said. "We need a lot of effort to understand turf courses. I have a Ph.D. student who has just started working on his thesis on turf for horse racing, and I believe he'll be the only person in the country doing that type of work."
Peterson said how divots are replaced in turf courses is an important link in keeping courses safe.
"On turf, the least sexy thing we have is the divot mix, and that might be the most critical part. I believe we can design a divot mix that will give us the same biomechanics as the surrounding turf," Peterson said. "The divots need organic materials that degrade over time, and then they can match the surrounding material. Now it's sand."
For Peterson, it's his fervent hope that more people will echo Baffert's comments and support academic study and scientific breakthroughs.
"We can always get better," he said.