It was quite an unusual day for trainer Danny Pish June 12 at Harrah's Louisiana Downs. With four starters on the card, Pish's runners won two races in not one, but two dead heats.
In the third race Okbyecya, a 4-year-old daughter of Into Mischief , could not be separated from Perfect Poet, by Oxbow , at the wire. Three races later, it was the same dead-heat outcome when And She Scores, by Even the Score, and Theboyzgalaxy, by Greeley's Galalxy, finished in unison.
"I've never had two dead-heats on the same day," Pish said. "In my previous 25 years of training, I've only had three, so it was a pretty crazy thing. But a win is a win!"
Okbyecya, owned by GFB Racing, was ridden by Emanuel Nieves. It was the fifth win in 19 starts for the Kentucky-bred.
"I claimed her for $8,000 at Oaklawn Park," Pish said. "She's a little trouper kind of filly."
He was equally impressed with Champion Racing Stable's And She Scores, who dug in gamely under leading rider Richard Eramia. It was just the second victory for the 3-year-old filly by Even the Score.
"Usually when a horse is on the outside and gaining, they will win," Pish said of Theboyzgalaxy. "But And She Scores was so gritty; she would not give up."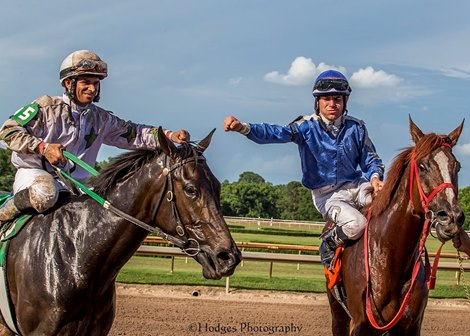 It was the second career victory for Theboyzgalaxy, a 4-year-old daughter of Greeley's Galaxy, owned and trained by Ronnie P. Ward.
Albert Salmon's Perfect Poet scored for trainer Joseph P. Smith. The 3-year-old Oxbow filly was ridden by Gerardo Mora.
Pish has now won seven races at Louisiana Downs. He is currently the fifth leading conditioner at Lone Star Park. Pish, who has won titles at each of the Texas racetracks, has a staff of 40; assistant Kevin Scholl oversees the Louisiana Downs string.
Born in Yoakum, Texas, Pish, 52, became a trainer after competing in the junior and professional rodeo circuits where his top event was bull riding.
"I grew up rodeoing," said Pish. "I was addicted to it before I could truly fathom the danger."
He began training Thoroughbreds in 2005. He has started more than 13,000 horses with a record of 2,246 wins; 2,029 seconds; 1,895 third-place finishes and $33 million in earnings.