Veteran jockey Steve "Cowboy" Hamilton is indebted to his son, Wes, for helping him make a comeback on the Maryland circuit after a 10-year absence from competition. Wes, in turn, is displaying considerable ability as an apprentice and may someday owe much of his success to the tutelage of his father.
Steve thought he rode his last race in 2006, when he decided to return home to Vian, Okla. so that he and his wife, Amy, could see their sons, Garrett and Wes, through their teenage years. He worked shoeing horses and enjoyed watching the progress each of their children made.
Life was more than good, but Steve never quite put the racetrack behind him. "It never gets out of you," he said. "It's in your blood."
Apparently, it was in Wes's blood, too. As he grew older, his interest in becoming a jockey deepened. The question became how each could satisfy his desire to ride. The answer? By helping each other.
Steve needed to drop approximately 25 pounds, so he and Wes would run two and a half miles every morning and another two and a half miles in the evening. Steve limited himself to two eggs in the morning, a small can of tuna fish for lunch, another small can of tuna for dinner.
Steve always will appreciate Wes for pushing him as hard as he did.
"He lit a fire under me some days when I wasn't feeling like running," the father said. "I was kind of doubting myself and what I was doing and he was like 'Oh, you're giving up already?' I was like, 'Man, let's go.' "
According to statistics provided by Equibase, as of the start of this week Wes (he rides under his full name "Weston") led all apprentice riders in North America with 47 wins and ranked second with $1,239,195 in purse earnings. Evin Roman led in purse earnings ($1,653,739) but lost his bug March 11.
Steve taught Wes early on before arranging for him to work for Franklin "Goree" Smith, brother of Maryland-based trainer Hamilton Smith, at the Elloree Training Center in Elloree, S.C.
Steve resumed his career in the summer of 2016. Wes began riding Dec. 2. He earned his first victory on Dec. 11 at Laurel Park aboard aptly named I Just Wanna Win, a 5-year-old mare. Steve came in fourth in the same race.
From all accounts, neither Hamilton has ever been happier as they drive to work together early each morning before returning to watch replays of the day's races with an eye toward seeing what could have been done better.
"Oh, man, it's awesome. I'm just so proud of him," said Steve, 45. "He works hard and a lot of people are supporting him and it's great because I started here in Maryland (in 1991)."
Wes, 19, is anything but a rebellious teen. He is thoroughly enjoying the time with his father, on and off the track. "It's great. It's a blessing to be able to ride with him every day," he said. "It's a really good feeling. I love being beside him."
Steve recalled that his mother, Lydia, used to close her eyes when he rode bulls at a tender age. Now, he understands why. Wes's early races were agonizing for him.
"The first dozen races when I wasn't in the race, I was kind of watching and holding my breath," he said. "After that, it kind of wore off. I said, 'Man, he knows what he's doing. He knows how to get out of bad spots and stuff like that. He's putting horses in the right places.' "
Wes placed second to Jorge Vargas Jr. in the jockey standings for Laurel Park's winter-spring meet. Paul Plymire, his veteran agent, is excited about his potential.
"When you get one, you kind of know if he's going to be special," Plymire said. "He just seemed that way from the beginning."
Plymire noted that Wes exhibits more patience than most apprentices. "He's not always shooting ducks trying to get to the lead," he said. "I think that's one thing he learned from his dad. You don't have to be in a panic. A lot of young riders are just eager to get them as far and as fast as they can. He don't have that panic in him. He'll let a horse get underneath himself and get to running."
Steve has long been known for his knack for conserving his mounts. Wes is following that lead and also said he is learning from his father how to save as much ground as possible and how to use the whip effectively before going to a strong hand ride.
At the same time, Steve understands that there is nothing better than learning by doing. "I can tell him everything under the sun," he said, "but it's still something that's got to happen to him and then you figure it out."
Steve is closing in on his 1,400th career victory. He has close to $28 million in earnings. He has had only one mount in a Triple Crown race, when Malibu Moonshine ran eighth in the 2005 Preakness Stakes (G1).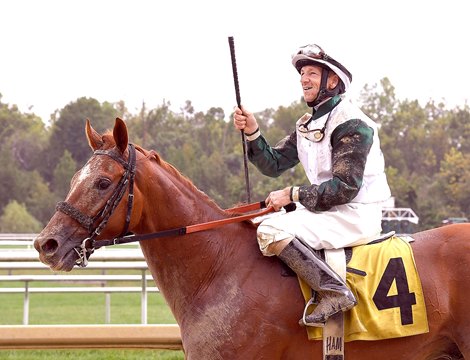 Steve expressed contentment with his career while offering the hope that Wes can surpass what he did. For now, Wes is focused on staying in Maryland, working as many horses as he can in the morning, riding as hard as possible in the afternoon.
He has his dreams, of course.
"I would love to ride in a big race, any of them," he said. "That would be the best feeling ever."
A feeling he would love to share with his father.