When strangers approach Green Mask on an unseasonably cold April day in Central Kentucky, he glances at them and casually steps forward to get a better look.
The 7-year-old son of Mizzen Mast hasn't been disappointed yet.
After shattering his left front leg during a workout in September at Belmont Park, the millionaire immediately had trainer Brad Cox and owner Abdullah Saeed Almaddah in his corner. They were committed to saving Green Mask's life, so that the gelding could enjoy retirement at Old Friends near Georgetown, Ky.
Soon Green Mask peered out of his stall to see equine surgeon Dr. Dean Richardson, who at the University of Pennsylvania's New Bolton Center performed fusion surgery. During recovery there wasn't immediate room for Green Mask at Old Friends, so next he met the people at Dell Ridge Farm near Lexington, just minutes from Keeneland, where Green Mask won two races and placed in the 2015 TwinSpires Breeders' Cup Turf Sprint (G1T). Cox visited often.
As room soon allowed, next up was Old Friends, where Green Mask met horse whisperer Michael Blowen. While the Old Friends founder instantly understands the language of his many retired horses, he soon saw it was Green Mask who seemed to instantly understand humans. Blowen envisions Green Mask's friendly disposition eventually becoming a big hit with visitors, especially children.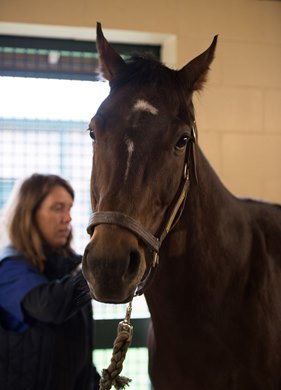 But this stop was a short one. A small, delayed infection developed in Green Mask's healing leg—not uncommon in the recovery process from fusion surgery. It meant a trip to the Kentucky Equine Sports Medicine and Rehabilitation Center near Versailles, where treatment of the infection, led by Dr. Robert Holland, included use of a hyperbaric chamber.
After those treatments Green Mask found his way to his current home at Park Equine Hospital near Versailles, where Dr. Bryan Waldridge oversees treatment as a volunteer. Attending to Green Mask daily is veterinary student Ryan Lane.
To date all of the effort is paying off. Richardson is pleased with the way the bones are healing, and Waldridge reports Green Mask has no lameness. The surgery, pioneered by equine orthopedic surgeon Dr. Larry Bramlage, has become relatively common as a means of providing stability after major fractures of the fetlock.
To encourage those bones to heal together, a locking plate is placed down the front of the joint, and a tension band cable—1.7 millimeters in diameter—is placed behind the fetlock, along with other screws across the joint in the sesamoids. Cartilage is removed to allow the joint to properly fuse.
Some flexibility is lost, but the horse can do most anything short of competition.
"They can run around the field. They can be broodmares (or) be stallions. They're not going to end up being event horses or show horses, but they can pretty much do anything," Richardson said. "We've had people ride some of them. They have a little hitch in their giddy-up, because their fetlock doesn't flex, but they're in no pain. That's the most important thing to understand."
Infection is a major concern, and Waldridge kept a close eye on Green Mask during his recovery. When a small amount of drainage was noticed at Old Friends, he was moved to KESMARC, which provided free treatment. As is common in recovery from the surgery, bacteria formed on the metal plate, which allows it to avoid antibiotics, as well as Green Mask's own system.
"If you get unlucky and the bacteria set up housekeeping on the metal, then systemic local antibiotics never work, and even intensive local antibiotics often don't completely eliminate the infection," Richardson said. "Green Mask got a delayed infection. He had no signs of early infection, but about three or four weeks afterward, he had just a little bit of drainage, and that is usually an indication. And sure enough he had a localized infection on the bone plate."
With that development the next major step for Green Mask will be removal of the plate.
"The drainage persists because antibiotics just won't get rid of it, and the horse's own defense mechanisms—the animal's own ability to fight infection—cannot eliminate the infection, because it's basically invulnerable because it's on metal. So, in those cases, the only way you can get rid of the infection is by taking the metal out," Richardson said. "It's not bothering him. It's just a little tiny area of drainage, but you don't usually get that cleared up completely unless you take the bone plate out. So for Green Mask, at some point we'll probably want to take that bone plate out to completely eliminate the infection once and for all."
In the meantime KESMARC and then Park Equine have focused on fighting the infection. While there's only an outside chance of eliminating it, the use of antibiotics aims to prevent it from spreading to bone—especially the areas around the screws.
In this fight Green Mask has received the best available treatment. At KESMARC a regional limb perfusion was performed. Partly through use of a small tourniquet, it allows a high concentration of antibiotics to be applied to the injured joint without upsetting the rest of the horse's system. Waldridge said it's a much higher application of antibiotics than could be administered through an IV. Waldridge said the oxygen of the hyperbaric chamber encouraged healing.
"It sure helped the leg," he said. "They were great and did a really good job with him. It was quite a bit to donate to help.
"The joint itself looks good. Dr. Richardson is happy with the fusion and the ankle. He's happy with all of that. The bone is stable where the screw goes in. The worry is that infection eats away at the bone, but all of that looks OK. He's sound. It doesn't bother him at all. Dr. Richardson's been really good watching everything. He checks on him every couple of weeks. He really likes the horse."
With the healing going well, Green Mask is now a resident at Park Equine, where he continues to receive antibiotic treatments. Richardson said the date to remove the plate hasn't been set yet, but he noted the surgery is relatively simple and performed under a local anesthetic while the horse stands. With the one-year anniversary of Green Mask's Twin Spires Turf Sprint Stakes Presented by Twinspires.com (G3T) victory May 5 at Churchill Downs approaching, Waldridge is enjoying Green Mask's company.
"He seems to be such a great patient—really laid-back, doesn't fight you at all. When he was going into the hyperbaric chamber over there at KESMARC, he just went right in (and) was fine. He's just really, really a smart horse. He's very kind," Waldridge said. "He has the best personality. He's like a dog. He never does anything bad. He comes up to you. I really like him."
Richardson, like others who have spent time with Green Mask, also has developed affection for the horse.
"He's a super-nice horse. The second you meet him, he has charisma (and) obvious toughness," Richardson said. "I think it's a wonderful story that the owners were willing to do what was required to save his life and give him a happy retirement, because he's a really nice horse. It's a great story when you save a gelding, because the greater world out there will understand that good people in our industry will save horses, even when it makes no economic sense to save them."
Blowen does math in his head and estimates that $50,000 in medical care has been given to Green Mask. Then he thinks about the hours of volunteer work. Then he thinks about the frequent visits by Cox and others.
"I can't get over it," Blowen said. "These horses are really, really lucky to have such great friends as these people."