Ron Franklin, the Baltimore kid who nearly won the Triple Crown aboard Spectacular Bid before his riding career went off the rails, died March 7, The Baltimore Sun reports. He was 58 and had been battling lung cancer.
Teaming with Hall of Fame trainer Grover (Bud) Delp, Franklin burst on the racing scene in 1978, just two years after he'd first arrived at the track as a 16-year-old dropout of Patapsco High School. During his 1978 season, Franklin won 262 races and amassed purse earnings of more than $1.7 million.
That season he also won three graded stakes, including the grade 1 Laurel Futurity, aboard the great Spectacular Bid. Both the Bid and Franklin received Eclipse Awards at year's end, the Bid as champion 2-year-old colt and Franklin as outstanding apprentice jockey.
The run continued during the first part of 1979, as Spectacular Bid won five straight races, four graded, to arrive in Louisville the solid betting favorite for the Kentucky Derby (G1). He won that race and then returned home to romp in the Preakness Stakes (G1), setting up his date with destiny in the Belmont Stakes (G1) where he seemed a virtual certainty to become the third consecutive Triple Crown winner.
But Spectacular Bid famously stepped on a pin the morning of the race, and Franklin gave him an impatient—some called it panicky—ride, pressing the fast pace of hopeless longshot Gallant Best. Spectacular Bid faded to third in the Belmont, his Triple Crown dreams dashed. The outcome would begin a Triple Crown drought that would last until American Pharoah in 2015.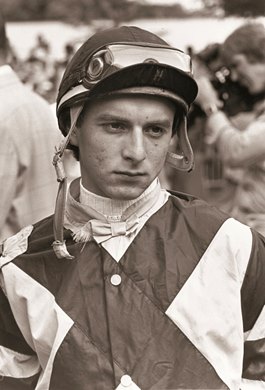 That ride ended Franklin's partnership with the best horse he would ever ride—the future Hall of Famer his trainer called "the greatest horse to ever look through a bridle." Following the Belmont, Spectacular Bid raced 13 more times, winning 12 and finishing second once.
Though he continued to ride through 1992 and won a handful of graded stakes, Franklin never won another grade 1 event. In four of his first five years he both topped 100 wins and $1 million in purse earnings but after 1983 he would surpass those plateaus just one more time, in 1988 when he won 140 races and registered a career-best $1,786,957 in purse earnings.
Franklin made his final start in 1992 at Fairmount Park. He completed his career with 1,403 victories and over $14 million in purse earnings from 9,242 starts.
In the years following Bid's defeat in the Belmont, Franklin developed a substance abuse problem that plagued him for decades. He eventually overcame the addiction, according to his nephew, before the lung cancer diagnosis a year ago.
Story from The Racing Biz.