The "Hype Horse" is a very real thing.
With access to morning workouts at the tip of the public's fingers on social media and a number of web sites, the morning whispers that led to the "good thing" horses are no longer even necessary.
So when Don Alberto Stable's Unique Bella returned to training after a shin injury sent the Tapit filly to the sideline in March, everyone who wanted to see her had access. And the public response was emphatic.
The ease and power in the gray filly's works has only grown in the run-up to the Breeders' Cup Filly & Mare Sprint (G1), in which she'll face grade 1 competition for the first time, including top-level winners By the Moon, Carina Mia, Constellation, Paulassilverlining, and defending race winner and champion female sprinter Finest City.
"Let's just put it this way, I hope everybody is right," Don Alberto racing manager Fernando Diaz-Valdes said with a laugh.
But the way things have gone this year, there's still a touch of hesitation from the Don Alberto contingent surrounding the Jerry Hollendorfer-trained filly. Not long ago she appeared to be the runaway favorite for the Longines Kentucky Oaks (G1), and she defeated eventual Oaks winner Abel Tasman by 2 1/4 lengths in the Santa Ysabel Stakes (G3) March 4 before she sustained her shin injury.
It's not that they're not confident. They're just cautious, even though she gave positive signs in her return to racing in the Oct. 8 LA Woman Stakes (G3), a race she won by 3 1/2 lengths over fellow Filly & Mare Sprint entrant Princess Karen.
"We are excited and it's starting to set in," Diaz-Valdes said. "With all we went through, with people talking about how good she was and being a favorite for the Kentucky Oaks—it's just that every race is different. She's showed she's a top filly, but we know how good the field is. We're hoping for the thrill of our lifetime."
Outside of the grade 1 winners, Finley'sluckycharm and Skye Diamonds bring recent form that should be formidable at the top level.
Carl Moore's Finley'sluckycharm, a Twirling Candy filly, has won seven of her last nine races since September of 2016, and her only two losses were tight second-place finishes to Constellation in the grade 1 La Brea Stakes Dec. 26 (by a half-length) and to Paulassilverlining in the grade 2 Honorable Miss Handicap July 26.
Skye Diamonds, a $40,000 claim in August of 2016, has morphed into a top sprinter in her 4-year-old season. The California-bred First Dude filly owned by Allen Racing, Bloom Racing, Tom Acker, and Jon Lindo has won six of her eight starts since the claim, including the July 8 Great Lady M. Stakes (G2) and the Aug. 13 Rancho Bernardo Handicap (G3) back to back. In both graded races Constellation played the runner-up, and Finest City finished third in the Great Lady M.
Although she may not have shown her best during third-place runs in the Great Lady M. and Beholder Mile (G1), Seltzer Thoroughbreds' Finest City enters the Filly & Mare Sprint fresh off a nearly four-month layoff. It's a little longer layoff than she's used to, but the City Zip mare has made a habit of firing fresh off layoffs in her career.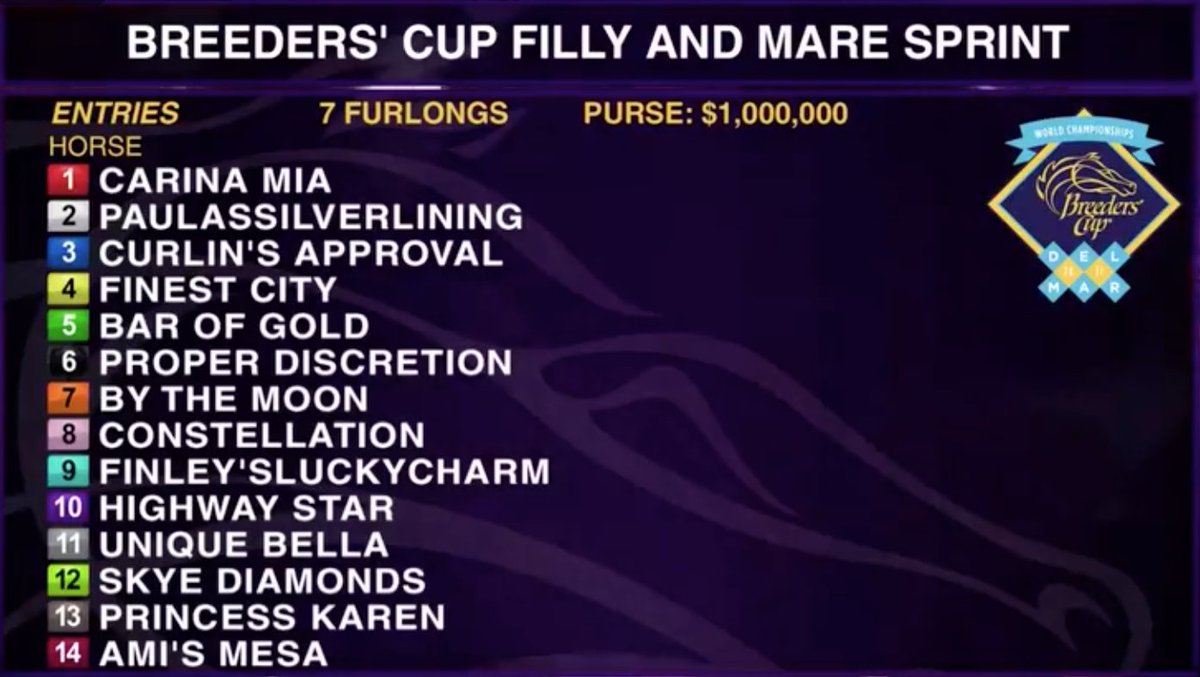 Del Mar, Saturday, November 04, 2017, Race 6
Grade I
7f
Dirt
$1,000,000
3 yo's & up Fillies and Mares
1:14 PM (local)