The history of the breed is replete with stallions that in some way have reshaped the breed. Indeed, there are examples of sires whose sons and grandsons have accomplished this in one or more countries—the Nearco-Nasrullah-Bold Ruler line being one example of a three-generational influence. Today one could put the singular influences of Mr. Prospector, Storm Cat, and more recently A.P. Indy into that category, which is vividly illustrated by the residents in the top 25 of the current active sires.
The same could be argued about the effects of stallions whose daughters produced a plethora of leading, and/or great, sires—Chaucer, Discovery, Princequillo, Buckpasser, and War Admiral are among those whose grandsons helped shape the 20th century breed worldwide. It can be safely argued that the last half of that century was shaped by daughters of Discovery who left behind the likes of Bold Ruler and Native Dancer—both of whom figure prominently in the discussion of this week's subject: Secretariat.
The hypothesis here is that there has never been a horse bred in North America that has achieved greater influence as a broodmare sire of line-founding stallions than the son of Bold Ruler (Nasrullah—Miss Disco, by Discovery). This opinion is further underscored by the facts related in the first paragraph: Substitute the name Gone West for Mr. Prospector and you have the proof of the pudding—and what a mixture it is.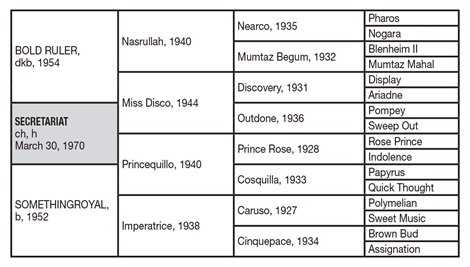 In the interests of full disclosure, it must be reported that DataTrack has espoused the qualities of Secretariat as a broodmare sire in other publications since the mid-1990s, and I had the honor of selecting him as a chef-de-race, specifically as an Intermediate and Solid influence. Those categories were selected because of his ability to "mix or blend" the racing aptitudes expressed in a wide variety of bloodlines into achieving racing success.
The argument made was that Secretariat was basically misconceived as a speed horse when he went to stud (look at how many records he set), which prompted breeders to send him stamina-oriented mares.
This was categorically inaccurate in a biomechanical sense: Secretariat was fast because he had power, but he was a great racehorse because he combined that power with an incredibly long stride that tipped him biomechanically into a "stride," rather than "power" phenotype. Given that aptitude, he needed mares that were fast or were infused with power. He got that in Great Lady M., dam of Horse of the Year Lady's Secret. But then Secretariat's daughters got power in spades from major sires Storm Bird, Seattle Slew, and Mr. Prospector, who sired Storm Cat, A.P. Indy, and Gone West, respectively.
And then the 21st century came along.
Storm Cat established a completely different type of sire line, one that was versatile enough to produce classic winners and sprinting champions. The top 25 of 2017 features Harlan's Holiday, his son Into Mischief , Scat Daddy, Giant's Causeway , and his son Eskendereya.
A.P. Indy has generally succeeded in "holding the classic middle" when it comes to categorizing the exploits of his sons and grandsons. The top 25 features Tapit , Malibu Moon , Bernardini , Majestic Warrior, and Mineshaft .
And Gone West, who seemed to have drifted into a speed influence, mostly through Speightstown , has recently seen the more flexible Elusive Quality branch roaring to life through Quality Road , while Grand Slam is succeeding in Argentina with Fire Slam.
As in most of life, it often takes only one individual to change the tide. This, then is the legacy of a horse who was always considered to be something of a sport—an outlier whose exploits could not be categorized or compared on the racetrack. That he has achieved such exalted status as a broodmare sire is something not even his most ardent admirers could have hoped for, or expected.
To that we say, "Thanks, Sport."