For all the jaw dropping that surrounded the success of Scat Daddy's offspring at the Royal Ascot meet came a bit of head scratching about how this could have been predicted.
The cogitation goes beyond pedigree examinations into the nicks involved with the successes of Lady Aurelia (G1), Caravaggio (G1), Sioux Nation (G2), and listed stakes winner Con Te Partiro. More in depth, how did that compare with the patterns Scat Daddy established in a very short, meteoric breeding career that sadly culminates with his last crop making their way to the
yearling sales this year?
While DataTrack has a healthy appreciation for pedigree analysis, stallion potential is viewed from a different point: How would that individual fare as a potential king of the herd if he were competing with other young stallions for producing consistent offspring that are suited to survive in the wild and therefore perpetuate the herd?
The simple answer is that as with all other species the stallion that can pass on inheritable characteristics is often not readily identifiable. In this respect a flashy or blocky or temperamental individual (an outlier) may turn the collective heads of the mares in the field, but the one with all the right parts in all the right places (the average horse) is likely to be the pretender to the throne.
While that explanation may raise an eyebrow, the analogy is simple: The company's algorithms for estimating the potential of a Thoroughbred stallion compare his known inheritable physical characteristics with those of a book of mares assembled for their efficient racing biomechanics. A goodly amount of data is generated, but the result that counts the most gives a percentage of the mares in that book likely to produce efficient racehorses by that stallion.
In this respect Scat Daddy blew the doors off when he was analyzed. The percentage of successful matches he returned was one of the highest of all the commercial stallions retired to Kentucky whose first foals arrived in 2000 or later. He was a bit of a surprise—but then the highest percentage during that time was Distorted Humor, whom few predicted for success, followed closely by Curlin, who took a few crops to get rolling.
What did Scat Daddy bring to the breeding shed that most others did not? For a good-sized individual, his biomechanical profile was remarkably free of any efficiency-busting characteristics. He was almost a carbon copy of his sire Johannesburg, a smaller, more lightly made individual who had few characteristics in common with his own sire, Hennessy, and that one's sire, Storm Cat, both of whom were overpowered.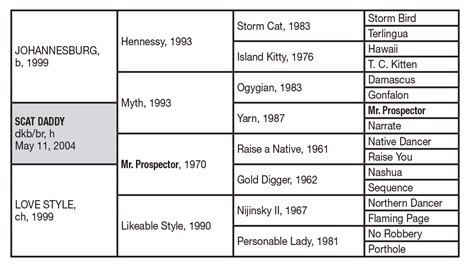 Both Scat Daddy and Johannesburg were very well balanced as to stride and power characteristics, with Scat Daddy's body set a bit higher and his front legs a bit longer. They both had excellent leverage through the hocks and through their quarters, which means speed from the start, and they passed it on. This balance helped Johannesburg immensely since he shuttled all over the place before settling in Japan. It also contributed mightily to Scat Daddy's phenomenal success in Chile, where the mares provide an excellent counterbalance of endurance.
The irony is that while some might describe Scat Daddy and Johannesburg as Storm Cat-line sires, the truth is they are unto their own. Johannesburg suffered from a head-scratching indifference in the commercial market or else he might have had more opportunity to produce another one like his best son. Scat Daddy's tragic early demise (he died at 11 in December 2015) is likely to be further emphasized at this year's yearling sales and next year's 2-year-old sales.
To carry on at stud in the Northern Hemisphere, Scat Daddy has group 1 winner No Nay Never with Coolmore in Ireland, plus grade 2 winners Handsome Mike and Frac Daddy in Florida and Ontario, respectively; and grade 3 winner Daddy Nose Best in California. Scat Daddy's best son from Chile, Il Campione, whose pedigree tracing to La Troienne is strictly North American, begins his career this month in Argentina.
It will be interesting to see which of Scat Daddy's currently racing sons get a chance, and if they can extend this line further.