A look at the Fasig-Tipton Kentucky July catalog, the first 2017 yearling sale, shows four of the offerings are by Yes It's True, who passed quite unexpectedly in autumn 2015 after a breeding season that saw him cover 117 mares, which resulted in 79 live foals in 2016.
It is interesting that his last crop arrived the year after Yes It's True had his most headline-inducing season as a stallion. His daughter La Verdad was named the champion female sprinter of 2015 while his son The Big Beast was second in both the grade 1 Alfred G. Vanderbilt Handicap and Priority One Jets Forego Stakes, which flattered his 2014 score in the Ketel One King's Bishop Stakes (G1).
Yes It's True is quite likely the most prominent manifestation of a sire line that has not deviated from its founder's racing and breeding aptitudes for more than a half-century, that of Bold Ruler's brilliant son Raja Baba—if not Bold Ruler himself. The claim can be made because even though Bold Ruler won several races beyond nine furlongs—and is in the opinion of some the line founder of A.P. Indy—it was his racing speed and the early successes of his offspring similar to Raja Baba that got his reputation off the ground.
What is remarkable is that Raja Baba left no line other than through his 1988 Breeders' Cup Juvenile (G1)-winning son Is It True, an excellent 2-year-old who was basically a sprinter-miler. Shuttled from Kentucky to Australia for several years, Is It True was not exactly a marquee sire, but he did leave behind a good-sized, balanced, and very, very fast son in Yes It's True.
Bred in Kentucky in 1996 by George Waggoner Stables, Yes It's True is out of Clever Monique, an unplaced daughter (one start) of Clever Trick whose own dam, Monique Rene (by Prince of Ascot), won more than a dozen stakes in Louisiana. The most charitable thing that could be said about this family is that if they got to the races and earned some black type, they appeared to be very sound.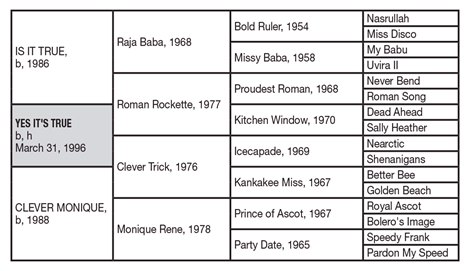 That, combined with his Bold Ruler—Raja Baba speed, is the Yes It's True profile. A $220,000 Keeneland September sale yearling, Yes It's True was purchased in 1998 by Satish Sanan's Padua Stables for $800,000 at the Barretts March 2-year-old sale, Yes It's True made 22 starts and won 11 of them, including 10 sprint stakes, among them the Frank J. De Francis Memorial Dash Stakes (G1), one grade 2, and six grade 3s—plus, he placed in another five graded events. After his 2-year-old season Yes It's True never won or placed in a race beyond seven furlongs.
Retired to Padua Farm in Ocala in 2001, where he sired Proud Accolade (G1) in his first crop, Yes It's True moved to Three Chimneys Farm in Kentucky for the 2005 breeding season. Overall, Yes It's True sired the winners of more than $61 million, including 61 stakes winners, most of which followed in his racing footsteps such as La Verdad, The Big Beast, Aikenite , and Earth Sound in Japan.
There were exceptions such as Proud Accolade, Calamity Kate, Actin Good, Nordic Truce, and B. B. Best, but mostly you got what was to be expected from the breeders and owners of such others as Yesbyjimminy, Are We Dreamin, Yes He's a Pistol, and Icon Ike.
For the most part there are not that many diminutive members of his progeny, but they also do not tend to be huge—just a bit larger than average in height. Because of their balance most of them can come to hand early, which makes them popular with pinhookers as well as owners who want a quick return. If you can find one, you're more than likely to get a truly nice return.